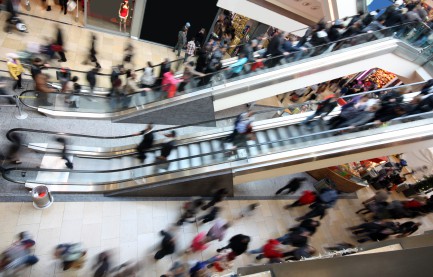 Though it's still three weeks away, retailers are already building buzz for Black Friday shopping. In fact I have already begun to share many of the Black Friday Ads here.
All this Black Friday chatter has many shoppers eagerly awaiting the opportunity to score the season's biggest bargains. Keep in mind, however, there's more to tackling Black Friday deals than battling long lines.
A plan and some much-needed prep work will get you ahead of the rest, even with a belly full of turkey. Here are 10 things you need to do now for a foolproof shopping strategy this Black Friday.
1. Set up a new email account.
Create a separate email account where you can filter digital receipts, Black Friday alerts, email offers and other shopping-related information in one place without cluttering your personal or professional inbox.
2. Register for store updates.
Sign up for newsletters from your favorite retailers to be notified about Black Friday hours, door-buster alerts and other important information.
You should also follow your favorite brands on Facebook and Twitter to get instant Black Friday updates and exclusive coupons in your social media feed.
3. Sell some stuff.
A great way to earn extra income for your holiday budget is to sell old clothes and home goods online or at a consignment shop. In fact, there are several ways to pad your paycheck for the holidays.
5. Create a realistic budget.
Take a look at your finances and factor in the cost of holiday travel and entertainment. Then, create a realistic budget for gifts and look for products that fit within that budget.
Consider these tips for creating a spending plan, including the holiday budget calculator, from the savvy ladies at LearnVest.
6. Make a list and research prices.
Once you have a budget, create your holiday gift list so you have time to research prices.
Knowing how much those desired products cost before you head out to the stores on Black Friday will be your greatest defense against misleading promotions.
7. Get your mobile device ready.
Arm yourself with the latest apps for the best in-store savings.
8. Get the right credit card.
Credit cards aren't for everyone, so take this tip with a grain of salt. Contact your credit card company to determine what specials are going on over the holidays.
If your card doesn't accrue extra rewards for holiday gift purchases, research and apply for one that does so you can earn points on planned purchases. Redeem points for gift cards to give as gifts for free!
9. Schedule Thanksgiving dinner accordingly.
If you're a die-hard Black Friday shopper, you know the event has recently become Gray Thursday as some stores open their doors at midnight on Thanksgiving — or 8:00 p.m., like Sears.
Let your guests know now that Thanksgiving dinner will be a bit early this year so you're not skipping out on family time.
10. Coordinate with friends and family.
Now is the time to coordinate your shopping crew for Black Friday festivities.
Shopping in pairs or larger groups makes waiting in line more fun, plus you can "divide and conquer" by splitting up gift lists and buying items on behalf of friends and family.
Consider creating a group on Facebook where people can find shopping buddies and carpools.
This has been a guest post by Andrea Woroch who is a nationally-recognized consumer and money-saving expert who helps consumers live on less without radically changing their lifestyles. From smart spending tips to personal finance advice, Andrea transforms everyday consumers into savvy shoppers. She has been featured among top news outlets such as Good Morning America, NBC's Today, MSNBC, New York Times, Kiplinger Personal Finance, CNNMoney and many more. You can follow her on Twitter for daily savings advice and tips.