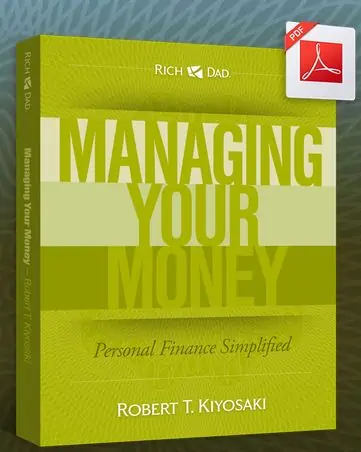 Grab a FREE copy of Managing Your Money!
For more than a decade, the Rich Dad Poor Dad's personal finance series of books, conferences, and apps has empowered tens of millions of people across the globe with the tools and information necessary to gain financial independence. Managing Your Money serves as a simple guide with useful, personal finance tips that anyone can put into action as soon as TODAY!
Download Managing Your Money and equip yourself with valuable tools and advice including:
How to identify and approach eliminating Bad Debt
The power of "Paying Yourself"
The role of discipline in personal finance
The concept of habits controlling behaviors
How to prepare a personal, financial statement
An exploration of Rich Dad's CASHFLOW Quadrant
"The idea of eliminating your bad debt to prepare your path to financial freedom is no doubt an overwhelming one," said Robert Kiyosaki, founder, The Rich Dad Company. "Yet I firmly believe ANYONE can do it. Managing Your Money was written with the average person in mind. I provide simple tactics and advice that anyone can follow to pay down their bad debt and even find small savings on a month-to-month basis, ultimately preparing them to take control of their financial future!"
Now through August 24th, you can get pick up a FREE copy here.