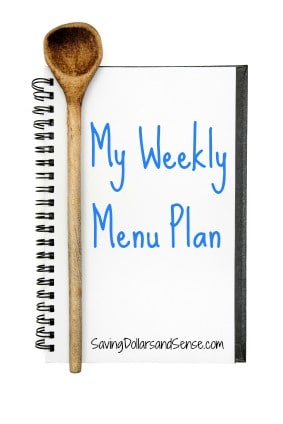 What kinds of meals have you been adding to your weekly menu plans lately?
I am looking specifically for dinner recipes that are about 250 calories and I am surprised by just how many recipes there are when I google the phrase "low calories recipes".
Now on to this weeks menu plan.
Breakfast and lunch is pretty much the same around my house which is why that part of the menu never changes.
Breakfasts – consists of oatmeal, cold cereal, fruit smoothies, toast & poached eggs.
Lunches – consists of soups, peanut butter or tuna sandwiches, and dinner leftovers.
Dinners – I will try to include lots of veggies this week.
~ Monday ~
My husband brought home Chinese food
~ Tuesday ~
Herbed Chicken, Brown Rice and Roasted Veggies
~ Wednesday ~
Chili Dogs and Tater Tots
~ Thursday ~
Grilled Salmon and Grilled Zucchini
~ Friday ~
Crock Pot Beef Stew
~ Saturday ~
Pancakes and Sausage
~ Sunday ~
Usually we have a very late lunch and just find something small for dinner. Either way I don't plan because I like to be flexible for anything that pops up.