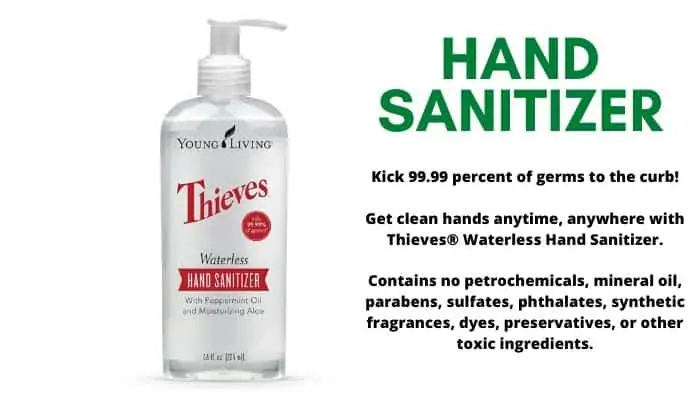 Everyone is talking about washing hands and using hand sanitizer lately, and rightfully so!
I wanted to share which hand sanitizer we personally are using in our house and where you can still get it.
I know a lot of stores, even online stores, are running out of hand sanitizers and soaps. But I am happy to report that you can still get my favorite line of germ fighting products today!
Kick 99.99 percent of germs to the curb!
Get clean hands anytime, anywhere with Thieves® Waterless Hand Sanitizer.
Small enough to fit in your purse or travel bag but big enough to share, this germ-fighting solution is great for the whole family.
Infused with soothing aloe vera gel and the cleansing properties of 100 percent pure Thieves® blend and Peppermint essential oil, Thieves Hand Sanitizer effectively eliminates common, harmful germs and bacteria.
As a bonus, this lightweight formula leaves hands soft and smells divine.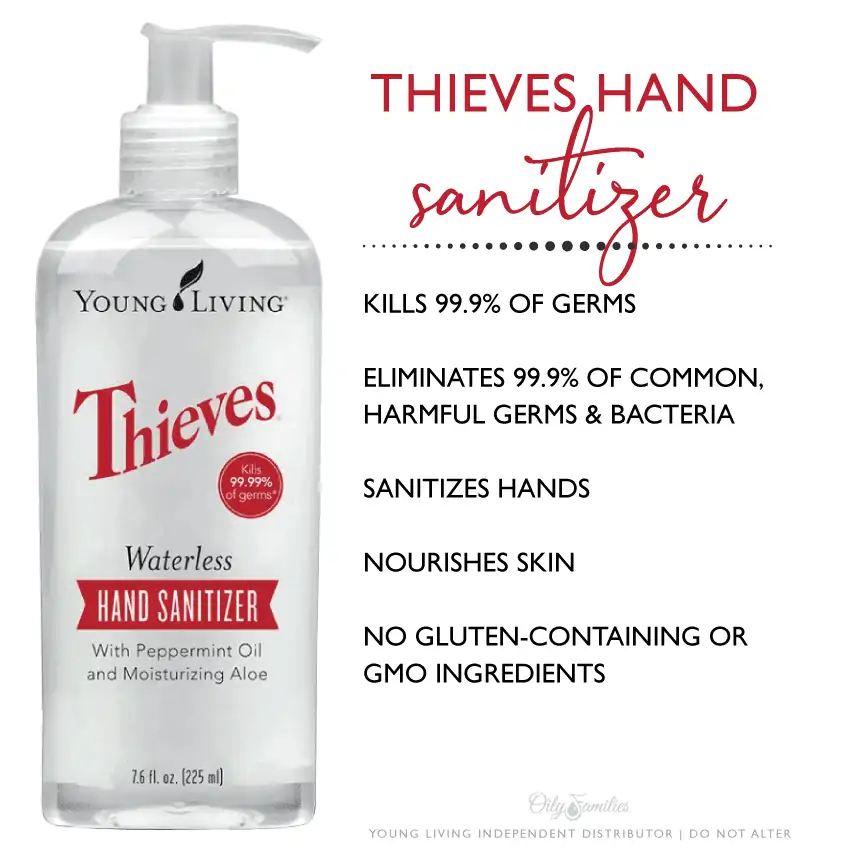 FEATURES & BENEFITS
Kills 99.99 percent of germs
Formulated with powerful essential oils and plant-based ingredients
Lightly moisturizes with aloe vera and vegetable glycerin for that baby-soft feeling
Comes in a larger size that is convenient for offices, bathrooms, and kitchens
Leaves no chemical residue behind
Contains no petrochemicals, mineral oil, parabens, sulfates, phthalates, synthetic fragrances, dyes, preservatives, or toxic ingredients
You can get it in a handy 1 ounce travel size or the larger pump action 7.6 ounce bottle.
I like to get the larger bottle and then I use it to refill my smaller bottles. I keep the smaller bottles in all of our vehicles, bags and coat pockets, so we always have some nearby.
You can also pick up a handy Thieves Spray or Thieves Wipes which are great to stick in your purse or diaper bag to wipe down shopping carts, door handles and anything else you want to make sure is clean.
Thieves Products I Recommend:
Lastly, I use the Thieves Household Cleaner to clean everything in my home!