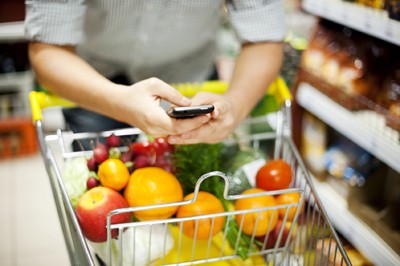 The use of digital coupons has exploded in recent years, and experts estimate worldwide redemption rates will reach 31 billion in 2019, compared to 16 billion in 2014.
In fact, digital coupon usage has increased every year since 2012, while paper coupon usage has decreased, according to the 2016 Valassis Coupon Intelligence Report released earlier this year.
Despite the popularity of paperless discounts, grocery brands have been slow to catch on with manufacturer coupons offered mostly in the paper form.
A recent collaboration between the National Supermarket Association (NSA) and Scanbuy seeks to change that, producing a digital couponing platform called dCoupon which shoppers can use to redeem grocery coupons from their smartphones.
This platform is only available to shoppers who frequent NSA's network of independent supermarkets located mostly on the East Coast, but represents progress in an area of particular interest to consumers.
While we wait for nationwide access to manufacturers' coupons, here are six top mobile tools that make it easy for shoppers to save money on groceries and other everyday expenses.
Checkout 51: Receive cash back on grocery purchases ranging from condiments to almond milk to fresh produce with Checkout 51. Like Walmart's Savings Catcher, Checkout51 requires users to upload a receipt image as proof of purchase. Users then select eligible items from Checkout 51's rotating list of offers and receive cash back for their purchases. Once a user's credit reaches $20, he or she receives a check in the mail.
Target Cartwheel: Target shoppers can save more on their weekly hauls with the Cartwheel app, which offers rotating savings on everything from food to apparel to home goods. New users can redeem 10 offers per transaction and earn additional deals the more they use the app. There are many insider secrets to optimizing savings on Cartwheel, including the fact that deals can be combined with manufacturer coupons, rebate offers and Target's 5% REDcard discount for additional savings.
Coupon Sherpa: With families increasingly buying grocery items from specialty retailers and dollar stores, a mobile coupon app like Coupon Sherpa can help save an additional 10 to 20%. This free app offers digital savings to thousands of retailers, restaurants and service providers, with savings like 10% off from World Market and $1 off select products from Dollar General.
Grocery iQ: Paper grocery lists pale in comparison to the digital organization tools offered by Grocery iQ, which sorts products by aisle so shoppers can more quickly find the items they need. The app also identifies available coupons which can be printed directly from the app or sent via email for at-home printing.
Walmart's Savings Catcher: Price matching is effortless for Walmart shoppers who use the Savings Catcher tool within the store's app. Simply snap a picture of your receipt and Walmart scans nearby competitors for prices on purchased items. If they find a better price, consumers are credited the difference in the form of a Walmart gift card, which can be redeemed online or in store.
CVS Pharmacy App: ExtraCare cardmember members are privy to endless product discounts and free rewards. The store app ensures customers get access to these coupons instantly and also provides the ability to review circulars and compare sale prices using smartphones and tablets.
Guest post by Andrea Woroch, a money-saving expert who transforms everyday consumers into savvy shoppers by sharing smart spending tips and personal finance advice. As a sought-after media source, she has been featured among such top news outlets as Good Morning America, Today, CNN, Dr. OZ, New York Times, MONEY Magazine, Consumer Reports, Forbes and many more. In addition, Andrea's stories have been published among leading publications and sites such as Yahoo!, AOL Daily Finance, CNN Money, Huffington Post, LearnVest and New York Daily News. Check out Andrea's demo reel or visit her website at AndreaWoroch.com for more information about booking an interview or requesting an original written article. You can also follow her on Twitter or Facebook for daily money tips.