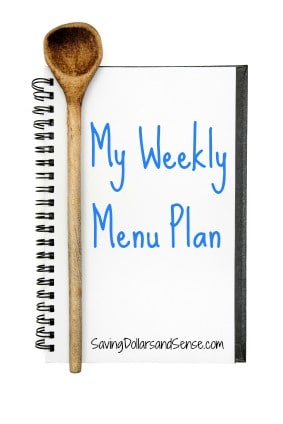 It's a new year and I know that I am not the only one that is looking to incorporate more healthy, low-cal meals into their weekly menu plans am I?
I am working to gain control of my health again this year now that I have recovered from all the procedures and surgeries of last year. My doctor has given me the okay to exercise again and I plan to lose about 30 pounds that I picked up last year when I couldn't exercise much and resorted to depression eating to deal with some of the emotions I was hit with when I found out I had cervical cancer.
I am planning to follow this 20-minute workout plan as well as drink tons of water, use essential oils for weight loss and to firm up any loose skin and eat better beginning this week!
Now on to this week's healthier menu plan.
Breakfast and lunch are pretty much the same around my house which is why that part of the menu never changes.
Breakfasts – consists of oatmeal, cold cereal, green smoothies, toast & poached eggs.
Lunches – consists of soups, peanut butter or tuna sandwiches, green smoothies, and dinner leftovers.
Dinners – I am looking for low-calorie meals, starting off a bit slowly because I do not want to shock my son with my new meals too quickly.
~ Monday ~
Grilled Chicken, Steamed Herbed Broccoli and Mashed Potatoes
~ Tuesday ~
Spaghetti and Salad
~ Wednesday ~
Grilled Chicken Spinach Salad
~ Thursday ~
Baked Herbed Fish, Steamed Broccoli and Rice
~ Friday ~
Homemade Chicken Pot Pie
~ Saturday ~
Homemade Pizza & Salad
~ Sunday ~
Usually, we have a very late lunch and just find something small for dinner. Either way, I don't plan because I like to be flexible for anything that pops up.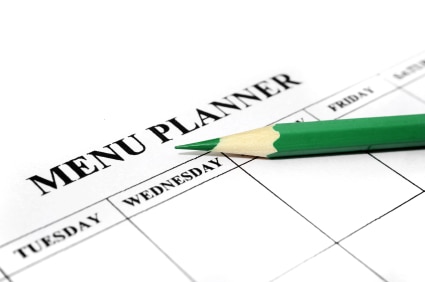 If you are new to Menu Planning, you can read why I recommend it and find a simple way to plan yours in just a few minutes.
Spending a couple of minutes planning today will end up saving you time and money in the long run!