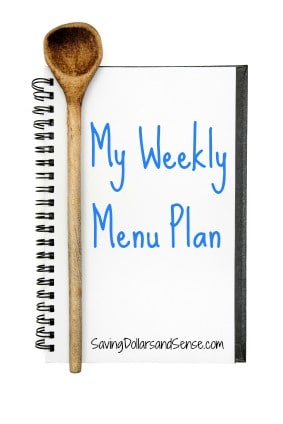 I'm happy to be able to fire up the grill a couple times this week!
I only needed to come up with 5 dinners this week because we will take my husband out for a birthday dinner celebration on Friday!
Now on to this weeks menu plan.
Breakfast and lunch is pretty much the same around my house which is why that part of the menu never changes.
Breakfasts – consists of oatmeal, cold cereal, fruit smoothies, toast & poached eggs.
Lunches – consists of soups, peanut butter or tuna sandwiches, and dinner leftovers.
Dinners – I will try to include lots of veggies this week.
~ Monday ~
Fiesta Lime Chicken Soft Tacos
~ Tuesday ~
Hamburgers & Spinach Salad
~ Wednesday ~
Broccoli & Cheese Stuffed Chicken Breast and Pierogies
~ Thursday ~
Grilled Chicken Breast, Green Beans and Baked Potatoes
~ Friday ~
Out to eat
(My Husbands Birthday Dinner)
~ Saturday ~
Jalapeno Cheddar Sausages & Spinach Salad
~ Sunday ~
Usually we have a very late lunch and just find something small for dinner. Either way I don't plan because I like to be flexible for anything that pops up.