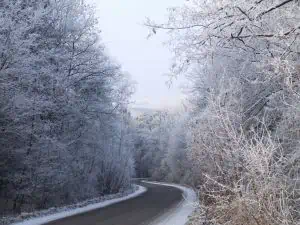 So my week started off fairly normal, which for us is not so normal since drama which seems to find us no matter how hard we try to hide lately.
We were coming off of several weeks of intense work to get our rental house ready to go for the first tenant. Because it had been such a crazy couple weeks my husband decided now would be the perfect time to go on a mini-vacation.
It all started off innocently enough. We decided to use a Groupon for Great Wolf Lodge that I was able to get recently on Wednesday night because it was the only time that we could get away before it expired.
To keep the cost of our spontaneous trip down, I brought some frozen pancakes and sausage links that I cooked up the night before along with a huge batch of these Freezer Burritos which everyone loves!
We invited my nephews to come along and packed up the car to head to the lodge on Wednesday morning without knowing how close we would come to a real tragedy.
As we got closer to the west side of the state the roads got a little most covered in snow. But being a born and raised Michigander, snow doesn't scare us and neither does driving in it.
My husband made an effort to pass a snowplow that was barely moving in front of us only to find the car was fishtailing down the highway at about 55 miles an hour after hitting a hidden patch of ice!
I know my husband's mad driving skills were put to the test!
Thankfully he managed to keep us on the road and in one piece with quite a bit of help from the big guy upstairs I'm sure!
After fishtailing from one side of the road to the other for a quarter mile down the busy road and doing a 360 spin, we miraculously avoided any injuries and major damage as we were stopped by a mailbox from going into the ditch.
There were a plow truck and 7 other vehicles behind us, any one of which could have hit us. Not to mention the fact that no one knows when the oncoming traffic would have reappeared.
The car and everyone in it were just fine despite the big dent from the mailbox so we didn't let it stop our trip. We had an amazing time at The Great Wolf Lodge and I highly recommend grabbing the deal when it comes back around again!
Ever have one of those weeks that make you wonder if anything else could go wrong?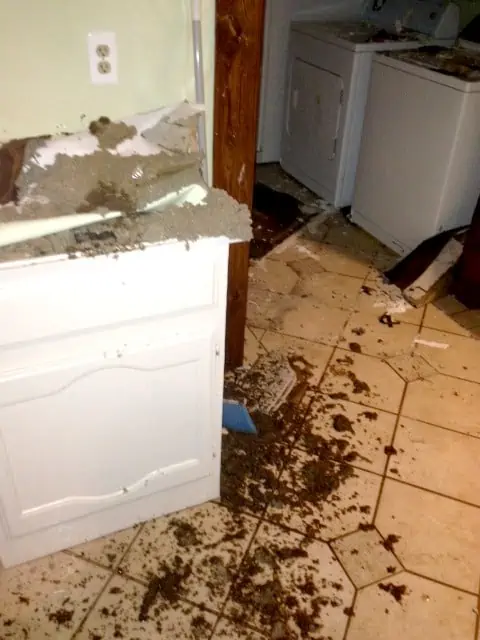 We received a phone call late last night from our tenant who has yet to move into the house to let us know he found this lovely disaster waiting for him when he arrived at the house yesterday!
Apparently one of our pipes froze and burst destroying the wall that separates the kitchen from the utility room 🙁
Just when we finally finished putting that house into immaculate condition, this happens. Why did it happen you might be wondering? Simply because the house was unoccupied for a couple of days without anyone using the water during an extreme cold spell.
The furnace was working fine when we arrived, so our only assumption has to be that it was because the water wasn't moving and it just froze. Once it started to warm up it burst and sprayed water everywhere.
A complete mess!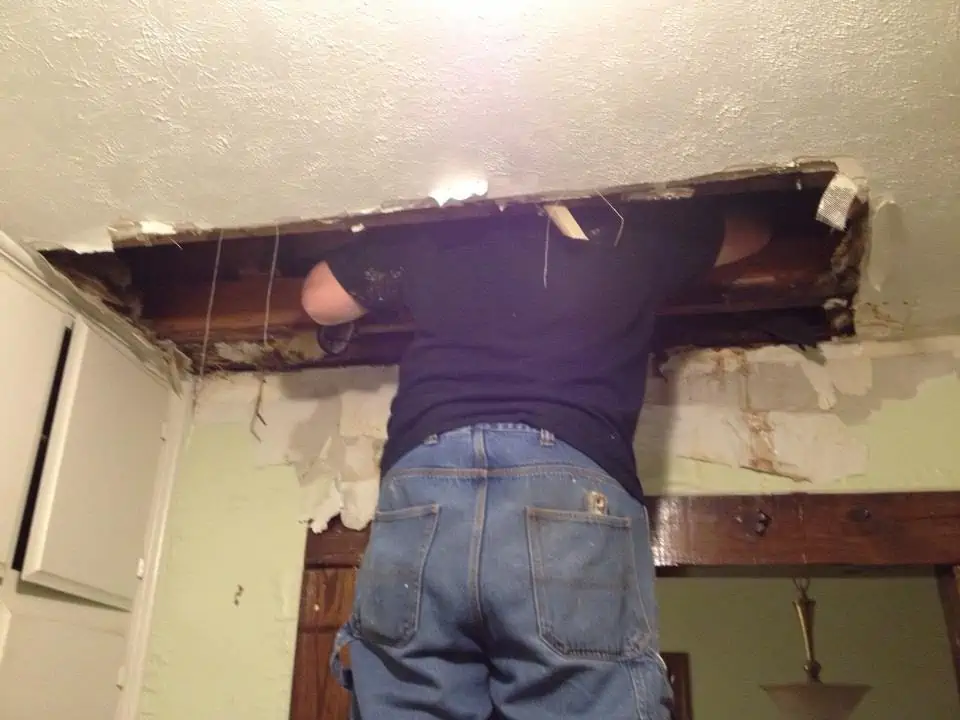 Rich had to take down a lot of the ceiling, insulation, and walls to get rid of all the water damage.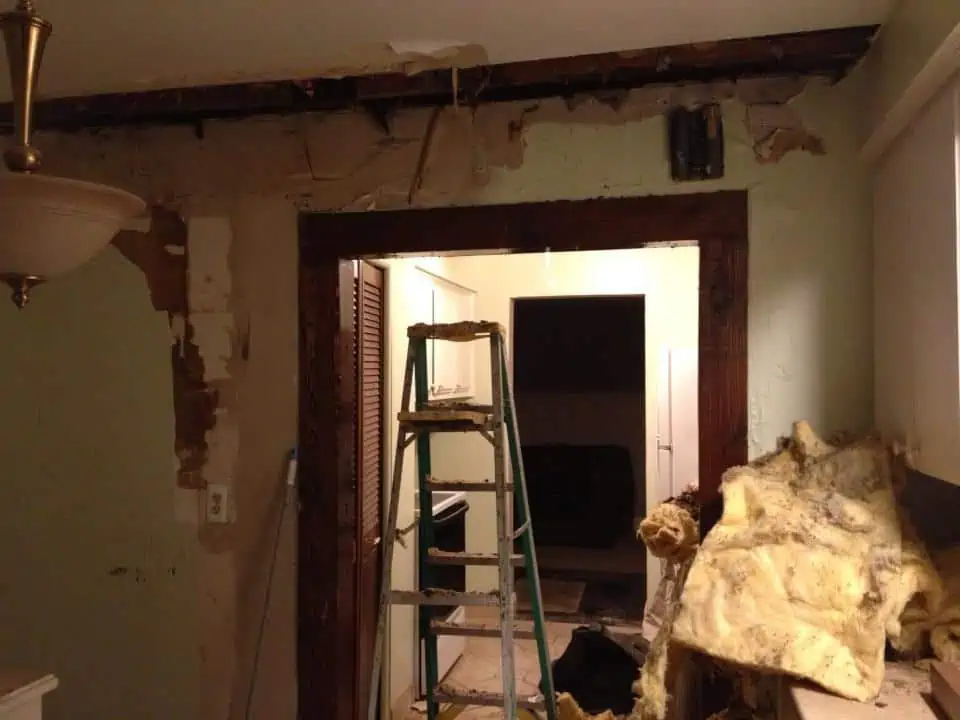 I have to admit it makes me a bit nauseous to look at the photos.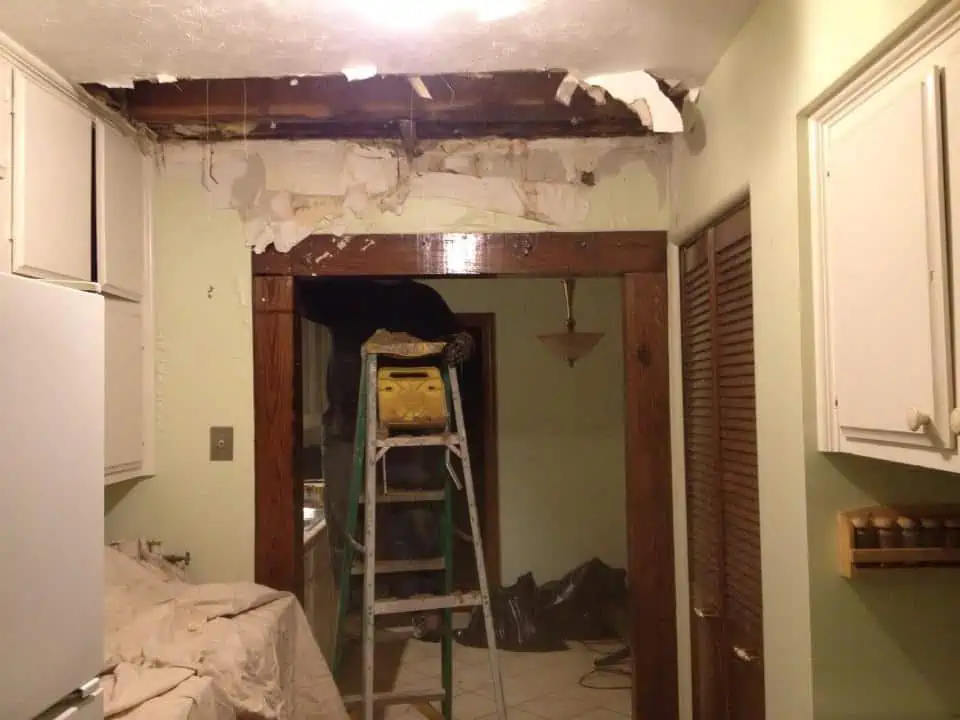 We finally finished cleaning up the mess and all of the water at a little after 3 am.
Do you ever feel like you've lost the wind in your sails? I feel like I've been having one of those lives lately. It feels like just as we begin to see the light at the end of the tunnel, we get pummeled once again.
Don't get me wrong, I realize how incredibly blessed I am. And I know things could definitely have been MUCH worse. I also know that we wouldn't be targets if we weren't a threat to the enemy 🙂
Get ready for a fight!
I am so thankful that God has paired me with a man who is able to fix anything! We will NOT let this momentary setback stop us. Not when we have already survived so many other much larger mountains in our pathways.
I am so thankful to all of you who saw the message I shared in the SD&S Facebook Community after our accident and took the time to send your prayers and well wishes. I was truly blessed by your support and encouraging words.
Thank you, you guys are the best!