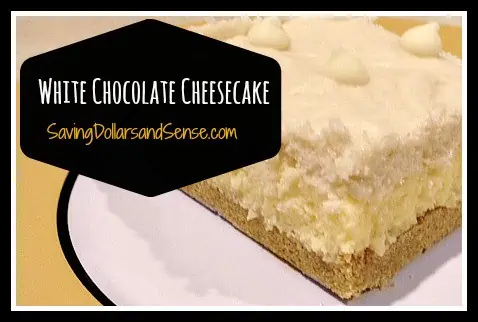 I picked up one of those boxes at the grocery store the other day that contained everything to make a simple no bake cheesecake. I decided I wanted to try something new to make it a little more special than just an ordinary store bought no bake cheesecake.
I found a recipe online for white chocolate frosting that I was dying to try and thought this would make a rich topping for the cheesecake. I did change the recipe a little because I was concerned it would be way to rich.
Ingredients
3/4 cup of white chocolate chips
3 tbsp. flour
1 cup milk
1 cup sugar
1 stick butter
1 1/2 tsp. vanilla
Melt chocolate chips on the stove.
Stir flour into melted chocolate.
Add milk and blend well.
Cook over medium heat, stirring constantly until very thick.
Cool completely.
In a large mixing bowl, beat sugar, butter and vanilla until light and fluffy.
Add chocolate mixture and beat until creamy.
Frosting recipe was inspired by Cooks.com
I waited for the white chocolate topping to cool completely before spreading it on top of the cheesecake I prepared earlier.
Let me just say that my husband announced immediately that this was his new favorite dessert and he thought it was much better than the Banana Pineapple Dessert that I traditionally make during Easter. So it very well may be replacing that one this year!