Take advantage of this Audible Sale and Get a 4 Months for just $5.95/month + $20 credit!!
I love using Audible to grab the books I can't get free through the Libby app. If you love listening to audiobooks, you're going to want to grab this Audible offer today! 
You'll have access to Audible's massive Audible Plus catalog, which is like a library of free books, podcasts and Audible Exclusives. 
The extra $20 credit is in addition to the credit per month that you'll get as an Audible member! And this time of year they have tons of great deals, so you could probably grab a few books with your $20 credit!!
Regularly $14.95 per month, this is a great deal with a savings of $9 per month!
This is a great way to try out Audible to see how you like it before committing to the full price monthly cost.
This deal is only valid through November 27th, so grab it while you still can!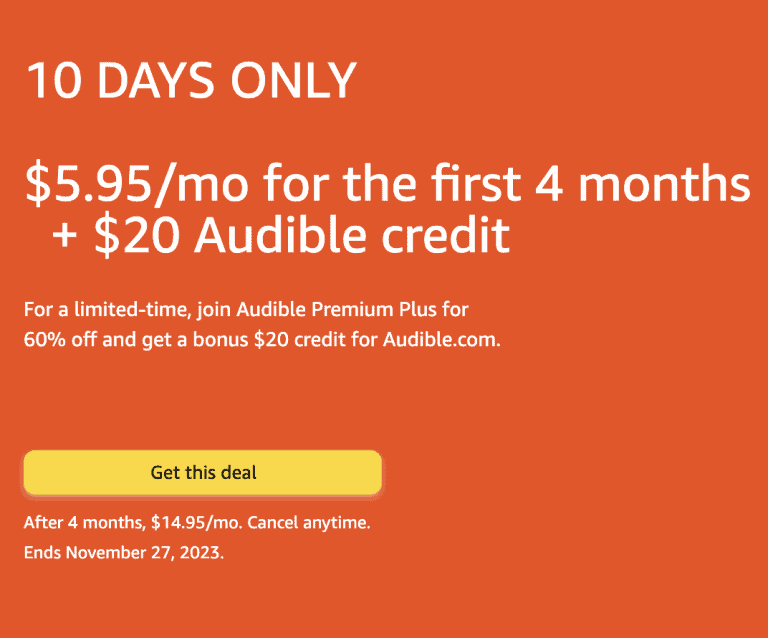 Plus Audible subscribers get access to exclusive bargains, special offers and deals off premium titles and bestsellers you wish to purchase, in addition to one credit for a FREE premium title each month.
You can also get this FREE 2-month Kindle Unlimited Trial right now!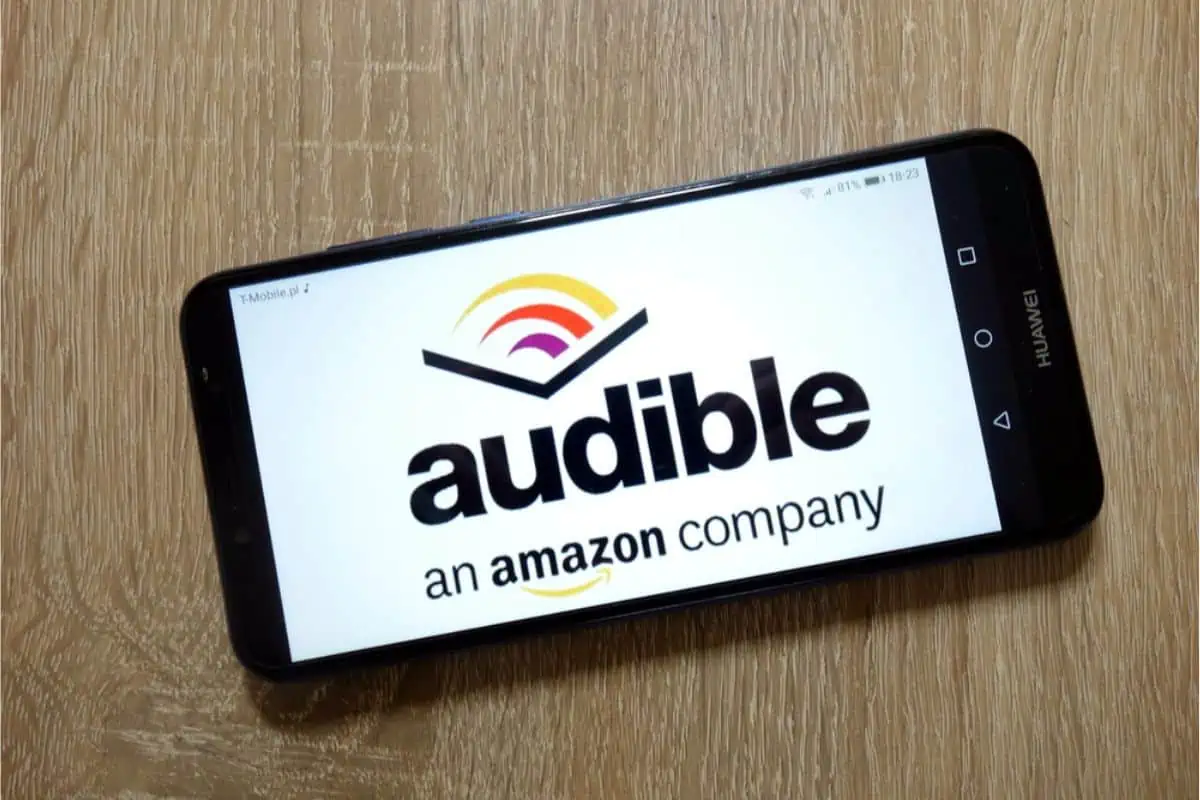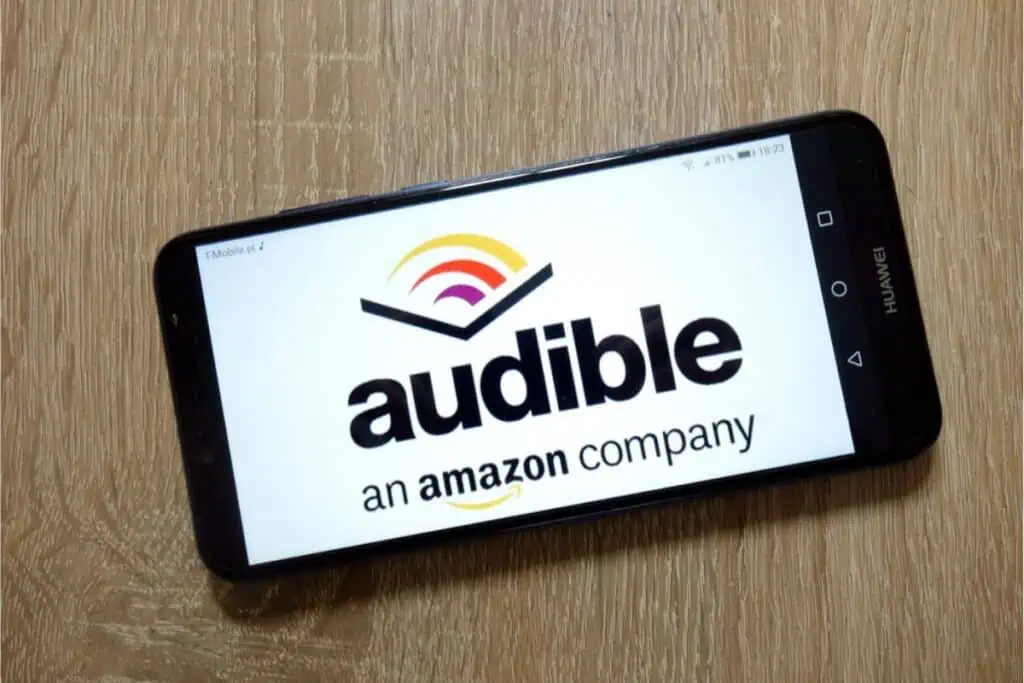 What is Audible
Audible is a subscription service that allows you to access the Audible library and website and stream and download thousands of audiobooks, Originals, and Podcasts.
Audible Originals – including documentaries, theater, and sleep programs – all made to be heard.
Audiobooks – including fan-favorites and most-loved genres like mysteries & thrillers, and motivation.
Podcasts – including Audible Plus catalog of podcasts, ad-free popular shows, and exclusive series.
How Does Audible Work
Audible gives you access to endless streaming of audiobooks, exclusive bargains and deals off premium titles you wish to purchase, in addition to one credit for a FREE premium title each month.
That means you'll get 3 FREE Audiobook titles to keep with this deal, plus unlimited access to the streaming library of audiobooks. (Premium new-release Audible books can cost as much as $30, so to be able to download and keep four for FREE is such an amazing deal!)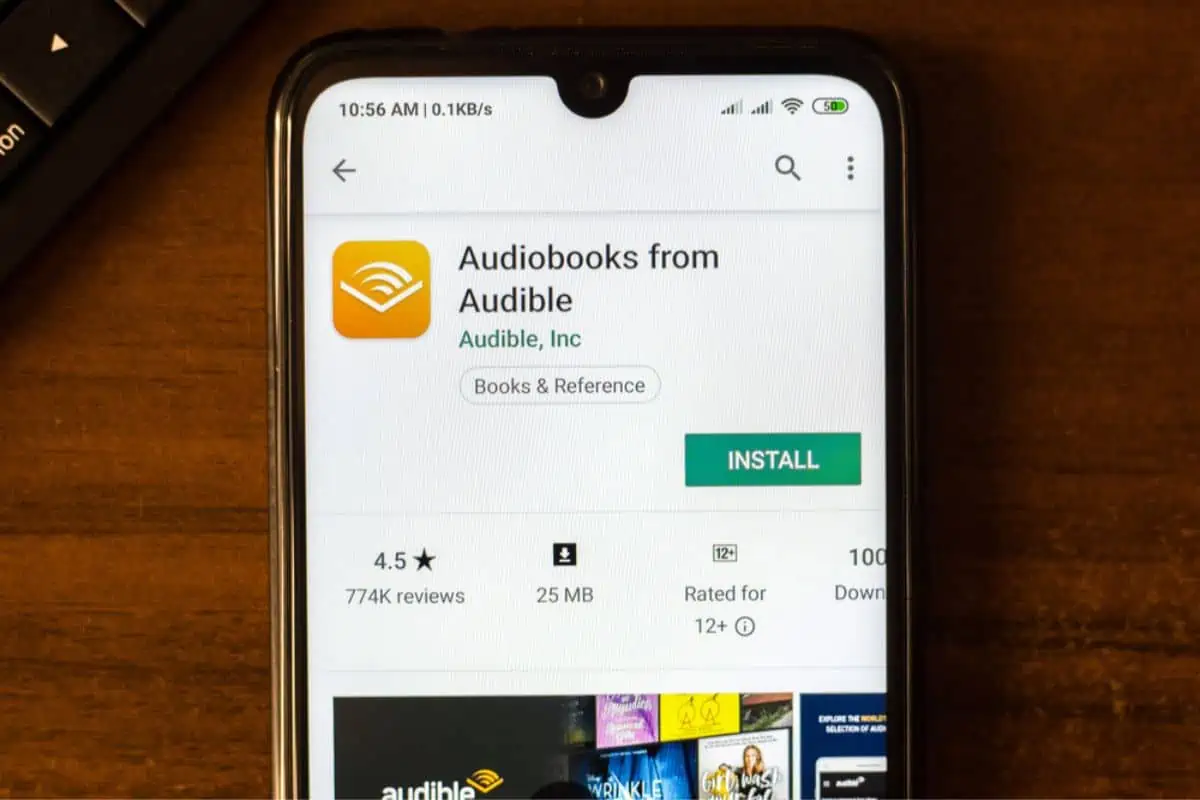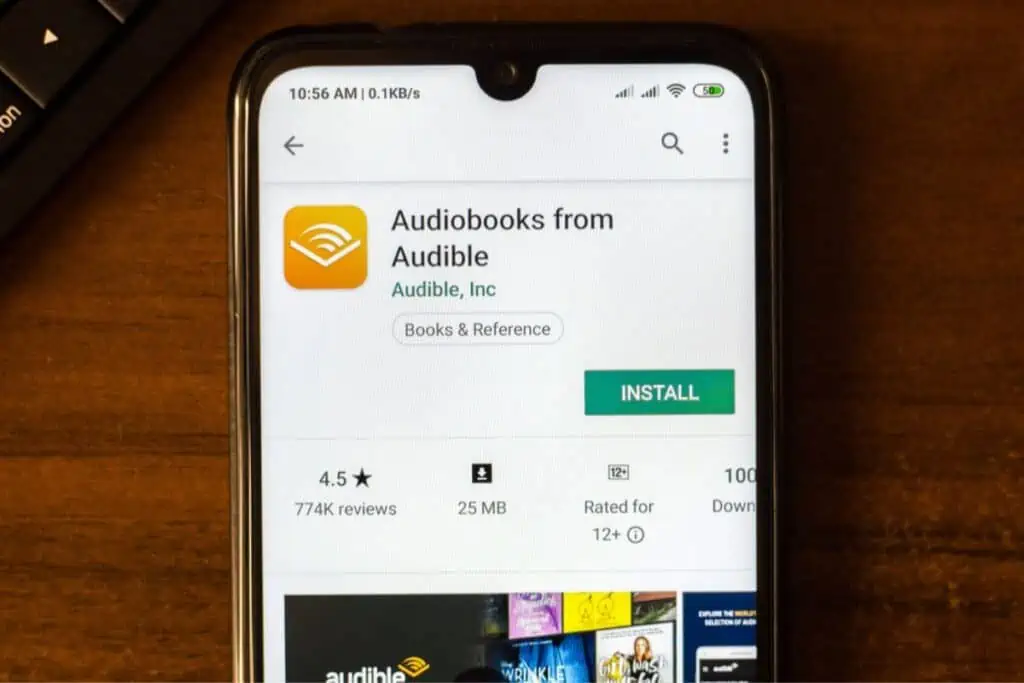 Audible Free Trial
If you're an Amazon Prime member and you've never tried Audible before, you can get your first three months completely for FREE right now!!
The free trial for new Audible subscribers is typically only for a 30-day trial, so this is a huge value giving you two extra months for free! At the regular monthly subscription fee of $14.95/month, that's a savings of almost $30!
This amazing freebie is only available through February 20th, so take advantage of it while you still can.
Past Members Might Still be Able to Get This Free Trial!
While this is supposed to be for new members only, some previous members are still finding that this free offer is available to them too.
The only way to know for sure if you can get this free trial from Audible, is to click here and see if the deal is being offered to you or not.
If you don't see the Audible deal being offered to you, you can contact customer service to see if you can have the deal applied to your account. Click through here to see if the deal is offered to you, and if not, send a chat or call customer service.
How to Cancel Audible Membership
Amazon makes it so easy to cancel your Audible subscription after your free trial period, should you decide that you no longer need it.
When you're ready to cancel your membership, just log into your Audible account and follow the steps below before your trial ends.
Go to Audible.com
Click or tap Account Details and log in with your Audible/Amazon account information.
Click or tap on Cancel membership under the text box with your current membership information.
Choose reason for cancellation and follow the instructions. After you finish, you will receive an email confirmation.
How Much Does Audible Cost?
Once your FREE Audible Trial has ended, you'll be charged the regular price each month.
Plans start at $7.95 per month after free trial. No commitments, cancel anytime.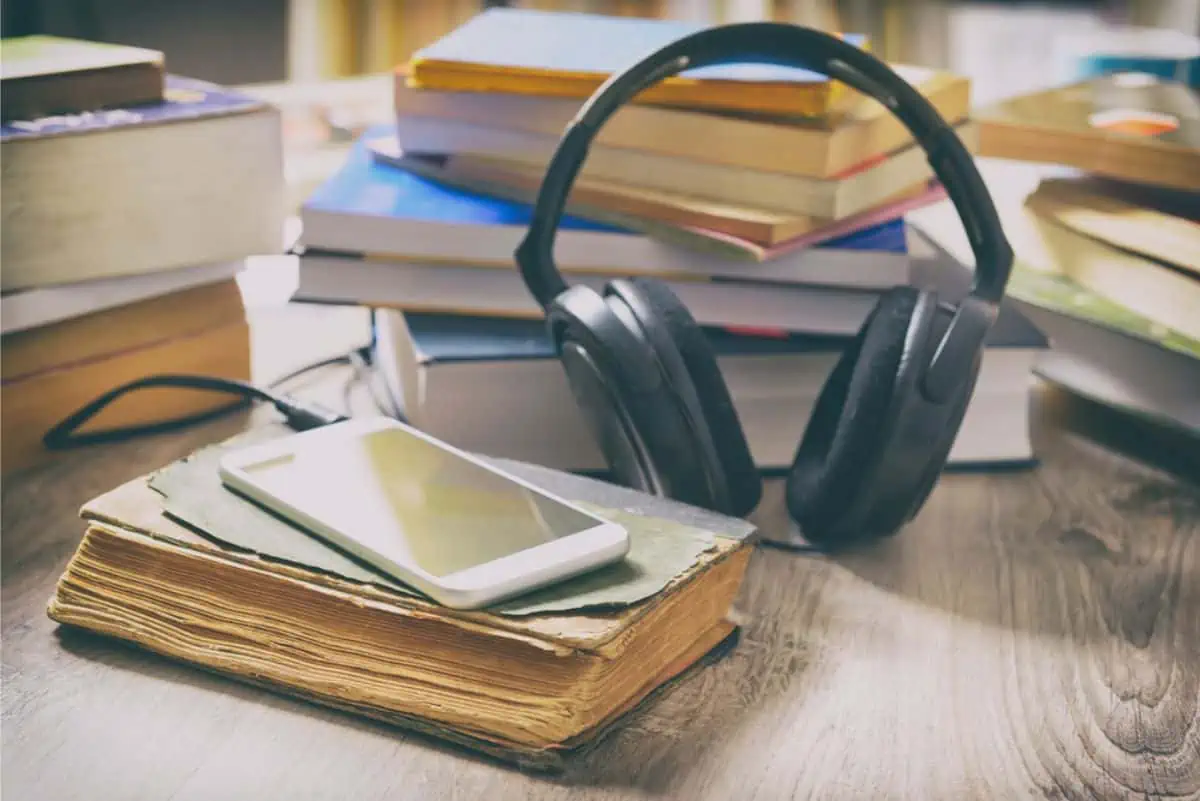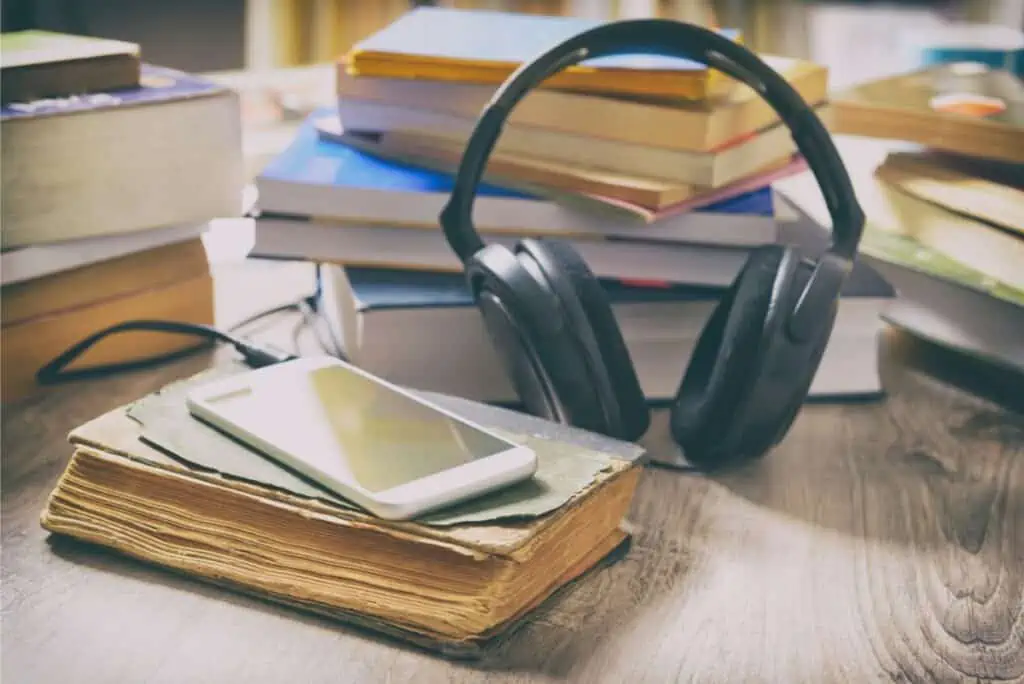 Why Listen to Audiobooks
Do you find that you never have enough time to get through your reading list? Then audiobooks might be just what you need!
Audiobooks are becoming increasingly popular in our fast-paced society where time is often a commodity. Today, with the availability of audio downloads, streaming services, and downloadable applications, it's even easier to consume books this way.
Whether we are driving long distances, multitasking at work or running errands – audiobooks offer the perfect solution for busy book lovers!
Audiobooks present an amazing way for people to turn their otherwise unproductive moments into enjoyable yet educational experiences.
I love Audiobooks
If you're anything like me, you might find it hard to find time to read books.
A couple years ago, I make the decision that I really want to read more books each year.
One of the best ways that I've been able to do that is by listening to audiobook too!
I usually get free audiobooks through the Libby app and my local library. But sadly, there are some books that they just don't carry.
Audible has become my go to for audiobooks that I cannot get free from Libby.
I love listening to an audiobook while I'm on my exercise bike, while doing dishes or laundy and even on longer drives in the car.