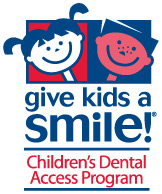 I want to share this special freebie with you again, as this is a popular freebie that blesses families every year.
This program is called, "Give Kids A Smile." You can read all about the program here.
What is Give Kids A Smile?
Every year, thousands of dentists and dental team members across the country take time from their practices to help children who lack access to dental care. They give them the treatment they need.
"Through the ADA Foundation's Give Kids A Smile program, launched nationally by the American Dental Association in 2003, more than 5.5 million underserved children have received free oral health services. These free services are provided by volunteers including approximately 10,000 dentists annually, along with 30,000 other dental team members. Read about the history of GKAS, or make a donation."