I've already begun looking for some gifts for my family. It can be a bit more challenging to come up with fun gift ideas when your kids are getting older.
Most young adults would love to receive a gift in the techie category, like the ones I have rounded up in this post today.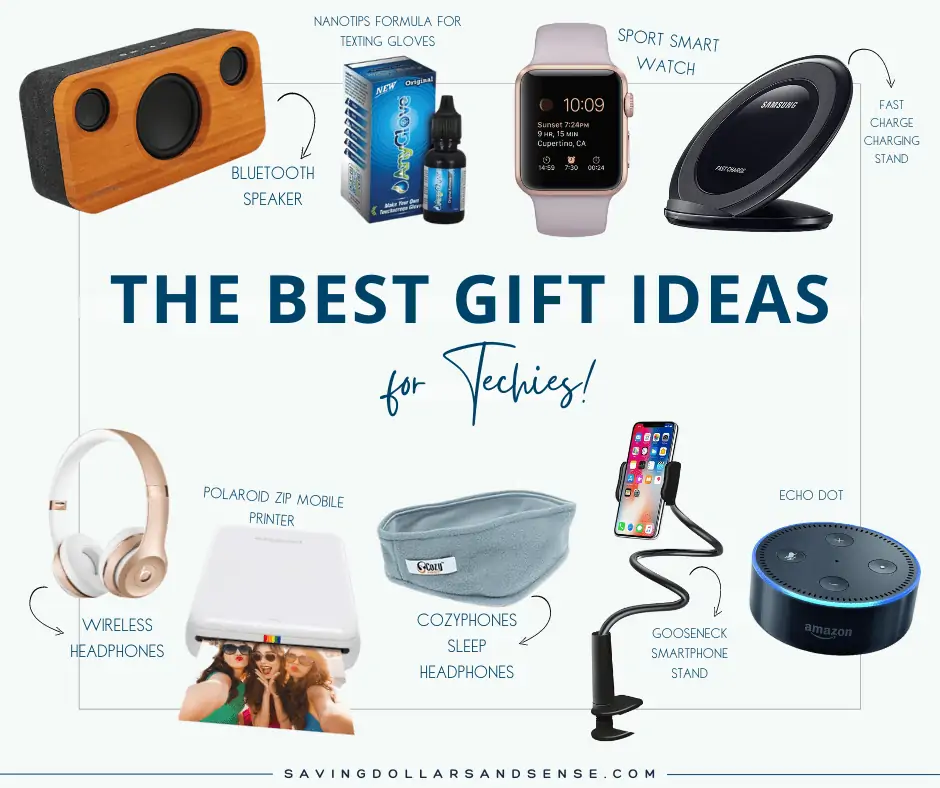 If you are looking for fun and unique gift ideas for techies, you've come to the right place because we have all of the best gifts for techies.
A 15ml bottle of AnyGlove contains 550 drops, enough to treat about 5 pairs of gloves. AnyGlove is used by consumers, industry, and military in over 25 countries. Fast, safe and easy to use. Make YOUR gloves touchscreen-friendly in just minutes.
Using the Polaroid ZIP is fast and easy! Just connect a smartphone or tablet via WiFi and watch your portraits, selfies, and social media photos transform from digital images to physical pictures in an instant.
The Wedge is designed to prop up any mobile media device on just about any surface (without sliding) such as airplane tray tables – so now users can watch movies without holding their device in hand.
Its small size and easel-like firm front edge make it easy to prop a device at different angles. The 100% microfiber covering doesn't just spread dirt and oil from your fingerprints around on your e-screens.
It whisks them away with a couple of swipes, leaving you with that 'out of box' clean feeling.
Holds Anything from Smartphones to GPS. This stand provides you with flexible, adjustable viewing whether it may be horizontal, vertical, or any angle under the sun.
With up to 40 hours of battery life, Beats Solo3 Wireless is your perfect everyday headphone. Premium playback and fine-tuned acoustics maximize clarity, breadth, and balance.
Adjustable fit with comfort-cushioned ear cups made for everyday use. 5 minutes of charging gives you 3 hours of playback when the battery is low. Take calls, control your music and activate Siri with the multifunction on-ear controls.
SMAGREHO Under Desk Foot Hammock designed specifically for resting your feet, suitable for use anywhere, such as home, office, outdoors. Easy to Setup – Free to fold, easy to carry. Just buckle the two hooks on both ends of your table and then wedge the ropes in the two hooks.
The perfect little companion for your desktop, Henry is always there when you need a little friend to help tidy up. Two vacuum attachments allow you to reach the tightest spaces—even the crumbs in your keyboard.
CozyPhones feature ultra-thin 1/8″ cushioned, removable speakers with a durable 52-inch cable. Lightweight, comfortable and washable sleep headband contour shape dips down over your ears to provide the perfect fit.
Cool mesh lining help speakers to stay in place even when you toss and turn. CozyPhones sleep earphones are the perfect aid for insomnia or to calm your racing mind while listening to your favorite music, podcast or eBook.
Whether you're switching to a new phone, running out of storage on your smartphone, backing up the cloud, or wanting to safeguard important photos, easily transfer files to new devices or use as a secure and safe storage space.
Easy to use app provides a fast and simple solution for your photo backup needs. Future backups only save newly added files, to avoid storage-consuming duplications.
If you find yourself running out of room on one Picture Keeper, just add another – the app seamlessly picks up where the last drive left off.
Echo Dot is a hands-free, voice-controlled device with a small built-in speaker—it can also connect to your speakers or headphones over Bluetooth or through a 3.5 mm audio cable to deliver stereo sound to the speakers you choose.
Dot connects to the Alexa Voice Service to play music, make calls, send and receive messages, provide information, news, sports scores, weather, and more—instantly.
No more having your phone die on you: Snap this handy tassel charm with lightning cable onto your bag, keyring, or zipper pull and always be prepared to power up. Quite possibly the smartest accessory you'll ever own, it's the perfect way to keep you charged up while still looking chic.
Pixnor Foam Balloon Speaker
It is an ultra-portable, battery operated mini stereo system that plays music from your mobile phone, MP3, MP4, PC, iPod, iPad, iPhone and other audio devices with 3.5mm audio plug. It is your best choice to enjoy your favorite music.
Stay connected in style with the 2015 42mm Apple Watch Sport, which comes with a rose gold anodized aluminum chassis and a stone fluoroelastomer Sport band.
Designed for users looking for the next generation of connectivity, Apple's Watch moves your iPhone's apps and functions to your wrist so you can do more while leaving your phone in your pocket.
Take your wireless charging experience to the next level with the fast charge wireless charging stand.
The new wireless charging stand allows you to charge your compatible Galaxy device up to 1.4X faster than standard wireless charging transmitters using Samsung fast-charge technology.
The stand is also backward compatible for any Qi-enabled device so you can charge those devices wirelessly at standard speeds.
Bring the tactile beauty of walnut wood to your Apple Wireless Keyboard with Lazerwood Keys! Created to perfectly complement Apple's unique style, Lazerwood 100% real walnut wood keyboard covers are something special.
This unique product is made up of individual walnut wood key covers. The key covers attach individually to each key on the Apple Wireless Keyboard and they look amazing!
Touchscreen display cleaner for all electronic devices. The perfect item to use in between your usual spray, clean or wipes. Best screen cleaner for tablet, smartphone, kindle.
Made from high-class natural bamboo and skin-friendly rewind fabric material, the ARCHEER A320 indoor Stereo brings the breath of nature and soothing melody to your leisure and cozy entertaining time with mild feel in control.
As a new generation of HI-FI home stereo, sound quality values the most. With 2 crystal clear tweeters and 1 powerful subwoofer, the room-filling 2.1 Channel Stereo sound with clear treble, alto voice, and abundant bass will be reproduced in an immersive, stunning and powerful genre.
We have lots more Gift Ideas for you too!
Check out the list of the best gift ideas for everyone else on your list too! You could find the perfect gift for everyone and have all of your holiday gift shopping done today.
Check out all of our Saving Dollars and Sense Gift Ideas below:
We also have a fun list of the best Homemade Food Gift Ideas if you'd rather make your own gifts this year.