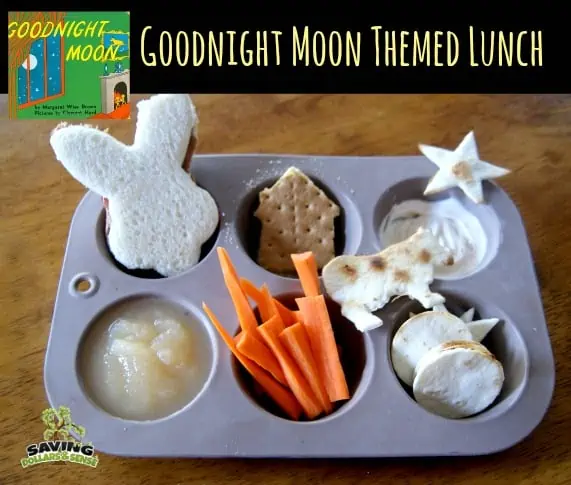 Goodnight Moon is a favorite book of both my children, so creating a Good Night Moon Muffin Tin was a logical theme for our family.
We read the book right before lunch time to reinforce the theme, and I had my toddler identify familiar things from the book.
The PBJ bunny who is the main character, the "cow jumping over the moon" made of toasted tortilla's also make up our "goodnight stars" with a dip of a sprinkle of taco seasoning stirred into Greek yogurt.
Our "bowl full of mush" is applesauce.
The "little toy house" is a graham cracker that I microwaved for about 20 seconds to soften, I was then able to cut it with a house shaped cookie cutter, which could also serve as a haunted house at Halloween and a Gingerbread house at Christmas.
Carrot sticks make up our cozy fire that is the centerpiece of the book.
Thanks to Jody for sharing how she makes lunch and reading fun!
Check out these other Back to School Lunch Ideas!