I'm going to share How to Build a Pantry Stockpile with all of the essentials you need, using our free printable stockpile checklist to make sure you have a well stocked pantry. 

If you want to know How to Save Money on fresh and healthy food, check out the tips below.
Have you ever wanted to know how to build a stockpile?
I started my own little pantry stockpile several years ago and will share the things that I have found to be the most common pantry essentials.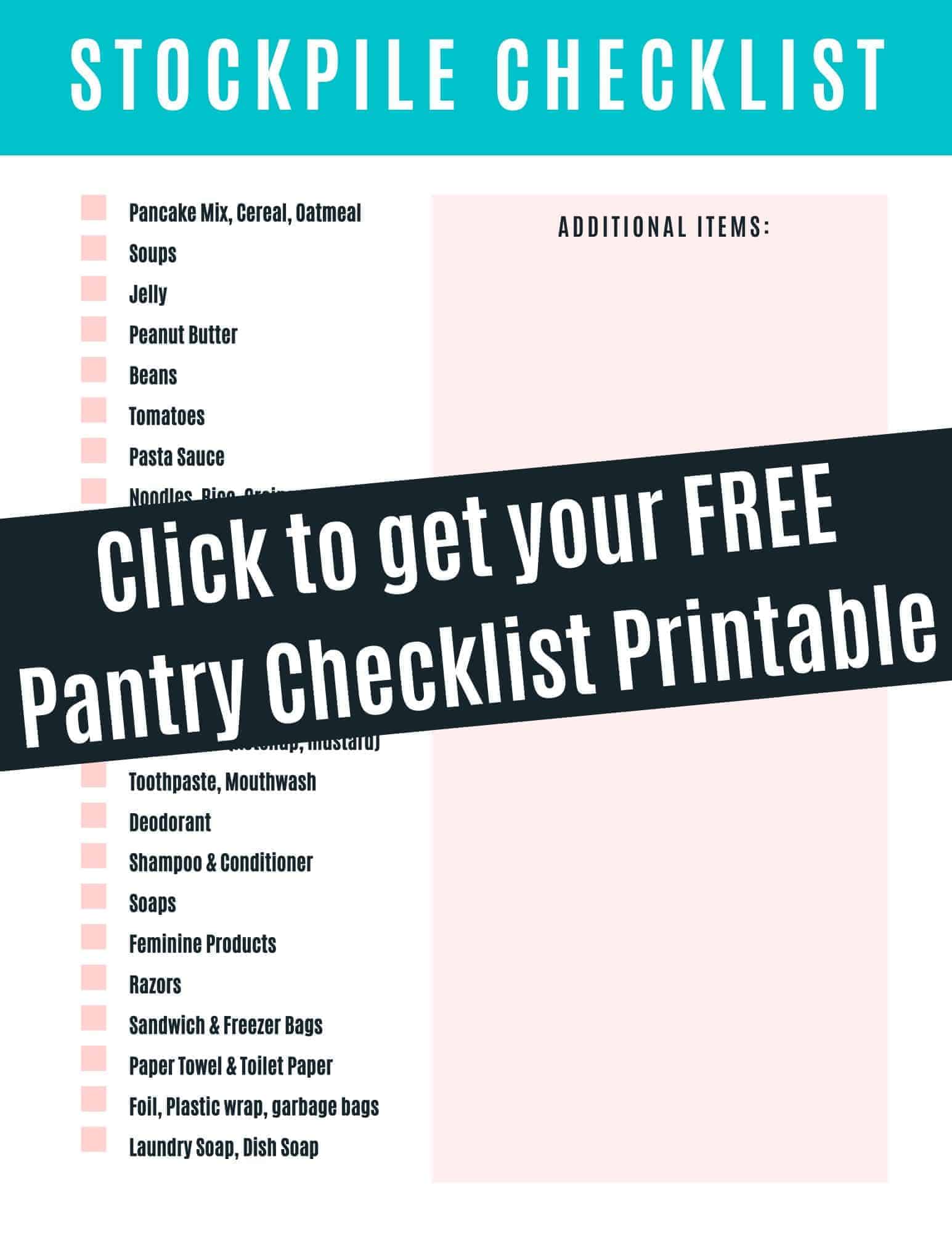 One of the best ways that I learned to save money was to have a little extra of the things we always use on hand. This way I only buy certain things when they are on sale. But first it helps to know How to build a Stockpile.
A large part of being successful with such a small budget is stockpiling.
Stockpiling is a way of life for many like me who try to live as frugally as possible. It is not the same as hoarding!
How this will look for your family is not how it will look for mine.
The reason is that we all are unique and live with a unique set of circumstances. So while I do share my own personal experiences here, it is not to make you feel guilty if your life looks different.
I just hope to encourage you to do as much as possible 🙂
Before we moved to our new house, I lived in a 1200 sq ft home with no basement.
Storage was always a challenge!
I dreamed of the day that I would have space with more than a couple of shelves that I could devote to my stockpiling efforts. Although my space was small, I learned exactly how much I needed to keep on hand to avoid ever paying full price.
What is stockpiling?
When non-perishable food, household products, pet supplies, or hygiene needs go on sale or I have a coupon for them I would always try to pick up at least two.
This way I never pay full price for anything. I buy one to use that week and one to add to my stockpile.
Because my space was small and I really didn't want to clutter my home, I kept a modest amount of the things we always needed.
Some items you can expect to find in my stockpile:
Toothpaste
Deodorant
Shampoo/Conditioner
Noodles
Cereal
Tuna
Soups
Feminine Hygiene products
Toilet Paper
Paper Towel
Dish soap
Laundry Soap
Rice
Flour
Sugar
Baking Products
I know I always need these items for my home to run smoothly, so when I can get them for pennies on the dollar I make sure to grab a couple of extras. Then I know I am covered for the times when these are not on sale.
How much is enough?
Only buy what you will use!
I know it can be so tempting to continue to buy when you aren't paying for the item. But it is wasteful to buy what you can or will not use in a reasonable amount of time.
If you just must get another tube of free toothpaste, why not consider donating some of what you have to shelters, churches, or abused women's centers?
Where to store your stock?
When I was living in a much smaller home, I stored my health & beauty items in the linen closet.
I stored extra food in the three cupboards I could use just for food. That's it!
If all of those spaces were filled I knew we had too much and I would have to donate some or take a week or two off from shopping.
Here's a neat little secret – Once you get the hang of this and have a decent amount of stock you won't need to shop all the time because you will find you actually have too much stuff!
The first step
I want to leave you with one last thought. Stockpiling will not happen overnight, it happens a little each week. Like I mentioned at the beginning of this article, it is a way of life – I like to think of it as part of my frugal journey!
Won't you take the first step with me?