Below is the current list of all of the Good Report Card Freebies available this year.
If you are looking for several frugal and free ways to reward your kids, make sure to scroll down for the complete list of freebies for good grades 2023!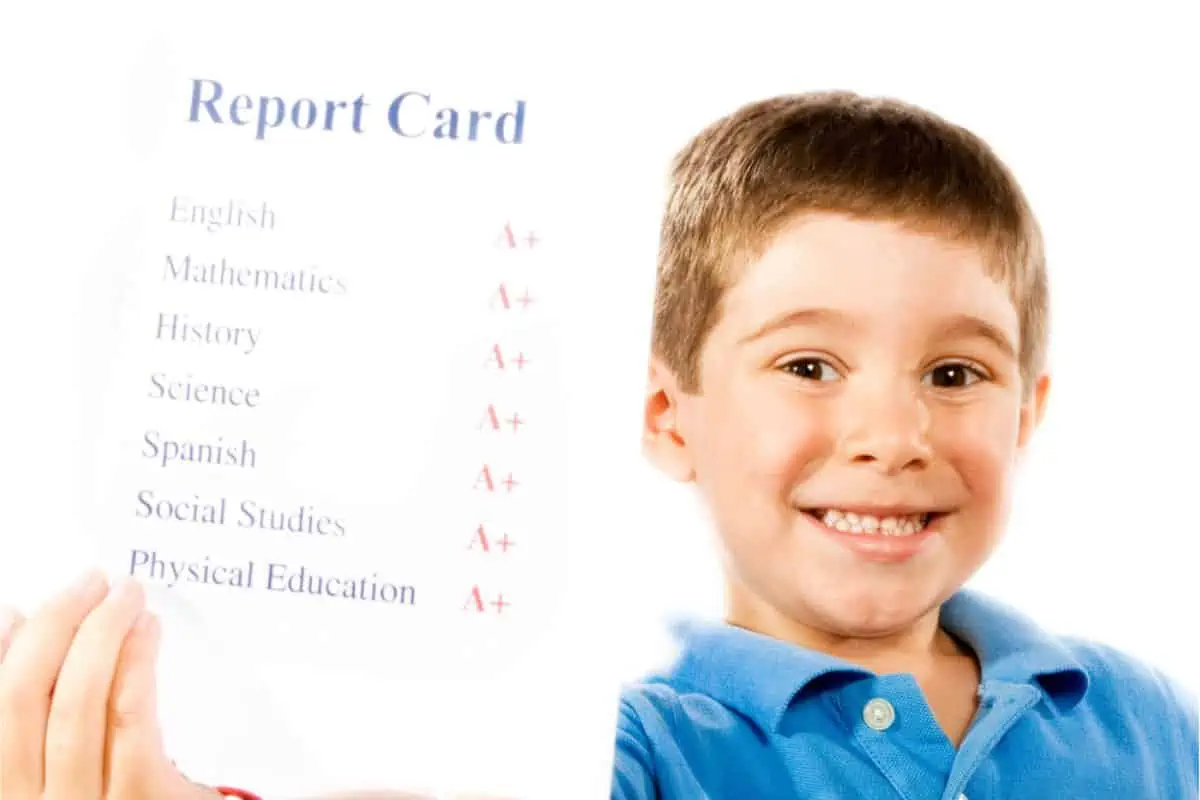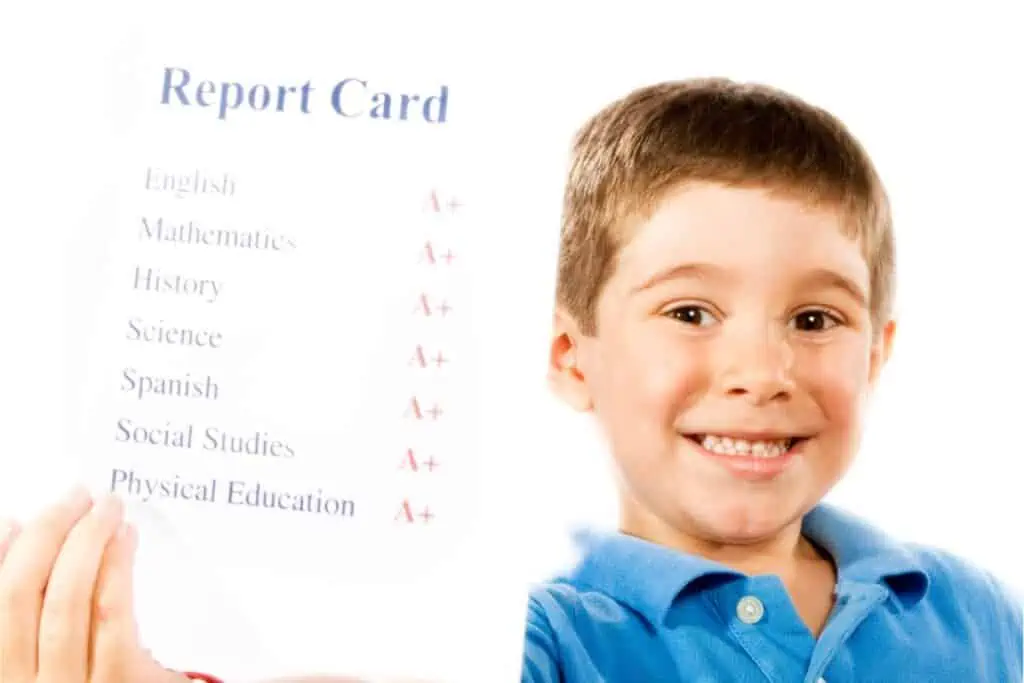 That's why I wanted to make these Good Reward Coupons for you!
You'll get more than ten coupons in this free printable coupon pack.
I've even included a couple blank coupons that you can fill in with your own reward for your kid.
Good report card rewards make great incentives to motivate your kids to finish the year out strong!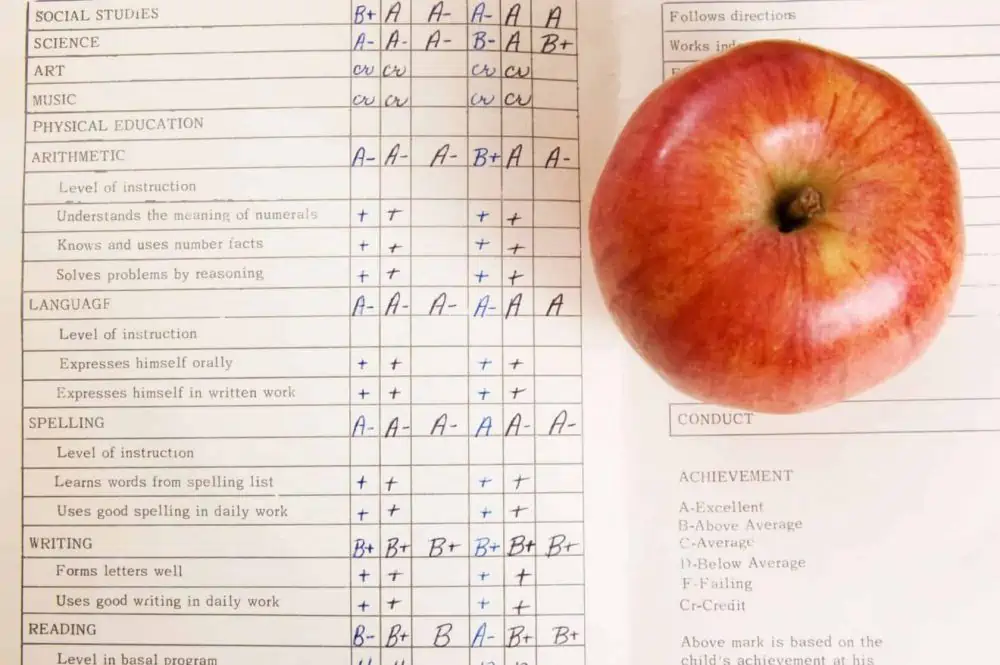 Who else remembers the days of getting these paper report cards from school?
Good Report Card Freebies 2023
There are so many businesses that participate in rewarding kids who do well in school.
I've searched high and low for all the current places that I could find to add to this years list, but if there is something I have missed please reach out to let me know.
I can get it added to the list with all of the other places that are offering prizes to students who did well in school too.
*Saving Dollars and Sense Tip: Contact your area location before heading out to verify that they are indeed participating in this years rewards programs. Unfortunately some of the programs do vary by location and I would just hate for your kid to be disappointed, so check to be sure first.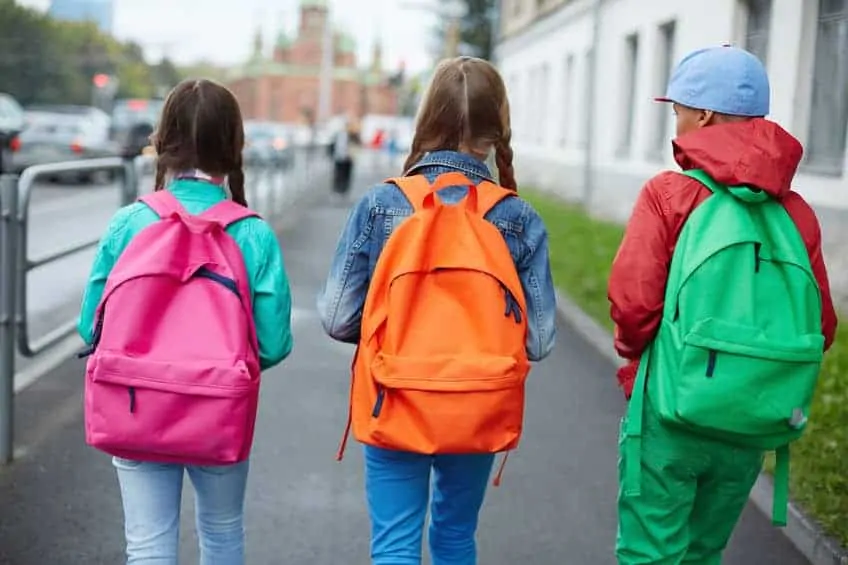 Does Krispy Kreme give free donuts for good grades?
I know some of you might be thinking this sounds too good to be true.
But I promise you that you really can get free donuts from Krispy Kreme for good grades when you take advantage of the Krispy Kreme report card freebie. Sweet, right?!!
In fact they aren't the only ones. You'll find some of your favorites included in the list below like Chick-fil-A free nuggets, pizza, ice cream and more!
Be sure to check out the entire list below to find the offers that your kids would love and then call to verify that your location is still participating.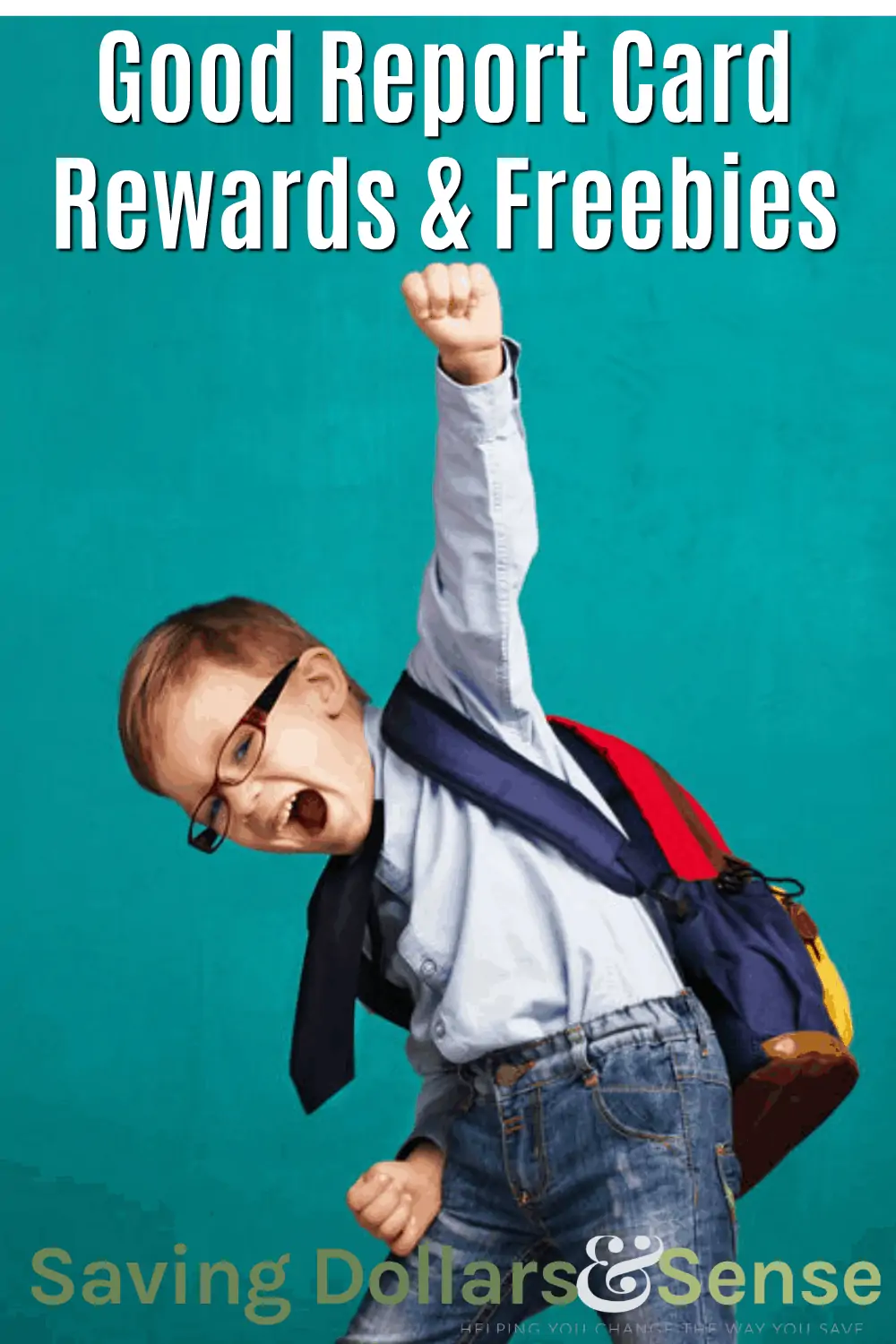 Rewards for Good Grades and All A's Report Card
There are a bunch of great rewards that kids can earn for getting a straight A report card.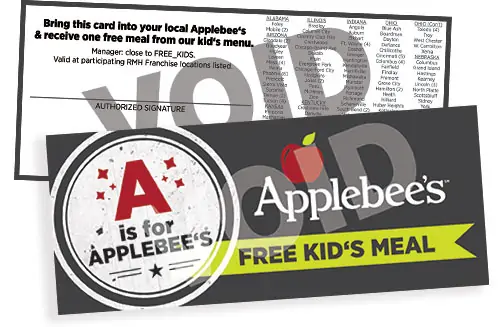 Applebee's
Whether it's an "A" on a test or a perfect attendance record, recognize students for their achievements and award them with a free Kid's Meal from Applebee's.
Designed for grade school students, this reward card for teachers is available to motivate positive behavior (you set the criteria), and is yours for the asking!
Bank Rewards
A reader sent in the tip to check with your local banks and credit unions as many of them offer money rewards for good grades as well.
Baskin Robbins
Get a free cone with report card showing good grades from participating Baskin Robbins.
Bob Evans
Select locations offer a free scoop of ice cream for students that received good grades.
Burger King
At select locations, students are able to get one free hamburger or ice cream cone for good grades.
Chick-fil-A
Bring in your all A's and B's report card and receive a FREE 8 pack nuggets! Call ahead to your location to see if they are participating.
Chuck E. Cheese
Chuck E. Cheese believes in the value of a good education. Choose from the Super Student Award or Graduation Certificate and receive FREE tokens for being a good student.
Cold Stone Creamery
Kindergarten through fifth grade students can get free ice cream for good grades.
This offer is not on a national level, but the stores are individual owned & operated, so the best thing to do would be to ask your local store as some have offered them in the past.
IHOP
Get a free kids meal with a good report card grades. Available at select locations.
Insomnia Cookies
Insomnia Cookies has a special offer for high school, college and graduate school grads. You can get one free six-pack of Classic cookies with any $5 in-store purchase after showing proof of graduation.
Jason's Deli
Reward students for good grades, good efforts or good deeds through the Kid Cash program.
Children ages 1-12 can be Kid Cash recipients. Kid Cash is valid only at participating Jason's Deli restaurants and good for dine-in meals only.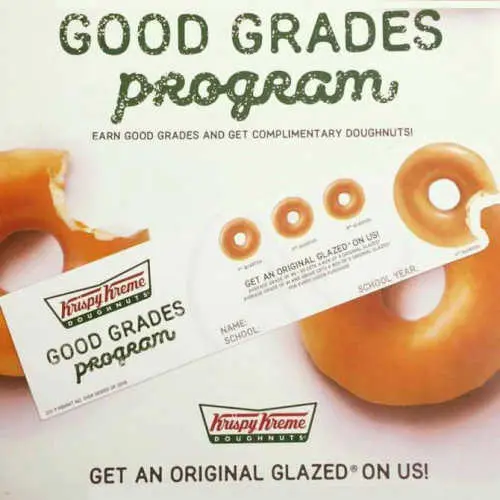 Krispy Kreme
Get a free original glazed donut for each A (up to 6 A's).
Kudzoo App
Middle school and college students can download the FREE Kudzoo app and build Kudzoo cash to use in your favorite places, from restaurants to concerts. Earn the grades, scan the report cards then spend your Kudzoo cash! There is also a daily challenge round and coupons to help college students boost their savings!
McDonalds
If your child has a straight "A" report card, he/she can receive a FREE Happy Meal. This may vary by location so call ahead first!
Pizza Hut
Each marking period, any child who has 3 A's or the equivalent thereof, will receive one free Personal Pan Pizza and a small soft drink or carton of milk by presenting his or her report card to the manager.
This offer is good for Elementary and Middle School students. Dine-in only.
Student must be present and the original report card must be presented. Available at participating locations.
The Melting Pot
Earn free "Fun-Due" at The Melting Pot with A's on your report card.
Present your child's report card to your server and receive a Three-Course Petite Feast, including cheese, a pick-three entrée, and chocolate fondue.
Be sure to check with your local restaurant for participation.
Wendy's
A report card with A's and B's earns a treat. Show the cashier your report card before ordering.
Tip: Although I did contact each company to verify their participation again this year, I always suggest calling ahead to be sure that your area business is participating.
The last thing you want is a disappointed child with an straight A report card right?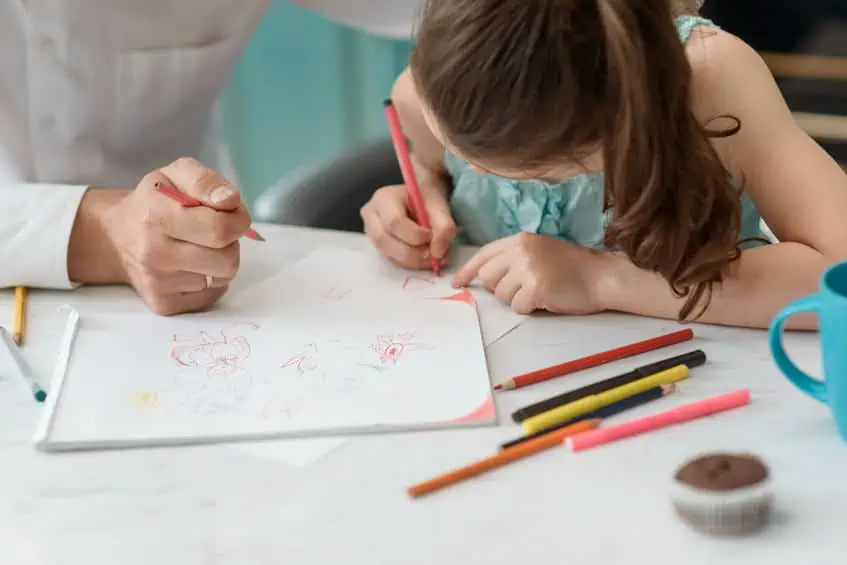 If you know of any more offers that should be added to the list feel free to email me krsawicki(at)yahoo(dot)com, or leave a comment and I'll add it to the list for everyone to see!
Since we are talking about motivating kids…
I thought it would be a great time to also talk about motivating them to excel at another part of their lives as well.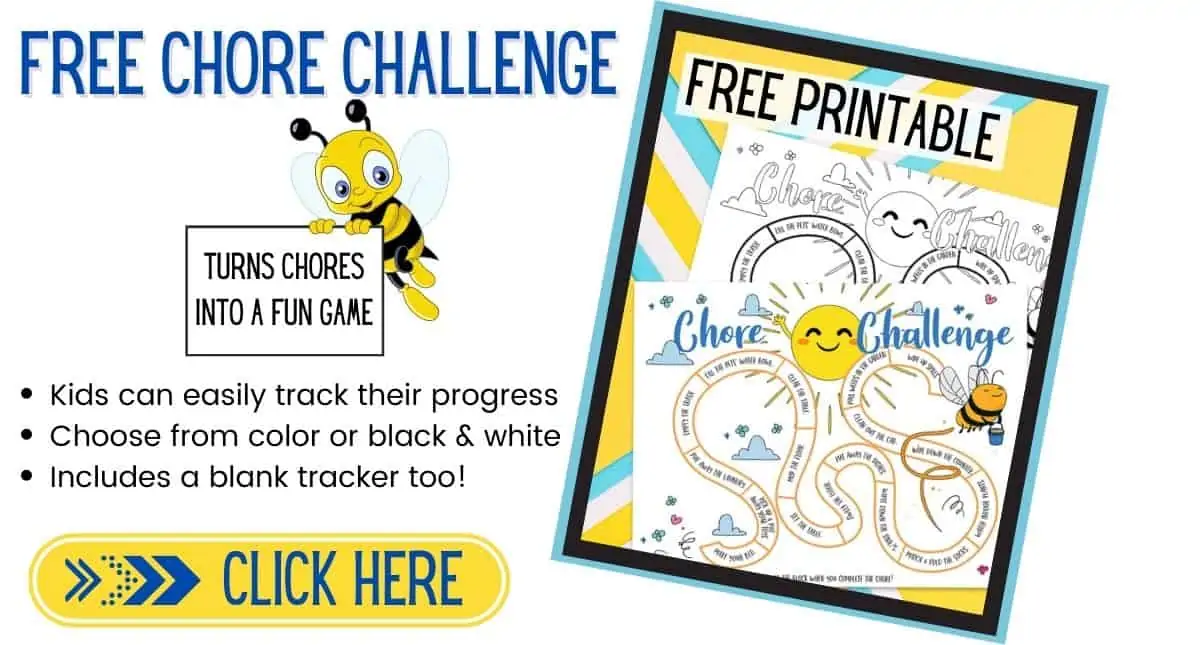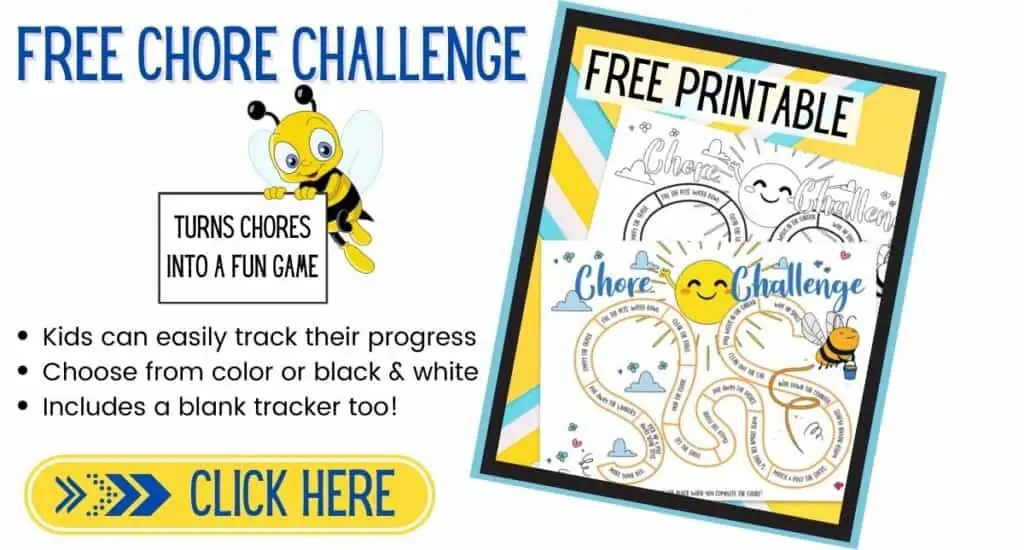 The FREE Chore Challenge Tracker is a great way to make doing chores fun!!