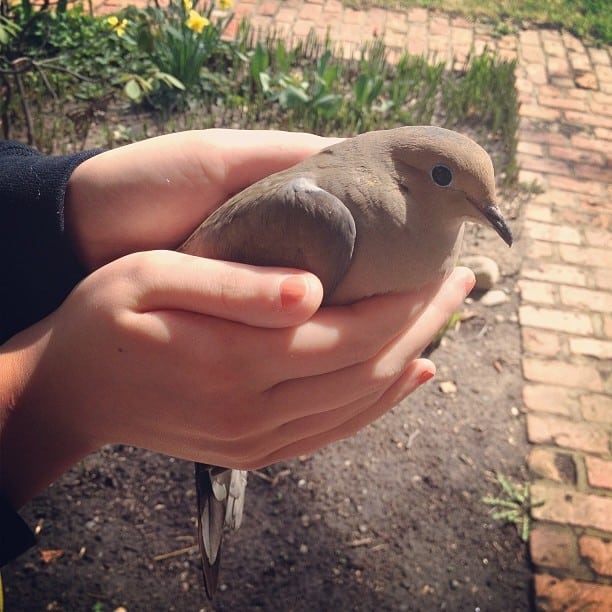 A few nights ago we heard a banging noise coming from the garage. When my son went to investigate he found that the noise was a dove that had gotten trapped inside when the door was open.
It was frantically trying to escape. Unfortunately, it didn't know how.
It would fly up and bang itself off the ceiling only to crash to the ground until it recovered and then it would do it all over gains.
We opened the garage door and my son tried to shoo it out of the huge opening.
The dove was really frightened and tired at this point so I told my son to leave it be and reassured him that the bird would fly out once it was ready.
Three days passed and it was still doing the same thing even though the garage doors were open the whole time leaving it a huge escape route.
Yesterday, my daughter decided it needed to be caught and taken out of the garage because it was apparent that it would end up killing itself before it figured the way out.
Three days of using all of its strength to fly away only to hit a ceiling and crash to the ground repeatedly. Plus the lack of food or water and she was right to be concerned.
Thankfully, the dove was ready and willing to be caught.
My daughter watched as it fell to the ground one more time before she scooped it up and carried it outside the garage.
The strangest thing about this was the dove didn't fly away for some time after she placed it on the grass. In fact, we were certain it must be hurt.
Honestly, I think it just didn't know what to do once it was finally free.
After several minutes the sweet dove just flew away as if nothing had happened.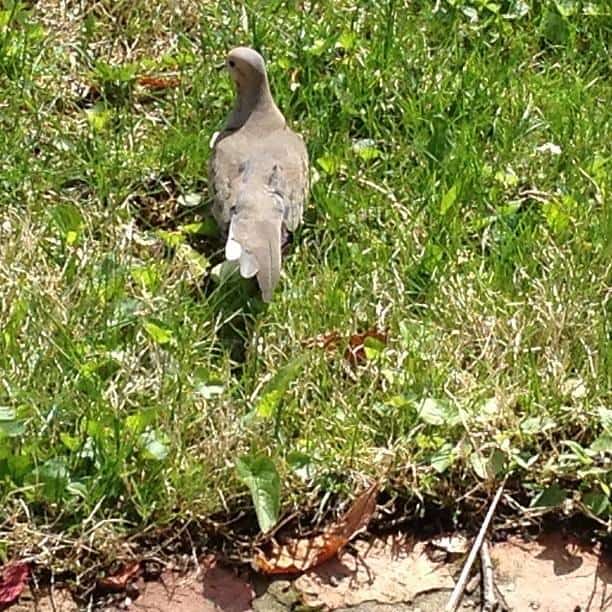 Psalms 55:6

I said, "Oh, that I had wings like a dove! I would fly away and be at rest.
It has me thinking about how people can be just like this dove.
How many people do you know who are frantically living their lives believing that they are trapped?
Even when the escape route is wide open, many times it goes unnoticed because they are so busy doing the same things that never work. Only to find themselves crashing over and over again.
Doing the same thing over and over is the definition of insanity.
Sometimes it takes someone else to scoop us up after we have fallen for the hundredth time and take us away from our makeshift cages for us to even realize that we can truly fly away.
Is there someone who could use your help getting free today?
Song of Solomon 2:14
The Message (MSG)
10-14 Get up, my dear friend,
fair and beautiful lover—come to me!
Look around you: Winter is over;
the winter rains are over, gone!
Spring flowers are in blossom all over.
The whole world's a choir—and singing!
Spring warblers are filling the forest
with sweet arpeggios.
Lilacs are exuberantly purple and perfumed,
and cherry trees fragrant with blossoms.
Oh, get up, dear friend,
my fair and beautiful lover—come to me!
Come, my shy and modest dove—
leave your seclusion, come out in the open.
Let me see your face,
let me hear your voice.
For your voice is soothing
and your face is ravishing.