Kids Advent Calendars are a fun Christmas tradition!
They are a type of Christmas decoration that contain small gifts for children on each day of December leading up to Christmas Day.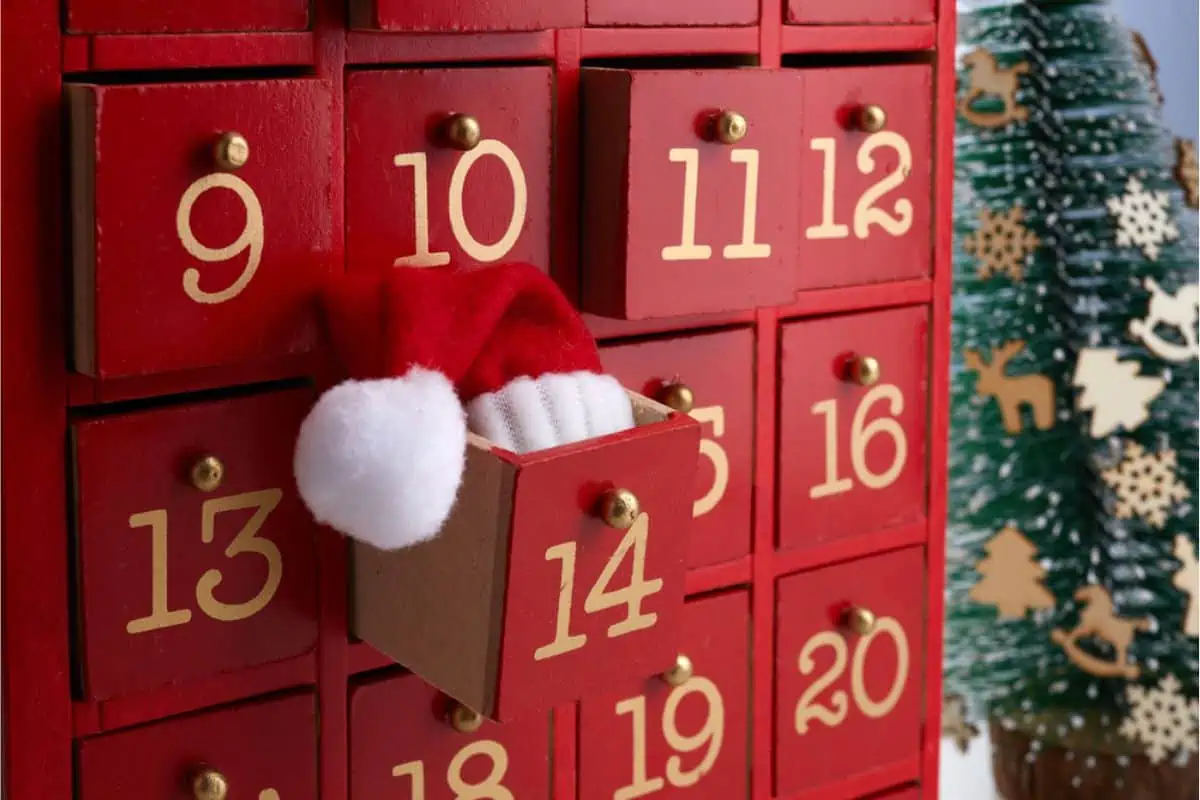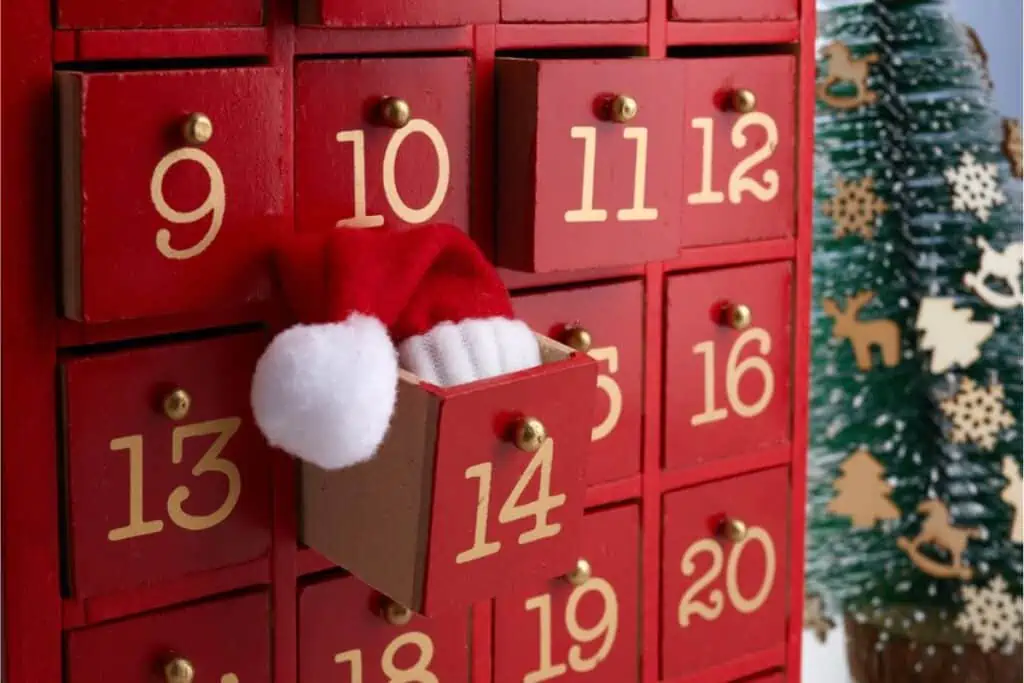 We've rounded up some of the Best Advent Calendars for Kids below.
Each compartment can be opened on a particular date during December, revealing its corresponding gift when the month's day arrives.
Children love them because they can open one little door each day to find out what's inside!
Are you looking for something fun for kids this Christmas?
Check out these adorable advent calendar kits which are perfect for kids ages 5-10 years old.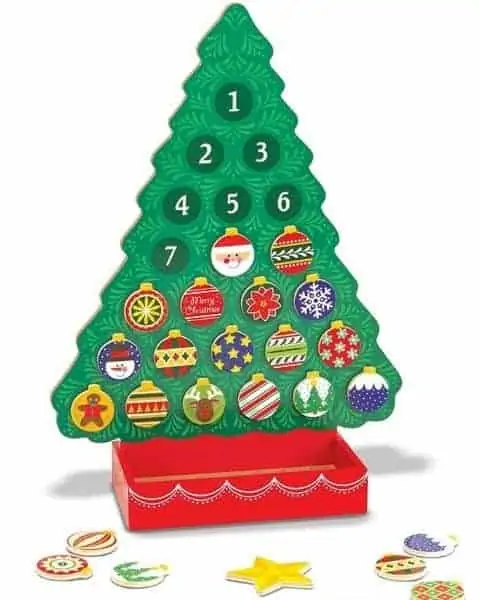 Melissa & Doug Countdown to Christmas Calendar
This Melissa & Doug Christmas countdown tree ornament set includes:
A magnetic wooden tree
24 magnetic ornaments
1 shining star for the top of the tree.
An attached wooden ornament box helps to keep all the pieces together.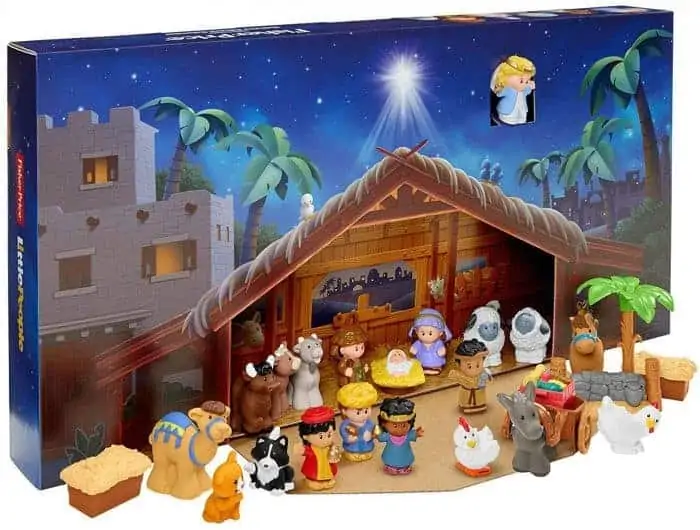 Little People Nativity Advent Calendar
Toddlers will love opening the windows of the Little People Nativity Calendar to find a new friend or a fun, holiday-themed accessory every day as they count down to Christmas.
By December 25th, they'll have a whole set of adorable toys and a fold-out play set to bring the magic of Christmas to life!
Kiddos can even practice their numbers and counting skills with this nifty calendar.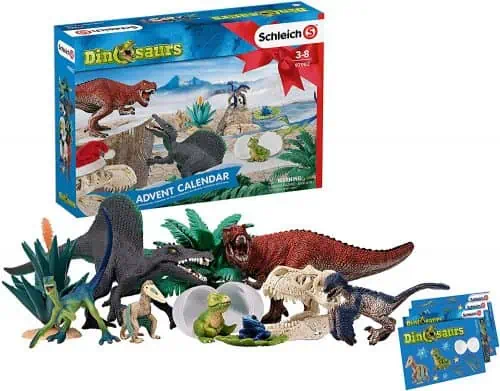 Schleich North America Dinosaurs Advent Calendar
The new dinosaurs Advent calendar Hides great surprises behind 24 doors!
The Schleich figures stand for educational play.
This Advent calendar includes cool dinosaurs and lots of accessories!
Realistically detailed for the ultimate play and educational experience
Create your own landscape for your new dinosaurs or add to one of your Schleich playsets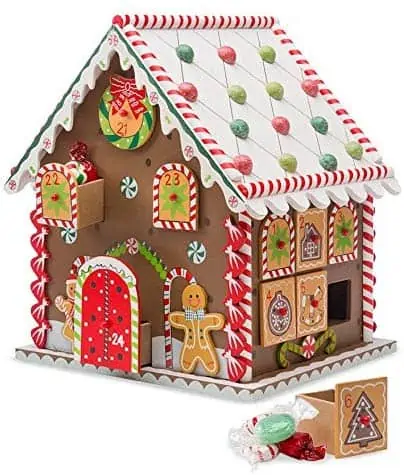 Gingerbread House Advent Calendar
Use the Gingerbread House Advent Calendar to count down the days to Christmas by hiding teeny treats, notes, or toys within this classic gingerbread house design—complete with candy canes, gingerbread people, gumdrops, and more.
Start a new family tradition with this festive decoration, sturdy wooden gingerbread house will last for years and years to come.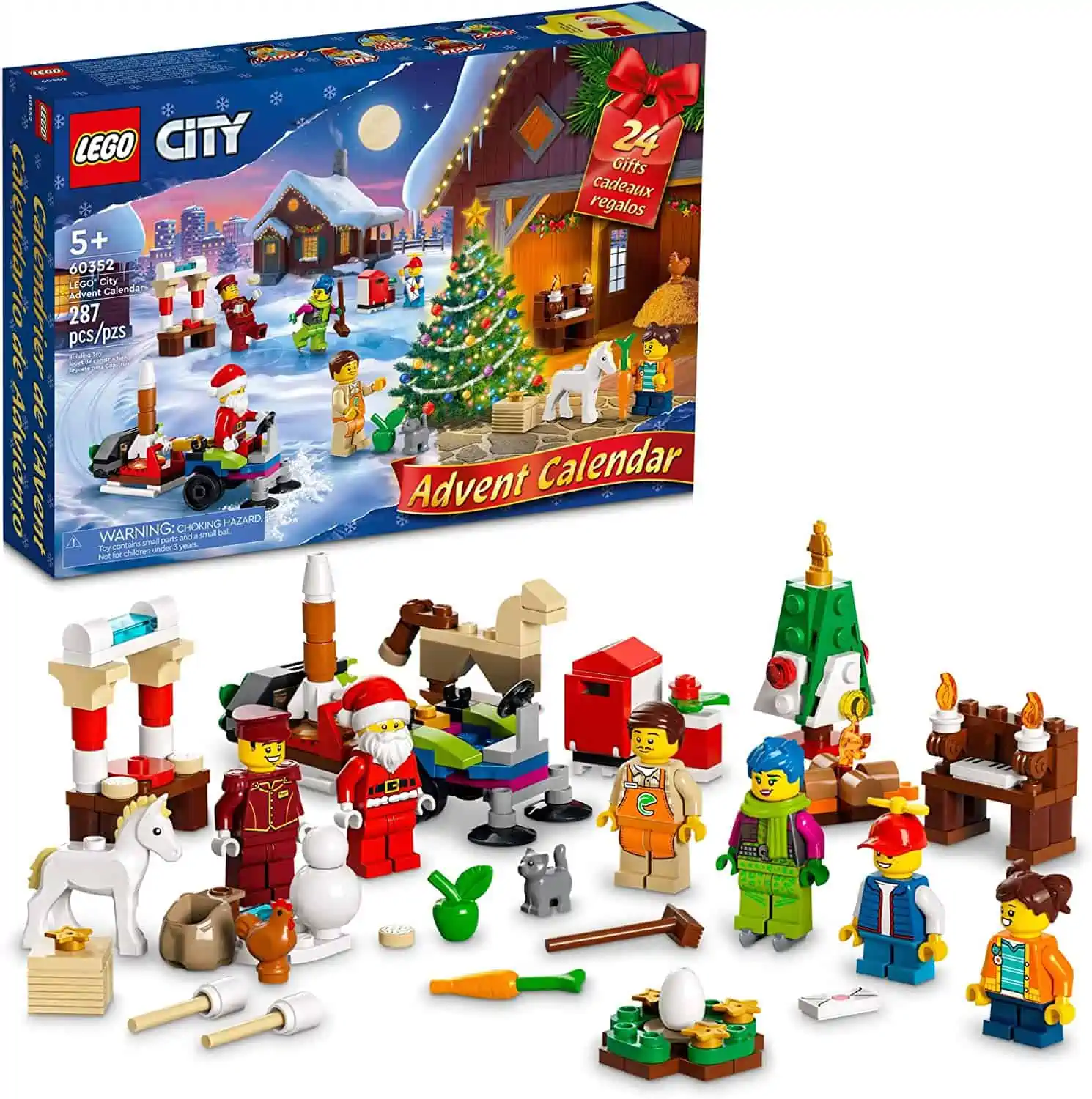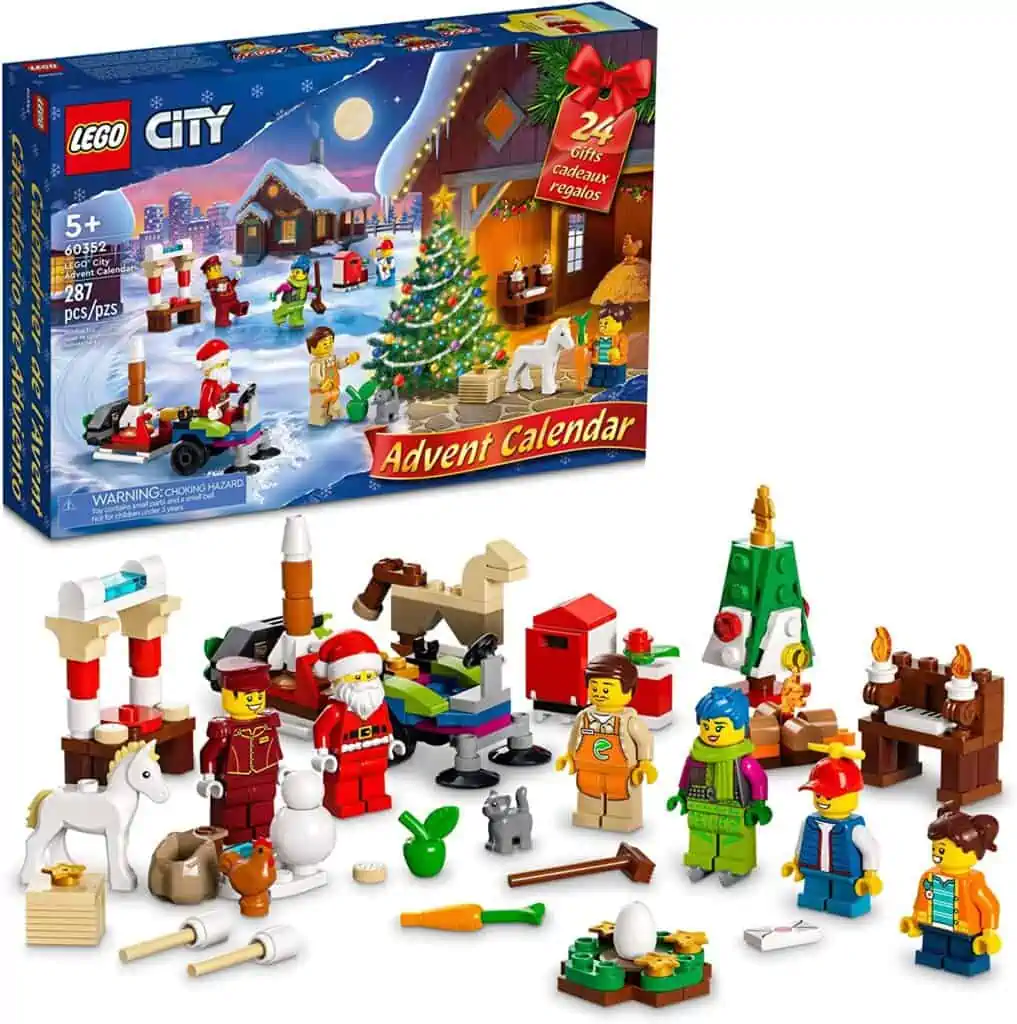 LEGO City Advent Calendar
Build the excitement as the festive celebrations approach with the LEGO City Advent Calendar toy playset.
Kids can count down to the big day with fun mini builds, popular LEGO City Adventures TV series characters and cool accessories. Just fold down the snowy winter wonderland playmat to set the scene for endless imaginative adventures.
The LEGO City Advent Calendar makes a great gift for kids aged 5 and up.
Each surprise toy comes with step-by-step building instructions to ensure that even new LEGO builders can enjoy a fun build-and-play experience.
Kids can also combine the buildable toys, accessories and minifigures included in the calendar with existing LEGO playsets for even more fun!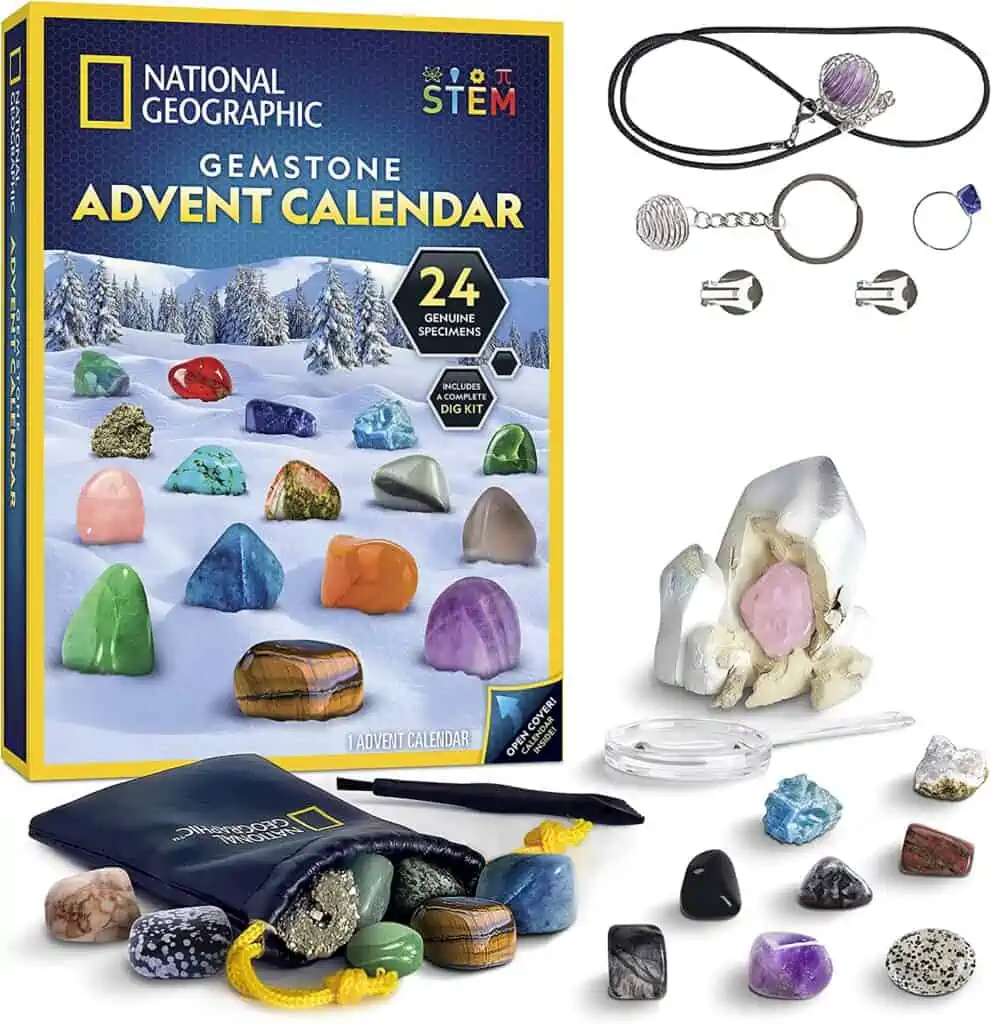 NATIONAL GEOGRAPHIC Gemstone Advent Calendar
Kids love beautifully polished gemstones and this exciting Gemstone Christmas countdown calendar will give them a new specimen to add to their collection each day as the holiday approaches.
The fun and excitement culminate on the final day, as kids unearth a shimmering Rose Quartz specimen from the included mini dig brick.
This educational take on a classic holiday tradition includes the following polished gems:
Agate, Green Aventurine, Hematite, Sodalite, Turquenite
Tiger's Eye, Blue Calcite, Snowflake Obsidian, Red Jasper, Blue Quartz
Dalmatian Jasper, Green Fluorite, Pyrite (Fool's Gold), Geode, Carnelian
Chevron Amethyst, Red Granite, South Jade, Unakit, Green Dot
Red Stripe, Black Stripe, Black Obisidian & Rose Quartz (in mini dig brick)
This advent calendar also includes a pouch for storing their treasures as well as jewelry settings for creating their own unique jewelry they can wear all year long!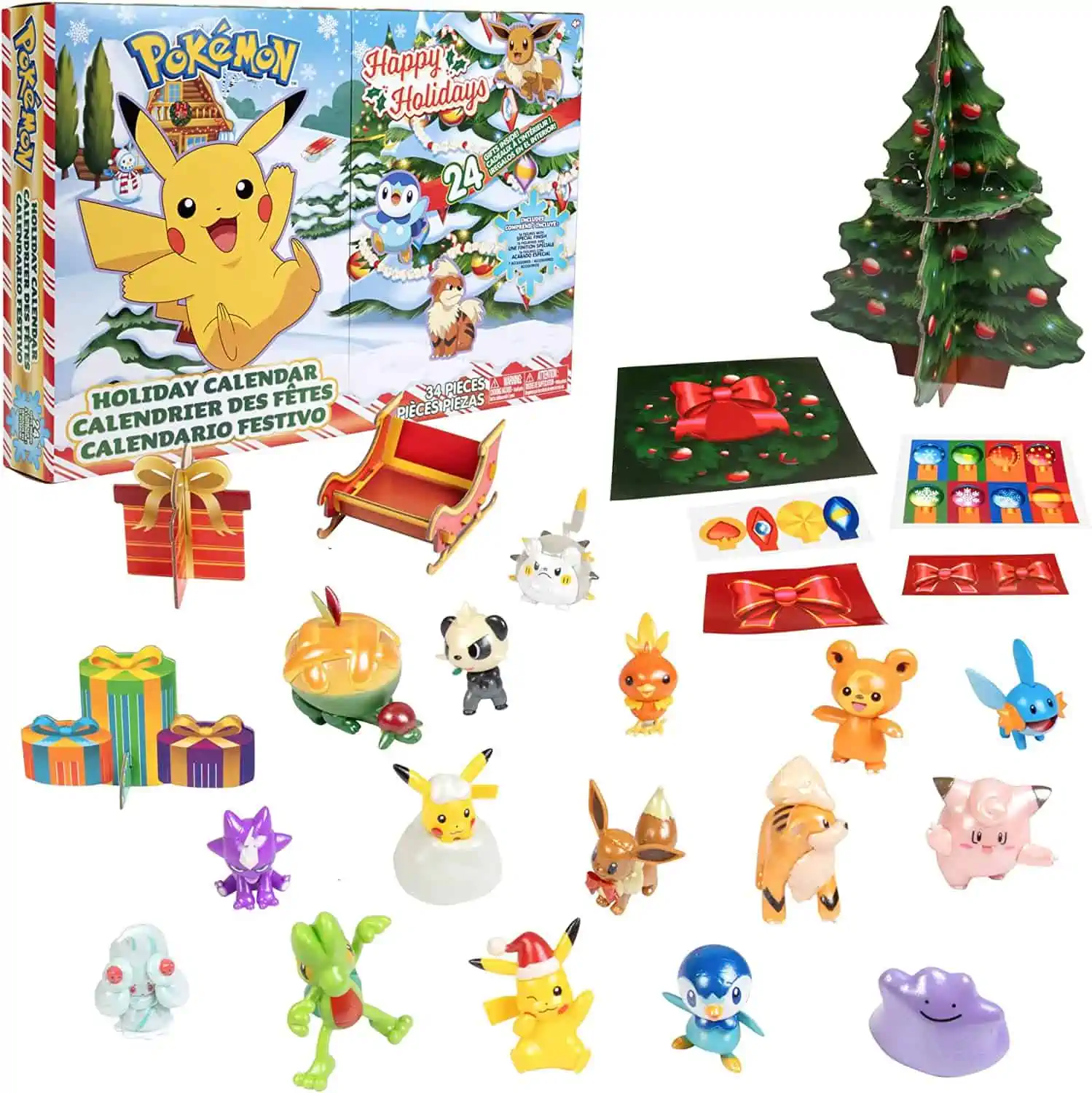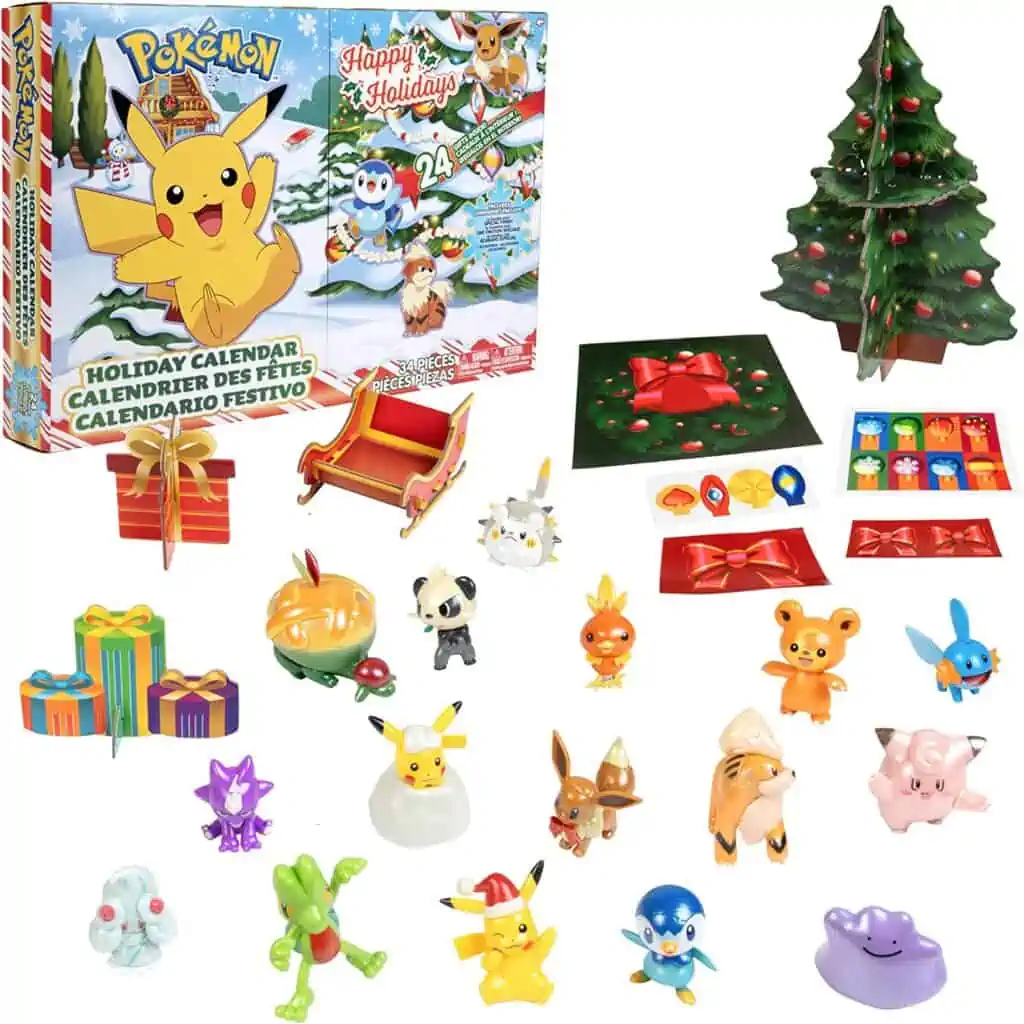 Pokemon Holiday Advent Calendar
Gotta Catch 'Em All this Holiday season!
Children love this Pokemon Advent Calendar to create and display their own Pokémon Christmas Scene!
Make every day of the holidays an exciting reveal as each numbered door in this Holiday Calendar contains 1 of 16 special shiny finish 3-D Pokémon plastic toy figures or 1 of 8 Holiday themed accessories!
The Pokemon toy characters include:
Pikachu
Eevee
Piplup
Growlithe
Torchic
and MORE!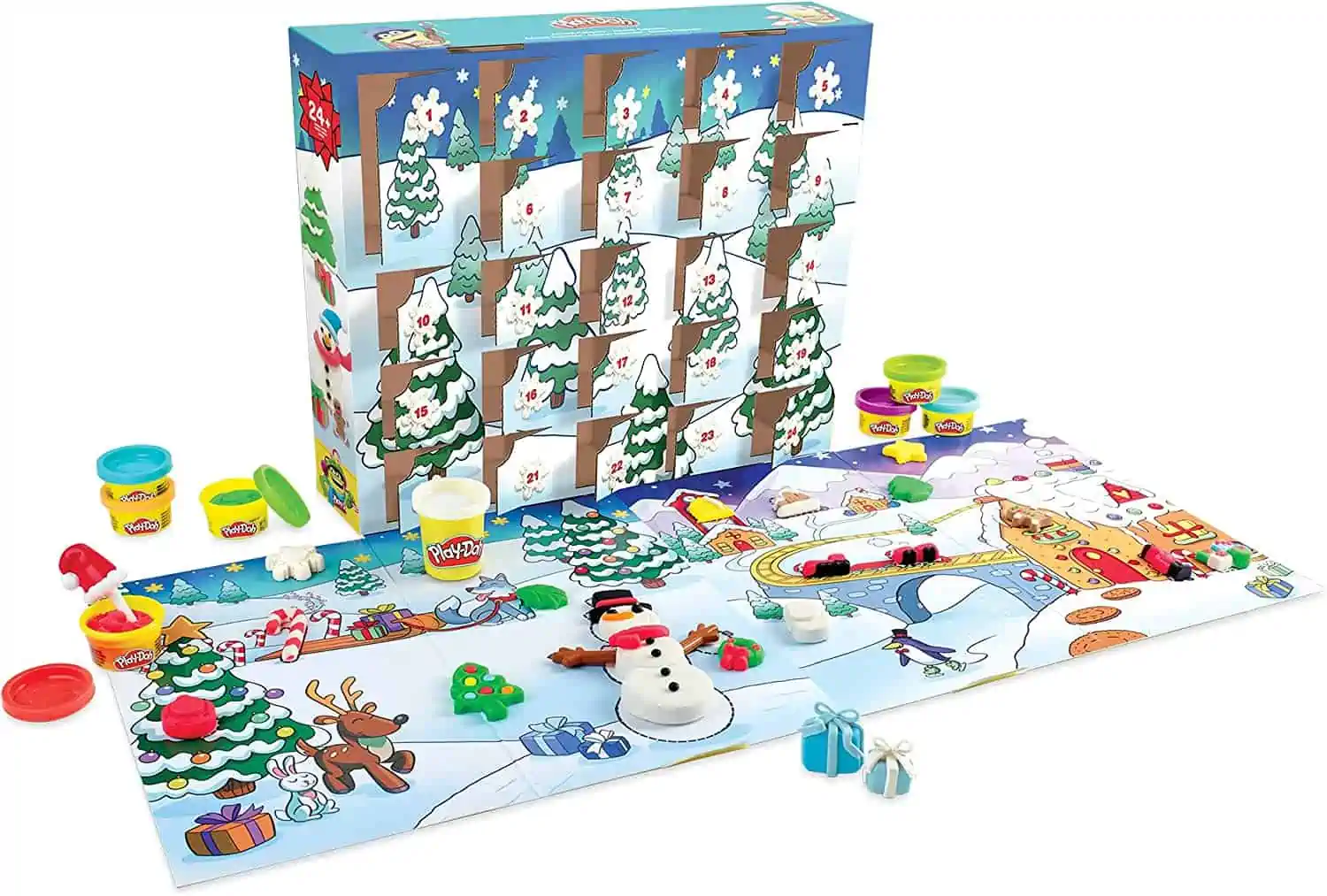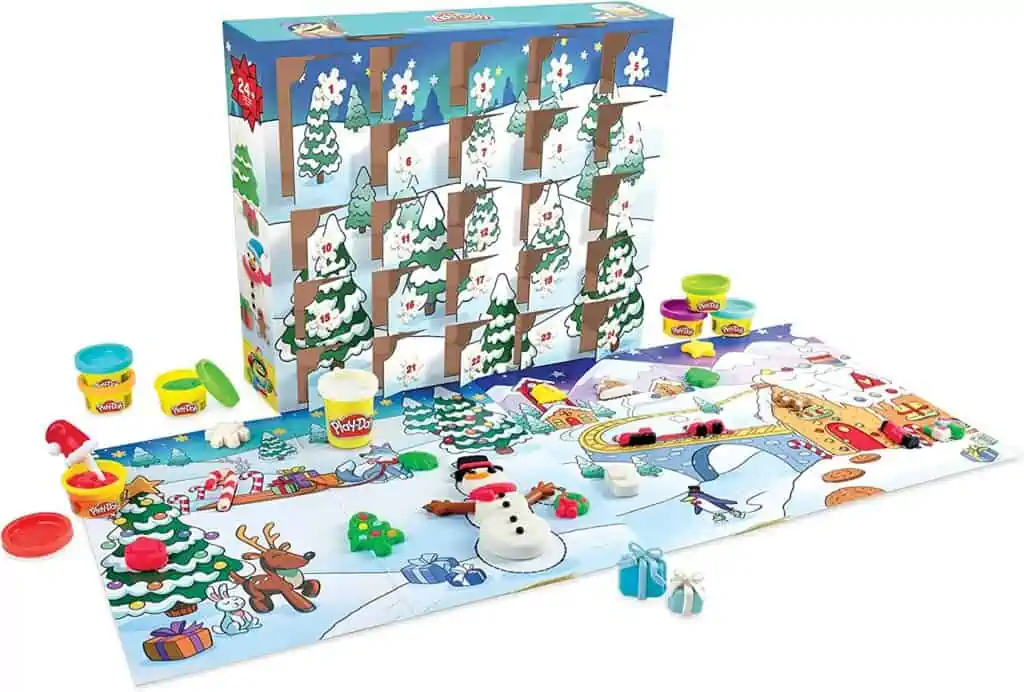 Play-Doh Advent Calendar 
It's time for a Play-Doh Christmas countdown!
Discover 24 days of surprises behind each numbered and perforated door, including one can of Play-Doh modeling compound for a creative holiday activity each day.
Once they've collected all of the surprise Play-Doh tools and cans, they create their own fantastical winter scenes with the playmats and creation cards!
This arts and crafts advent calendar toy for kids 3 years and up makes a great gift to spark their creativity all season long.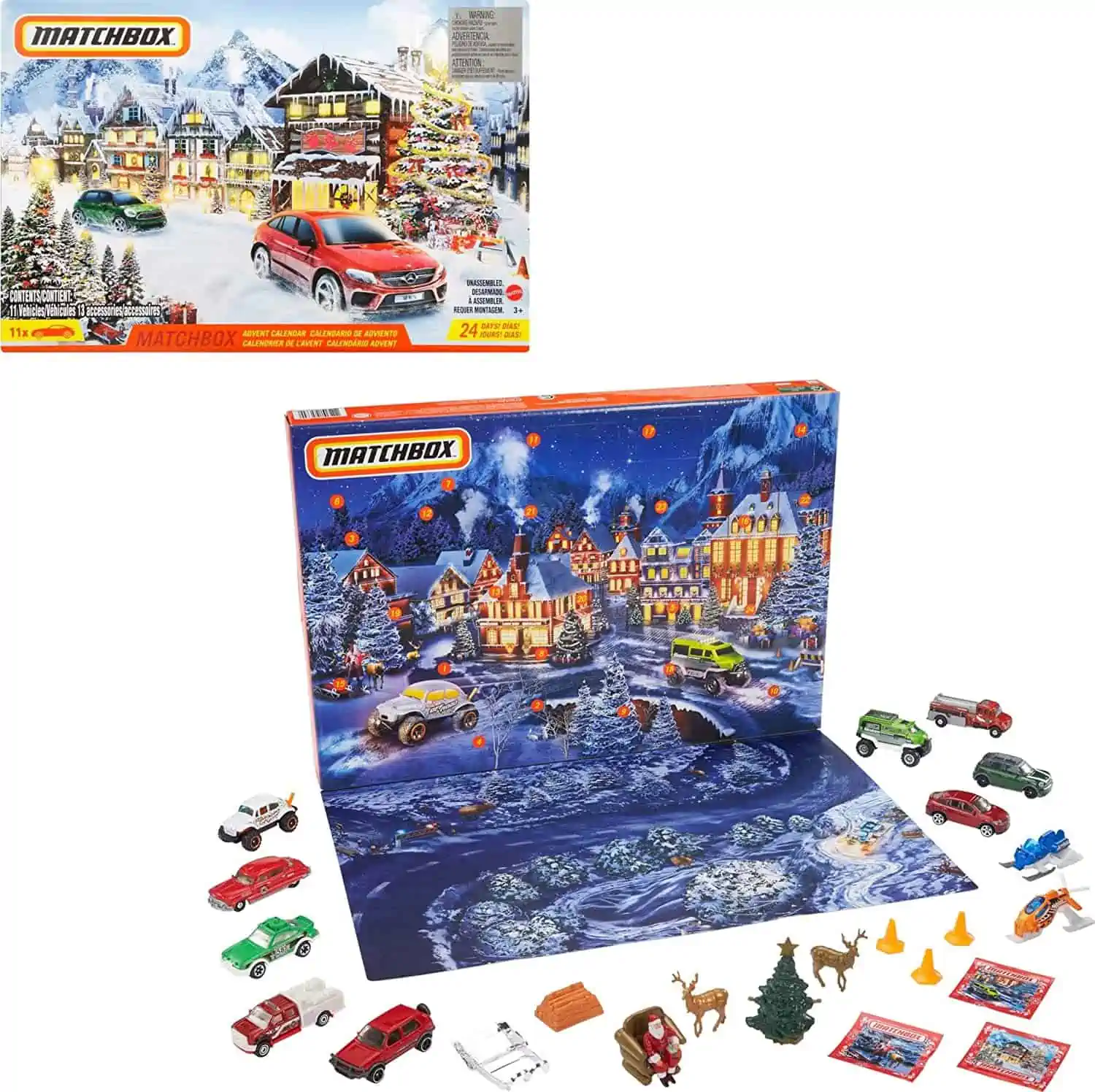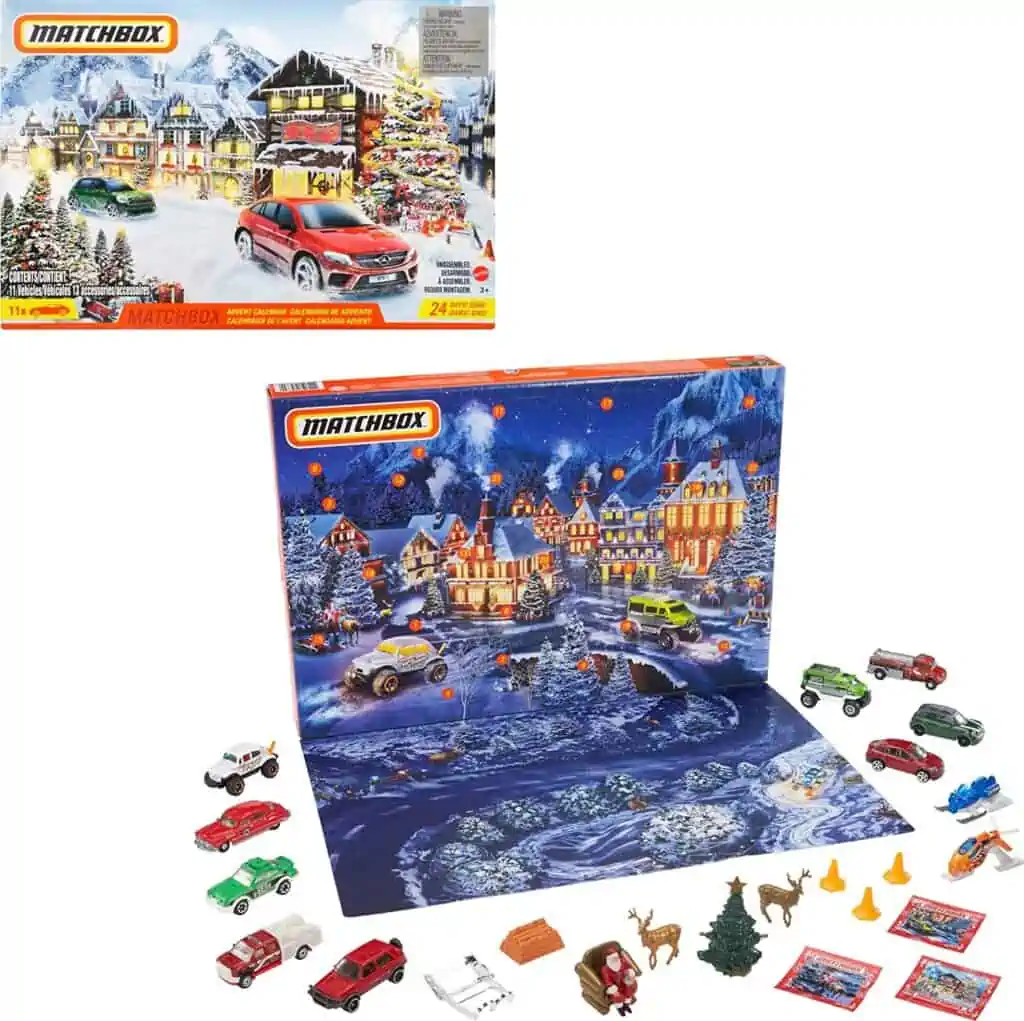 Matchbox Advent Calendar
The Matchbox Advent Calendar features an exciting collection of holiday-themed Matchbox vehicles and accessories that will get any Matchbox fan into the festive spirit of the season!
The calendar holds 24 surprises behind each window, featuring 10 Matchbox vehicles and assorted accessories with holiday-themed decos that kids and collectors will love.
The front panel of the box flips open and serves as a playmat to put those new treasures into immediate play.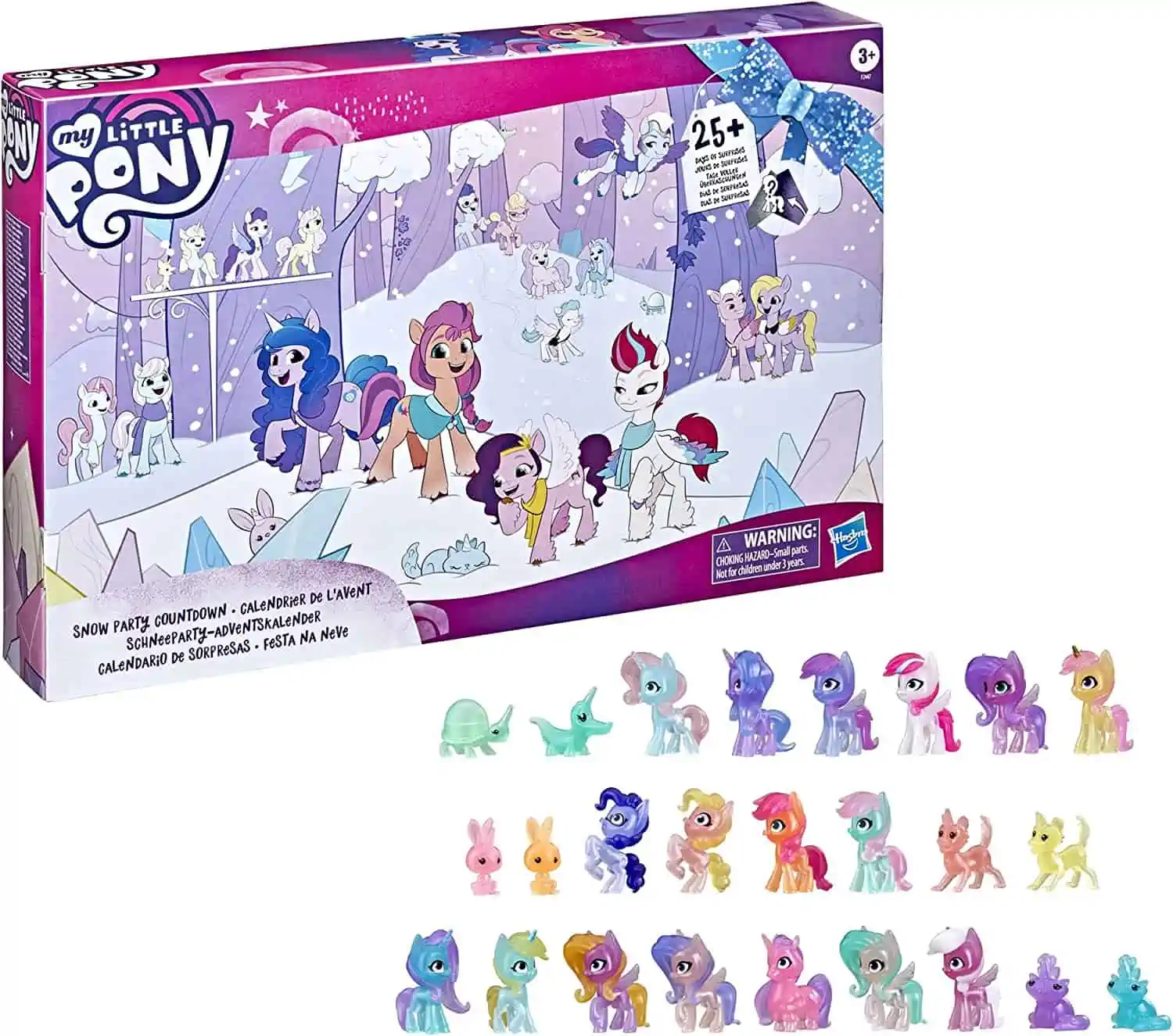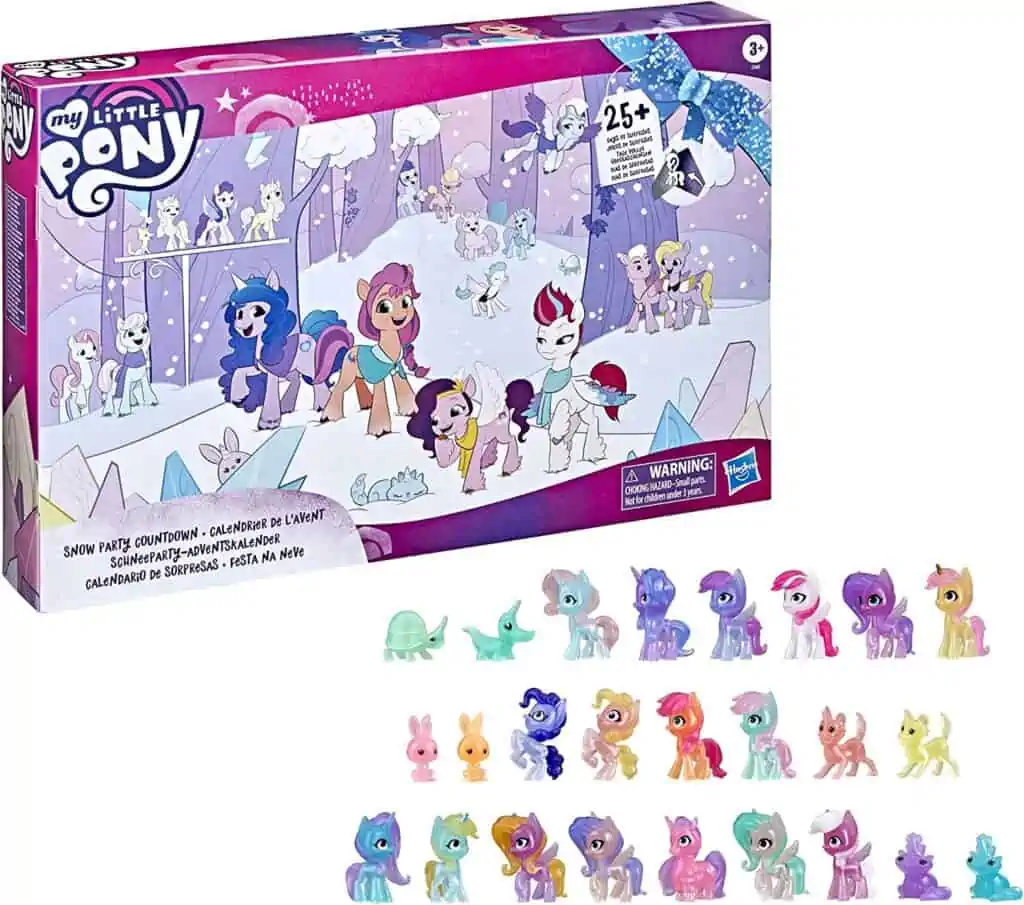 My Little Pony Countdown Advent Calendar
Countdown to the holidays with 25 days of surprises in this My Little Pony Advent Countdown!
Snow Party Countdown advent calendar for kids features 25 gem-shaped cardboard doors.
Open one door each day for 25 days of surprise reveals, or reveal all of the mysteries at once.
Characters Included:
Sunny Starscout
Izzy Moonbow
Princess Petals
Zipp Storm
and more.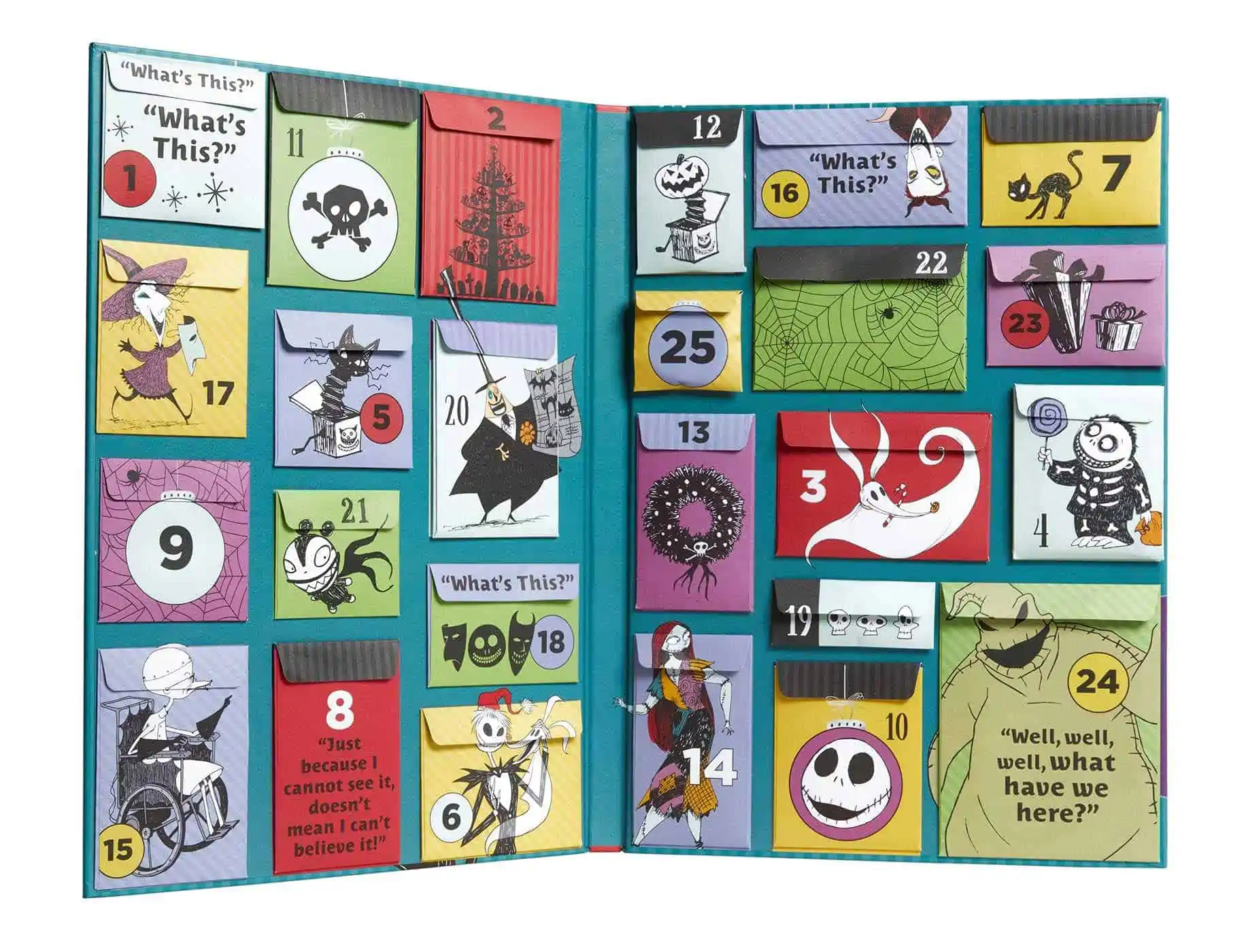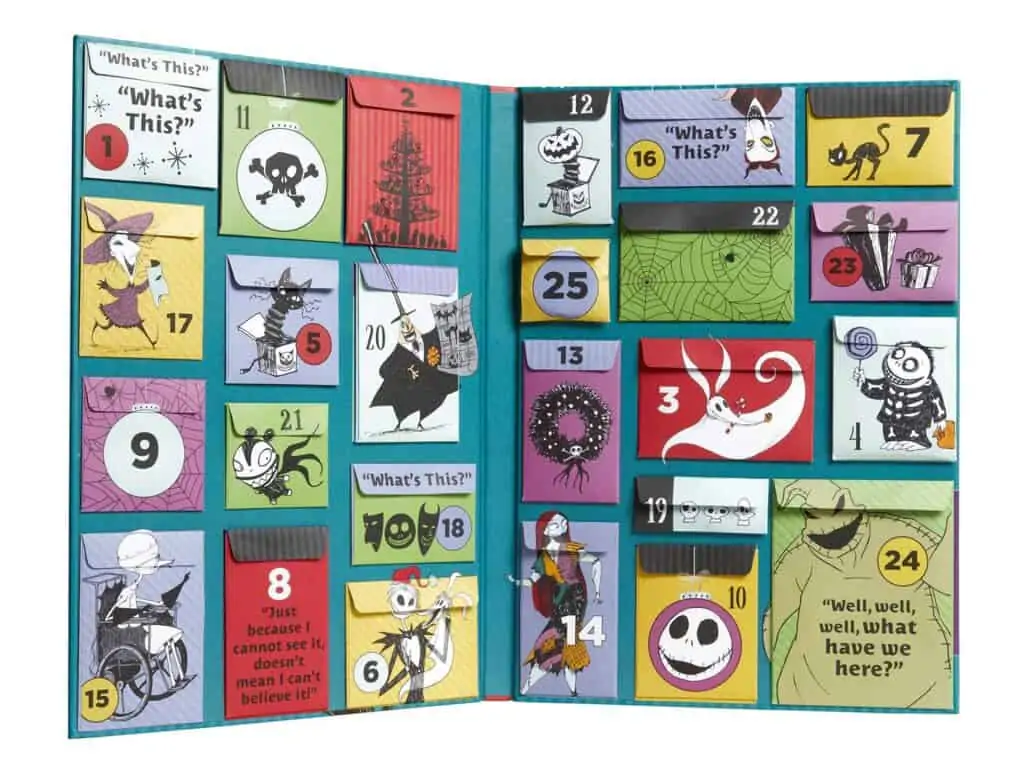 The Nightmare Before Christmas Advent Calendar
Counting down to Christmas has never been more fun than with this frighteningly entertaining The Nightmare Before Christmas countdown calendar based on Disney's Tim Burton's The Nightmare Before Christmas.
This special countdown calendar opens to reveal 25 gifts that include:
mini books
note cards
ornaments
and other surprises
There are many more Advent Calendars available:
Find all of these and more here, while supplies last at these low deal of the day prices.
What age is too young to get an advent calendar?
Ther is no age limit. You can begin the tradition of doing an advent calendar as soon as you want to wiht your kids. Just make sure to choose an age appropriate advent calendar for them to enjoy.
Should we make our own advent calendars or go with store bought ones?
There are a lot of DIY advent calendar ideas available online. If you don't want to buy a store bought advent calenadr, choose a free version to countdown the days to Christmas instead.
Should we get more than one?
If you have multiple children you may decided to get each one their own advent calendar. Although this can be acostly. You may choose to have one "family advent calendar " instead, and just allow a different child to open the calendar each day.
When do Advent calendars come out each year?
You'll find Advent calendars can usually be found online all year long. Stores will begin carrying them in their buildings around October.
Looking for more Holiday Deals?
You can go here to find all of the best online Deals as we live blog them all week long!
Also, be sure to sign up for our Hot Deals newsletter and join our Facebook Shopping group so that you don't miss out on any of the hottest, time-sensitive deals as soon as they go live throughout the rest of the holiday season!