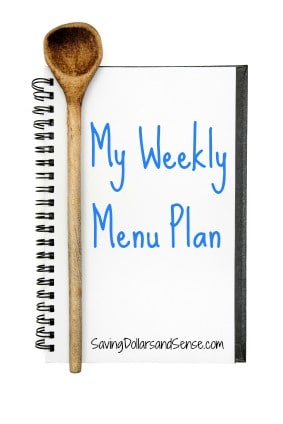 I am picking up my Zaycon Chicken today, so I think it is pretty safe to say that you will see lots of chicken meals in my menu plan over the next several weeks.
Now on to this weeks menu plan.
Breakfast and lunch is pretty much the same around my house which is why that part of the menu never changes.
Breakfasts – consists of oatmeal, cold cereal, fruit smoothies, toast & poached eggs.
Lunches – consists of soups, peanut butter or tuna sandwiches, and dinner leftovers.
Dinners – I will try to include lots of veggies this week.
~ Monday ~
Chicken, Corn, Mashed Potatoes and Gravy
~ Tuesday ~
Spaghetti and Salad
~ Wednesday ~
Taco Casserole
~ Thursday ~
Fiesta Lime Chicken & Rice
~ Friday ~
Venison Steak, Baked Potato and Spinach Salad
~ Saturday ~
Chicken Casserole
~ Sunday ~
Usually we have a very late lunch and just find something small for dinner. Either way I don't plan because I like to be flexible for anything that pops up.