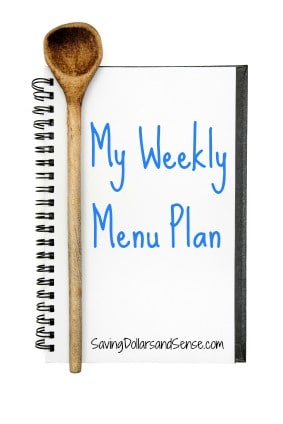 Despite my best intentions, I strayed far away from last weeks menu plan.
We were away from home, working on our old house that we are planning to rent out today.
Unfortunately that house took a lot of work that resulted in grabbing a bite on the road or at a local restaurant.
I am paying for it today, both physically and financially.
The only real good thing about it is the fact that most of the meals I had planned for last week can now easily be moved to this week.
Now on to this weeks menu plan.
Breakfast and lunch is pretty much the same around my house which is why that part of the menu never changes.
Breakfasts – consists of oatmeal, cold cereal, fruit smoothies, toast & poached eggs.
Lunches – consists of soups, peanut butter or tuna sandwiches, and dinner leftovers.
Dinners – I will try to include lots of veggies this week.
~ Monday ~
Chicken, Mashed Potatoes and Corn
~ Tuesday ~
Venison Stew
~ Wednesday ~
Baked Fish, Green Beans and Quinoa Salad
~ Thursday ~
Chicken Stir Fry
~ Friday ~
Breakfast Burritos
~ Saturday ~
Pizza Night
~ Sunday ~
Usually we have a very late lunch and just find something small for dinner. Either way I don't plan because I like to be flexible for anything that pops up.
Saving Dollars and Sense Newsletter
I will also send you weekly encouragement in my newsletter 🙂
You are also agreeing to our Privacy Policy.