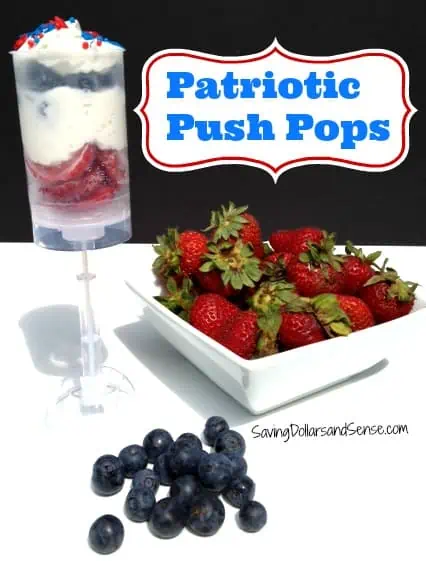 I picked up a package of refillable Wilton Push Pop Containers the other day while I was at Walmart and couldn't wait to play with them.
Since I had the Fourth of July on my mind, I wanted to come up with something yummy and fun to celebrate with. I very quickly and easily put together these Patriotic Push Pops that was a hit at my house! Not only is it a dessert, but it is a healthy one since it is mostly fruit!
These are super easy to whip up!
Simply layer blueberries, whipped cream, and strawberries for a red, white, and blue effect. I finished these off with some whipped cream on top and red, white, and blue star sprinkles I found at Aldi last week.
*Saving Dollars and Sense Tip – Looking at them after they were finished, I decided that the next time I make them I will start with blueberries on the bottom instead of strawberries because I feel like the blueberries kind of got lost in the whipped cream which makes it hard to see the blue in this red, white, and blue dessert.