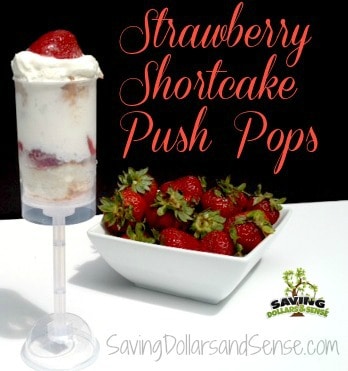 Like I said when I shared the Patriotic Push pops recipe, I picked up a package of refillable Wilton Push Pop Containers the other day while I was at Walmart and couldn't wait to play with them.
I was thinking of traditional summertime desserts that could easily be recreated to fit perfectly in a push pop and almost immediately thought of Strawberry Shortcake Push Pops!
These are super easy to make and they look adorable!
I used an angel food cake mix that I bought from Aldi's.
After baking it I cut it up into cubes and stuck a few in the bottom of the push pop. Then I added some of the strawberry mixture. I always cut up my strawberries and sprinkle them with a little bit of sugar to pull the juices out.
Follow this with layers of whipped cream and cake pieces, and more whipped cream. I added a strawberry to the top for decoration.
There are no right or wrong ways to make push pop desserts. It's your creation!
If you think this is a great idea, I would LOVE it if you would PIN IT on Pinterest here 🙂