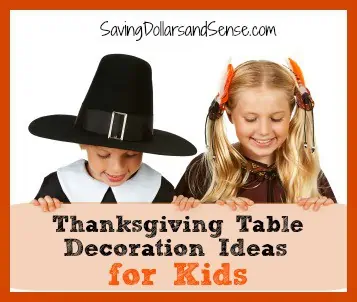 There are a lot of ways that we can use this time of Thanksgiving to celebrate all we have all while passing on a legacy of thankfulness to our kids.
I love the idea of allowing your kids to participate in decorating the kid's Thanksgiving dinner table with Homemade Thanksgiving Decorations. What better way to show them how special this time is than to really let them get involved and have a special part in the celebration of the family dinner?
I've found some great Thanksgiving Table Decoration Ideas For Kids to share with you.
That's right, trees don't just have to be for Christmas. In this tutorial, you'll learn how to easily create your very own Thanksgiving Family Tree using some simple materials that you likely already have sitting around your house. I can see this quickly becoming a beautiful family tradition year after year.
Materials needed:
small pieces of fabric in different colors
felt
embroidery floss
fabric paper
ribbon
small buttons
Thanksgiving Placemats can be a simple project or kids of all ages to participate in. You can allow your kids to choose and create the perfect Thanksgiving Dinner placemats for everyone.
Thanksgiving Activity Table turns the ordinary kid's table into a work of art! With a couple of brown paper bags and coloring instruments, your kids can express all that they are thankful for this year.
Materials needed:
2 brown paper grocery bags
Strong tape
Kids table, Kids picnic tables work fine!
Crayons
Find the instructions for the Thanksgiving Activity Table here.
You might like to check out the FREE Thanksgiving Unit Study and more ideas for Teaching Kids Thanksgiving and FREE Thanksgiving Activities.
Do you have anything you think should be added to the Kids Thanksgiving Table decorations Ideas post? Share your tips and ideas in the comments section below.