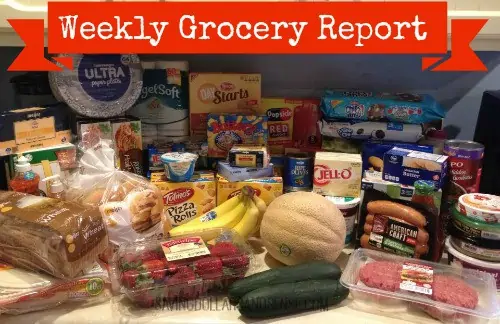 I haven't been shopping in what feels like forever (almost 2 weeks)!
I wanted to head out to see how much I could save now that my 2 major grocery stores have both ended double coupons.
I knew I didn't necessarily need double coupons to save, and I was right!
All of the Meijer Deals can be found here if you want to make your own list.
Meijer
Liquid Hand Soap (FREE)
Bananas
Snickers (FREE)
3 Jello Pudding Mix-ins ($1 off 3 Printable Coupon)
Meijer Black Olives
Ortega Taco Sauce
Milk ($0.50 Ibotta rebate)
Garden Fresh Dip
Garden Fresh Hummus
Meijer Refried Beans
Cream Cheese
Meijer Double O's
Vanilla Wafers
2 Jello Instant Vanilla Pudding
Paper Plates
2 Tyson Day Starts Breakfast Sandwiches
Honeyrock
Meijer Cheese Singles
Meijer Cottage Cheese
Chips Ahoy (FREE MPerks Offer)
16 oz Chunk Cheddar
Meijer Broccoli Cheese Stuffed Chicken Breast
Mrs. T's Pierogies
2 Cans Alpo
Betty Crocker Brownie Mix (FREE)
Sparkle Paper Towel
2 Angel Soft ($0.45/1 Angel Soft printable coupon
Ajax Dish Soap
Meijer Hamburger Bun
Meijer Hot Dog Bun
6 Pizza Rolls
2 Healthy Choice Frozen Greek Yogurt ($1 Printable Coupon)
3 Mission Flour Tortillas
Meijer Wheat Bread
TOTAL $80.55
Total Savings $40.30
Kroger
Hamburger Patties
2 lb Strawberries
Fudgesicle
Popsicles
Yoplait Greek Yogurt Cup (FREE Digital Download)
Hillshire Farms American Craft Sausages
2 Minute Maid Orange Juice
Kroger Whipped Topping
Microwave Popcorn
Kroger Butter
4 Rozoni Pasta ($1 off 2 printable coupon)
Laughing Cow Cheese
TOTAL $26.08
Total Savings $15.18
Altogether I spent $106.63 and saved $55.48.
I had a few of my Kroger Digital coupons that didn't come off. I didn't notice until I was back home and it wasn't worth the few dollars to drive back out again so I learned I need to pay closer attention to Kroger next time.
I also splurged quite a bit this time which proves how important it is to not go shopping when you are hungry!!
Not too bad considering I did not shop last week at all. It works out to just $53.32 for groceries each week!