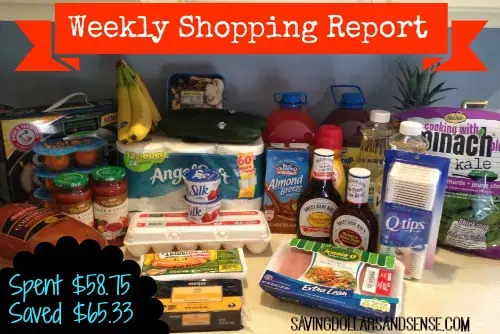 This week I hit the jackpot with an awesome deal at Target on Starbucks Coffee!
Basically I picked up 2 large bags regularly priced $12.99 each and only paid $3.49 each. Plus when you buy 2, you can request a $5 Starbucks Gift Card FREE! The shelf tag says the price is valid through May 10.
Meijer
Q-Tips
2 Cucumbers
Whole Ham
8 Clementines
Pineapple
2 Hawaiian Punch Aloha ($1 Printable Coupon)
Dream Chocolate Almond Milk (FREE with printable coupon)
Cheddar Block Cheese
2 Silk Yogurt Cups ($1 off 2 Printable Coupon)
Spinach/Kale Mix
2 Sweet Baby Rays ($1 off 2 Printable Coupon)
2 Wesson Vegetable Oil ($.75 Printable Coupon)
2 Meijer Salsa
Angel Soft 12 pack
Coffeemate Creamer
Arm & Hammer Cat Litter ($3 Printable Coupon)
TOTAL $49.63
Total Savings $34.36
Target
Nathans Beef Franks
Mushrooms
Ground Turkey Breast ($2 coupon on Package)
Eggs
4 Bananas
2 Bags Starbucks Coffee
I used a $5 Target Gift Card and $1 meat, $1 off Fresh Fruit, $0.50 off eggs, $1 off Fresh Vegetable.
TOTAL $9.12
Total Savings $30.97
This week's total spent on groceries was $58.75. The total saved was $65.33!!! Plus I have a $5 Starbucks Gift Card coming soon!