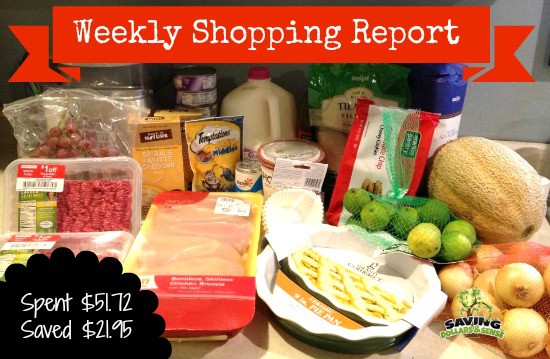 After I shared my awesome grocery trip last week, several of you asked if I would be able to writ down what I paid for each thing before coupons. I am going to attempt that with this weeks shopping trip today.
I will add that I really didn't need a whole lot, so I spent the bulk of my budget on meats and fresh fruit/
Meijer
Muffin Cups $1.50
Ceramic Pie Pan clearnced $3.99 (Was $7.99)
8 Meijer Tuna $.79 each
Onions $1.99
Gallon Milk $2.69
Meijer Flour $3.59
Chobani Greek Yogurt $5.89
Yoplait Yogurt Cup $.60 (FREE with coupon)
Boneless/Skinless Chicken Breast $8.44
Red Grapes $2.06
2 Back to Nature Mac & Cheese $1.29 ($1 off coupons)
Tilapia $3.99
Honeyrock $2.50
Limes 2 pound bag $1.37 on clearance ($1 mPerks coupon)
TOTAL $44.24
Total Savings $13.40
Target
Market Pantry 100% Apple Juice $2.34 ($1 Target Mobile Coupon)
Market Pantry Chocolate Chip Cookies $1.44 ($1 Target Mobile Coupon)
2 Laura's Lean Ground Beef $5.49 ($1 off coupons on package + $1 printable coupons found here)
Cat Treats $1.52 ($.55 coupon on package)
TOTAL $7.48
Total Savings $8.55
I still have plans to run to Kroger to pick up free Ballparks, Red Gold Tomatoes, and $.55 Duncan Hines brownie Mixes.