The New Year is always a great time to think about decluttering your home.
This 30 Things to Throw Out List is a great way to get started!
I don't know about you, but one of my favorite things to do at the beginning of each year is clean out everything I am no longer using from the last year.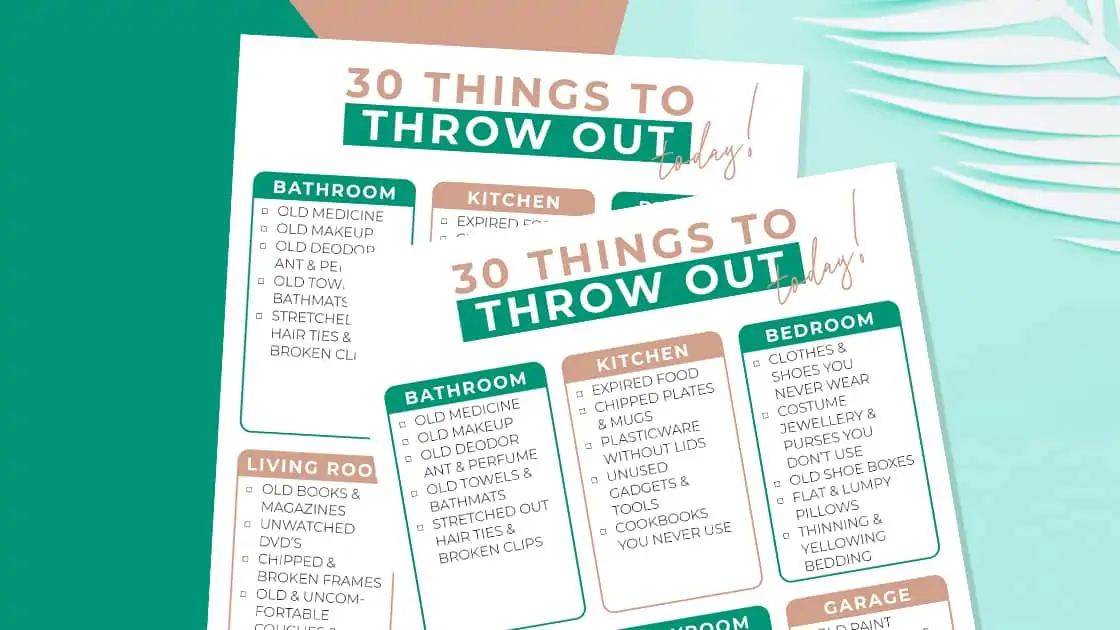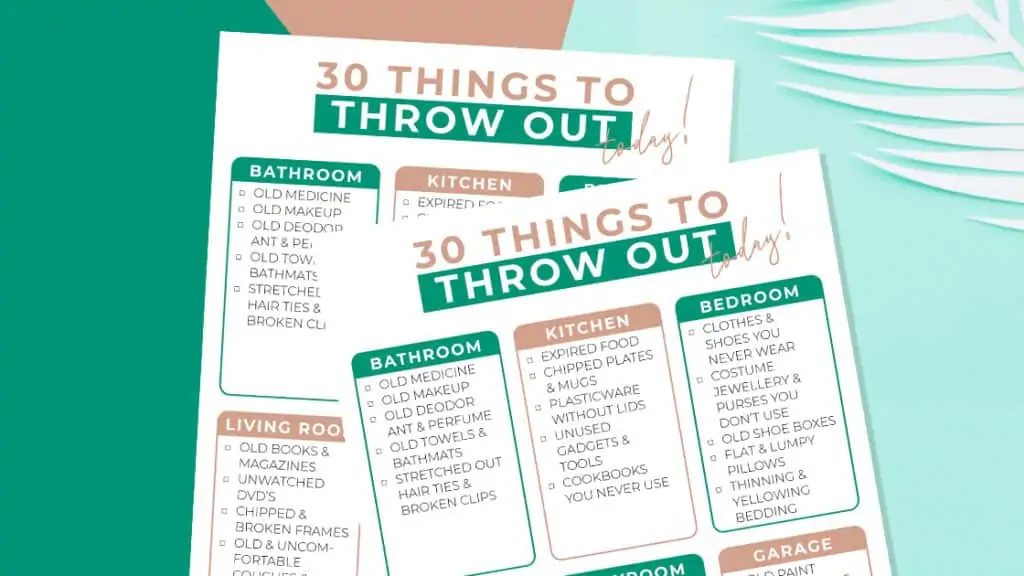 Below you will find 30 things you can get rid of today!
I've broken it down by room, so you could choose to focus on one room at a time.
I like to choose a room at a time and just worked through the entire room.
Once I complete a room, then I'll move onto another room until I have done my entire home.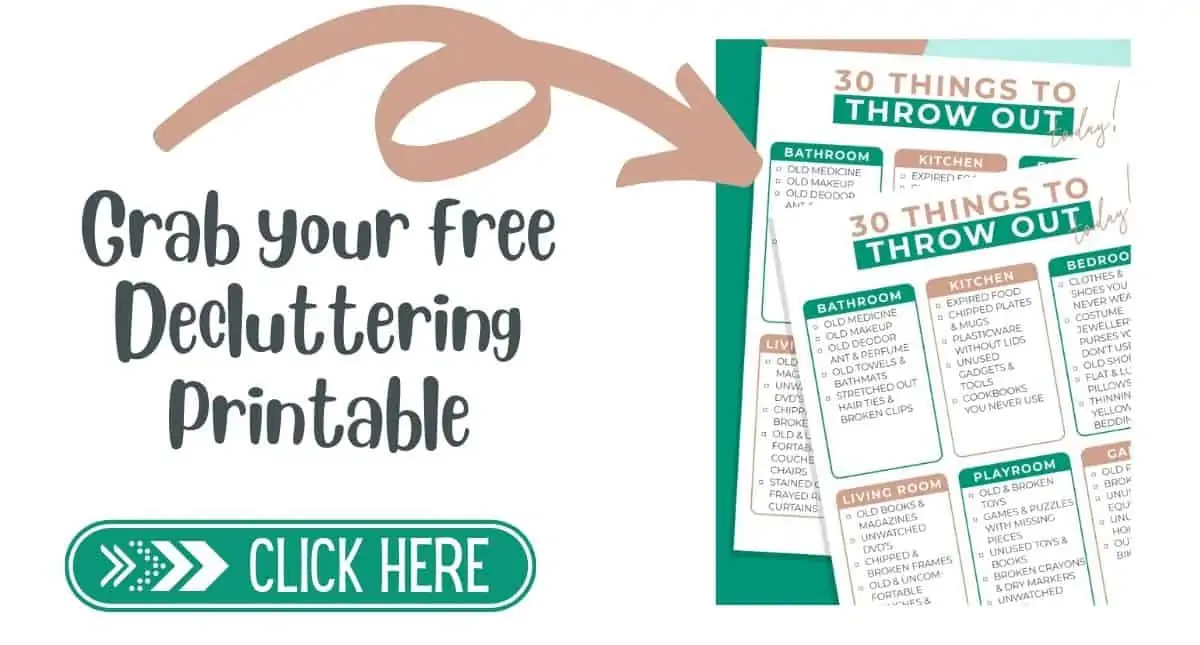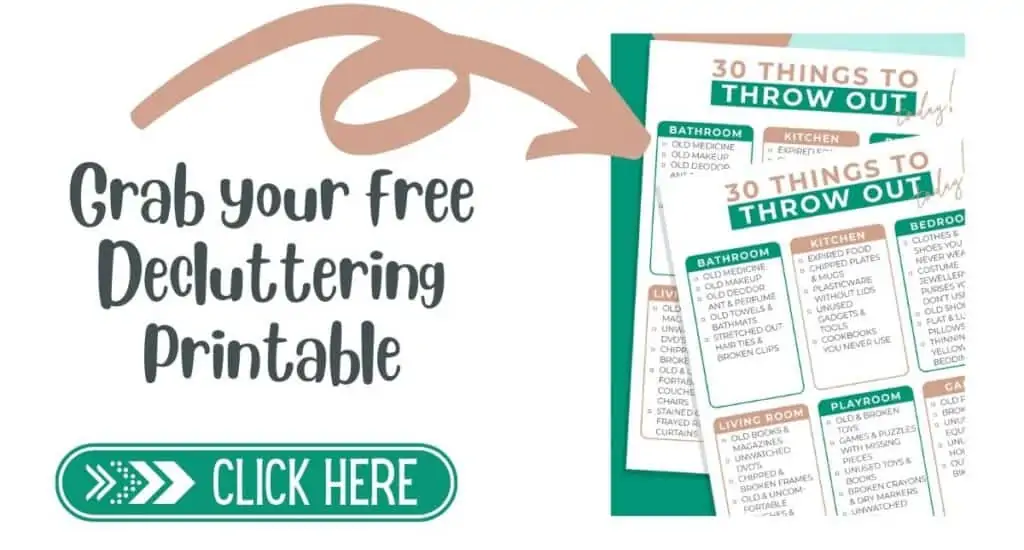 Things to Get Rid of Today
As you go room by room, looks for things that are old, broken or no longer needed to get rid of. Obviously, you'll want to throw away the broken stuff. But you can donate the stuff you no longer need or use to someone else that will be able to use it.
Bathroom
Medicine
Makeup
Deodorant/Perfumes
Towels & Bathmats
Hair ties and broken hair clips
Kitchen
Food
Dishes
Plasticware
Unused gadgets/tools
Cookbooks
Bedroom
Clothes
Shoes
Costume jewelry
Purses
Shoe Boxes
Pillows
Bedding
Living Room
Books
Magazines
DVD's
Frames
Furniture
Rugs
Curtains
Playroom
Toys
Games
Puzzles
Books
Broken crayons
Dry Markers
Garage
Paint
Tools
Sports Equipment
Holiday Items
Bikes
Outdoor toys
How to Get Rid of Things You Don't Need
Download and print out this list of 30 Things to Get Rid of Today.
Stick the list to your fridge or mirror and work through the list for the next 30 days.
Remember, if you haven't used it in the last year the odds are pretty good you no longer need it.
If it is broken or damaged, put it in the garbage pile.
If it is still in good shape, set it in a pile to either sell on Facebook Marketplace or give away.