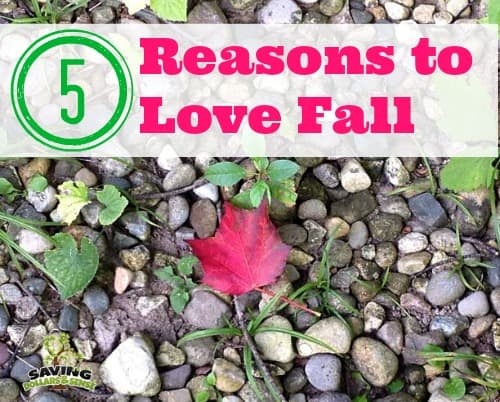 I have been noticing a few things lately that are making it become very clear that fall is upon us.
While I am sad that it seems we were cheated with a very short summer, I am happy that we have made the most of it while it lasted. And I admit that I am secretly pining away for autumn and all the things I love most about it.
A few things I've been noticing lately.
Very busy squirrels and chipmunks.
The squirrels and chipmunks have been very busy scurrying around. If you are quiet you can hear the acorns hitting the roof of the house all day long. I know fall is coming when I see the squirrels and chipmunks preparing. Something tells me it may be a long winter with how hard they are working already.
Holly Berries.
I actually noticed this sometime in the last several weeks. We have a bunch of holly bushes on our road that is filled with bright red berries!!
Color-changing leaves.
Yesterday I saw a bright red leaf on the ground that stopped me in my tracks. Sure I've noticed other signs, but colorful fallen leaves are like a
Suicidal raccoons.
I never noticed this until last year. Living in the city, I hardly ever saw a raccoon, but I see them all the time these days. They are usually laying on the side of the road. I don't know the why behind it yet, but as the temps get cooler these raccoons turn up dead on the sides of the road. I counted several in just one day this weekend. Do you know anything about this?
Cooler temps at night.
We've noticed that it is practically freezing when we first wake up in the mornings if we happen to leave even one window open all night. I love having open windows and do not look forward to being cooped up all winter.
It is definitely just a matter of time before summer bids farewell once again.
Although I will miss spending time in the sun with my hubby on the boat (I don't do fishing when it's cold outside), I am looking forward to so many other things I love about autumn!
Here is why I LOVE autumn:
Sweaters!
Seriously cannot wait to pull out all of my favorite snuggly sweaters again.
Early nights.
As fall arrives, we lose more and more daylight which only means early nights! We find ourselves snuggled under blankets watching movies or reading.
Burning leaves.
This sounds like work to my kids and probably many others. But I love spending the time outside with my family cleaning up the mountains of leaves that have already begun to fall.
It's not the raking that I look forward to, but spending time working together and then relaxing in front of the bonfire as we watch the leaves burn.
Baking.
I generally don't care to bake much during the hotter months. But once the nights get shorter and the weather gets cooler I like to spend time testing out new recipes. I'm not sure which I love better, the smells or the tastes of fall!
Schedules.
During the summer we pretty much throw out our schedules (at least as much as possible). But with fall comes school, sports, and a plethora of activities to keep us busy. I naturally gravitate back to following some sort of schedule just to keep my sanity intact.
I would love to hear what you are looking forward to this fall. Also, have you seen any signs of autumn around you yet?