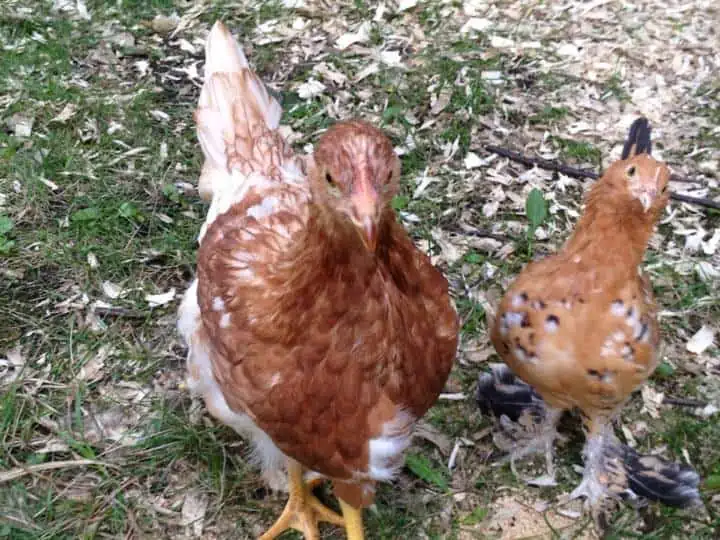 It's been a while since my last chick update and so much is changing!
Let me start by saying how much they have grown since we first moved them outside! They are like real chickens now, and not just cute little fluffballs. I have learned a few things about them over the last several weeks that I thought I would share with you.
1. Roosters crow.
Right before we moved them out, we heard a teeny tiny crow coming from their box a couple of times. We never could tell which of the chicks it was coming from.
When we decided to get our chicks, we were told that all of the breeds would be hens, except for the bantams. There was a chance that one of the three Bantam chickens we brought home could grow up to be a rooster.
Now I should add that I don't really have anything against owning a rooster other than the fact that we weren't planning on breeding chickens. Since we are interested in eggs, we wanted as many layer chicks as possible.
I was also a little concerned about how the neighbors might feel about hearing the crowing.
But as it turns out we live in a neighborhood surrounded by farms that already keep roosters. We hear them daily, so the way I see it one more coming from our yard won't really matter all that much.
I've watched this sweet guy grow into the most beautiful rooster! He is the one baby chick that we were afraid may not make it those first few days, and now he is the big guy in the house. We love his crowing.
Then the other day I went to let them out to wander.
As I approached the hen house, I heard not one but TWO different crows!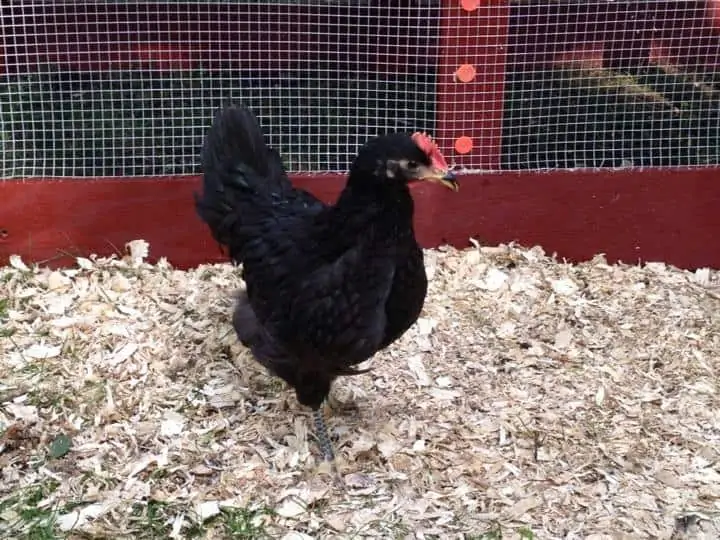 I am pretty sure this Black Austalourp is actually a rooster as well, although we were assured this breed would be all hens.
Still, I don't mind, and I think he is amazing to look at!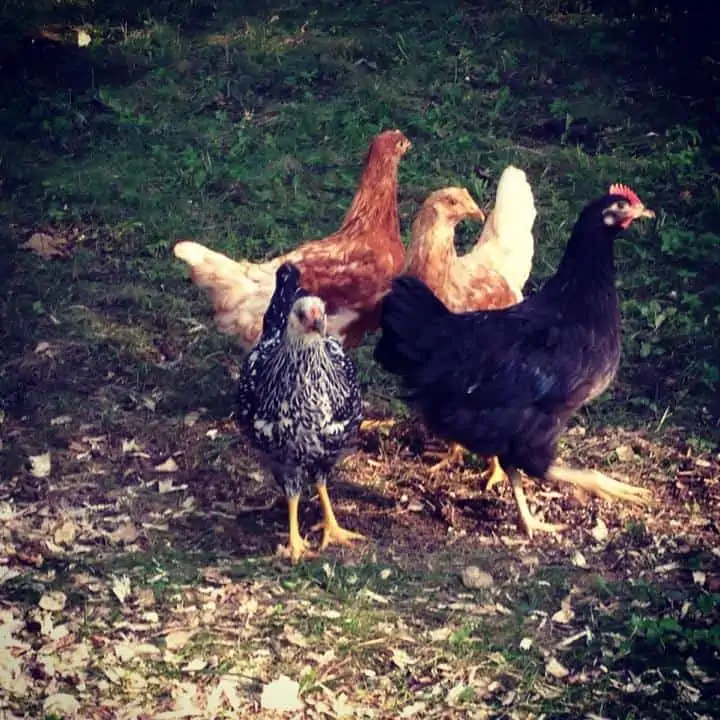 2. Chickens are brave until they aren't.
They spend a lot of time proving to each other that they aren't afraid. Even the littlest Bantam chicken will stand up for itself against the largest rooster or chicken.
But if any of them get a little separated from the flock, they freak out looking for where everyone else went.
Also, it turns out that they like to pretend they are afraid of us.
Whenever we try to get near them they run away, and then wait for us to come after them. We are catching on to their games, however.
They only want us to think they are scared because once you do catch one and hold it, they don't care anymore and will sit with you.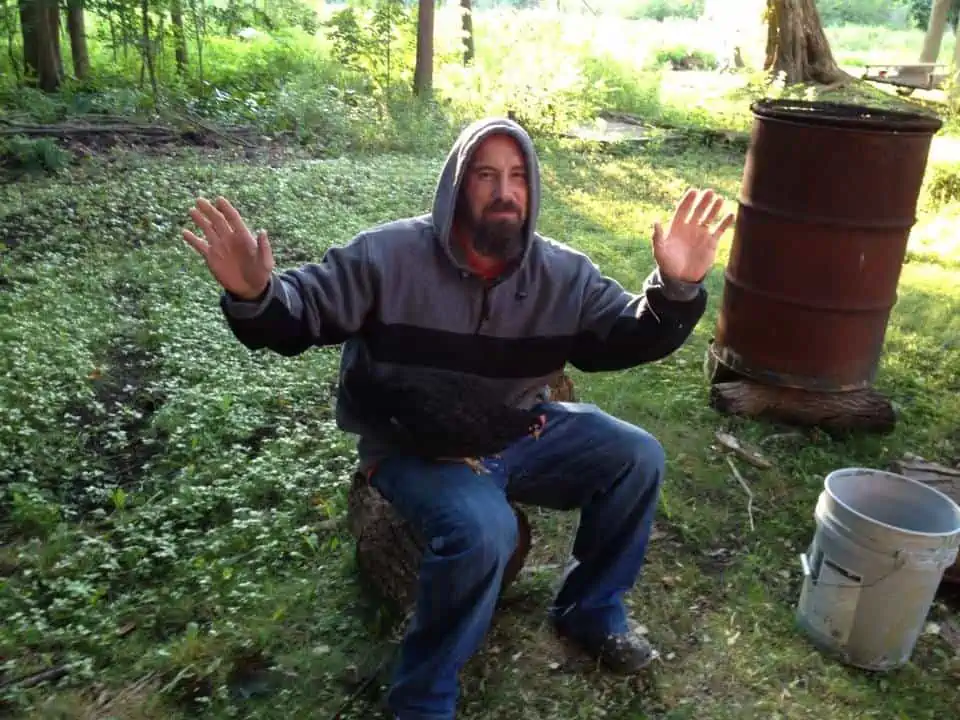 This rooster is by far the worst one about this. He never wants to be anywhere near us, but Rich grabbed him the other day and sat him on his lap and he didn't bother to run away like normal.
Not sure if he just didn't realize he could or if Rich has magical chicken powers because this isn't the only chicken that loves to sit with Rich.
This one literally runs up to jump on his lap anytime he is sitting outside.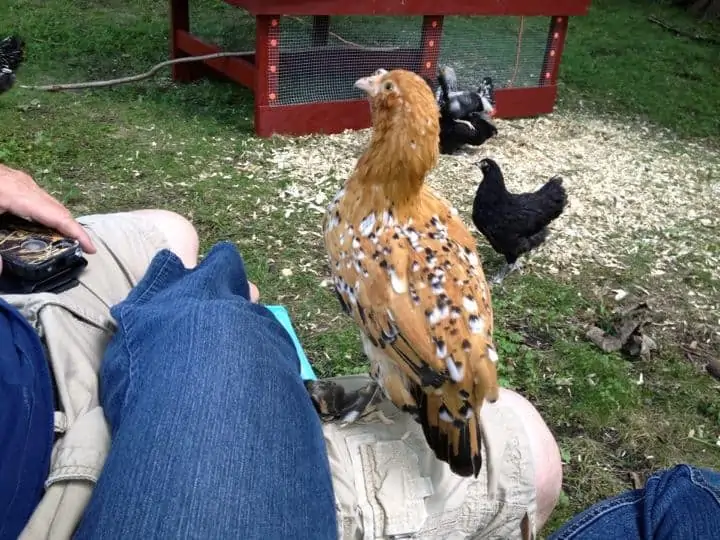 3. They are fast!
Rich has yet to build the run part of their coop. This is like a huge fenced-in area for them to roam around in, so we sit outside each day with them while we let them roam the yard free range.
When we are ready to go back inside we have to round up and catch all of the chickens and put them inside the hen house.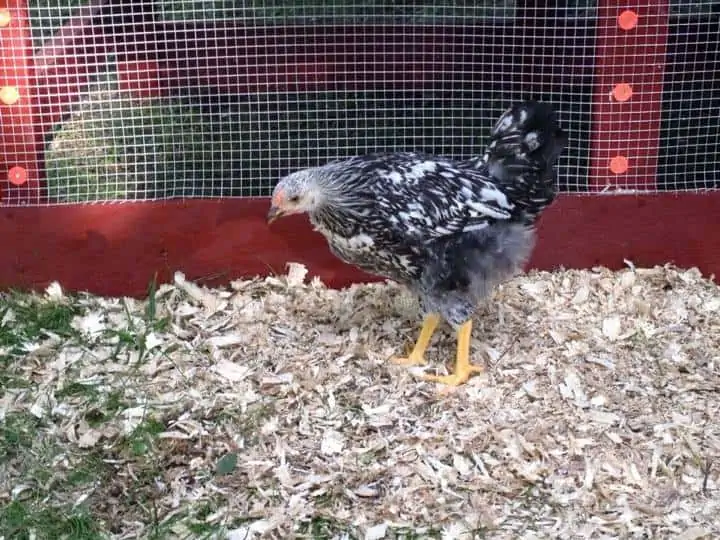 But you see, the thing about these chickens is as they have gotten bigger, they have become more difficult to catch.
Each day we like to let them out to roam even though we don't have a chicken run. We sit out there with them and just make sure they don't wander away.
Catching the chickens to put them back inside the hen house has proven to be a two-person job.
I am glad no one has thought to video us during this time because I am sure we look foolish running around the yard attempting to grab them, only to have them outwit us and getaway.
Now I wouldn't want to brag, but I have become quite a good chicken wrangler and can grab up two of them at a time.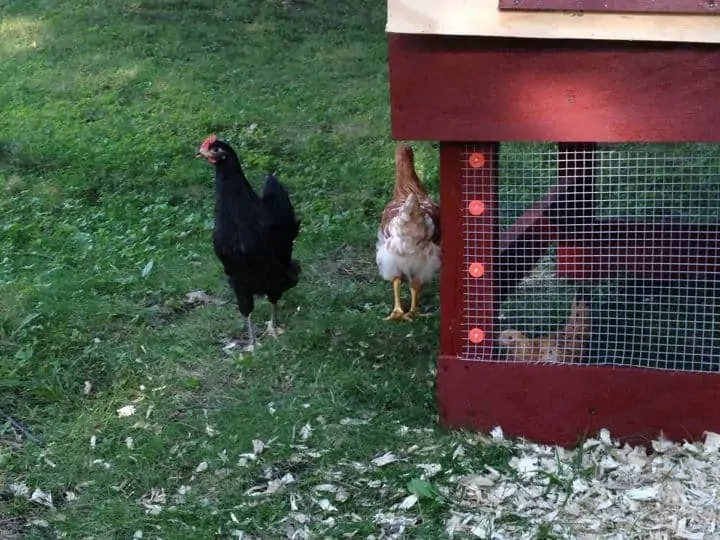 4. They know when it's time to go home.
A couple of times this week we have been a little late in getting to them. Twice now we have let them out to wander at around 8 pm.
Something strange that I noticed the first day is that no matter how far away they managed to wander, as soon as it began to get a little dark outside they slowly made their way back to the hen house.
Even crazier than that, they one by one jumped back up inside of the house ALL BY THEMSELVES!!!
Do you know how many days I have spent running around trying to catch them each day?! And come to find out that all I needed to do was leave them alone.
I am really loving this whole chicken raising thing.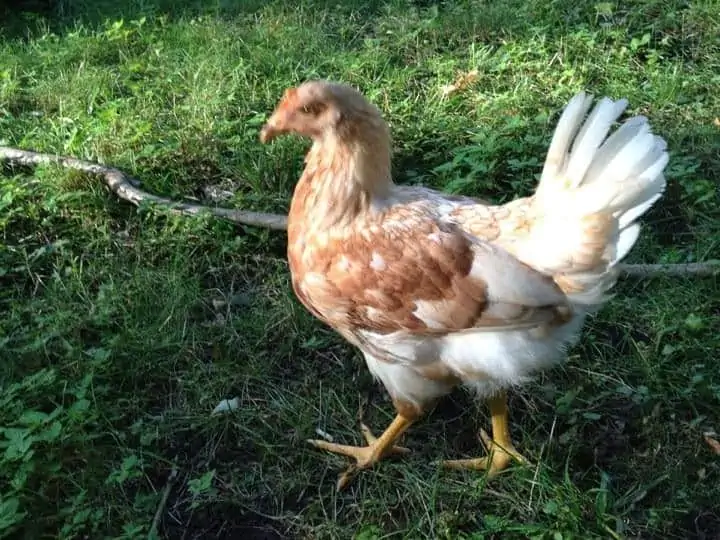 I can't believe that I get to have all these awesome new pets, and one day they will give me gifts of healthy eggs too!