It's almost 7-Eleven Day – A.K.A FREE Slurpee Day!
Tomorrow, July 11, 2018 from 11 am- 7 pm you can pick up FREE Slurpees from 7-Eleven stores!
We first learned about this promotion several years ago when my son was till very little. The only time we ever got slurpees was after Kalene would win a soccer game, so it was really a treat at our house.
I remember we were out garage saleing that first year and we managed to hit up about 8-10 different 7-Eleven stores for free slurpees all day long!
My son thought I was the best mom ever! I should mention that the free slupees are much smaller than the normal sized slupees and we usually had to ask for the cups at the register.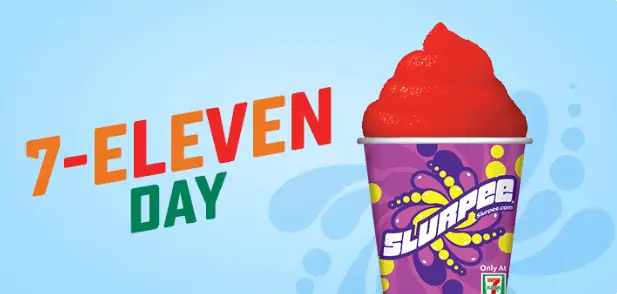 Participating U.S. stores will give away an estimated 9 million free small Slurpee drinks from 11 a.m. to 7 p.m. local time, Wednesday, July 11 (7/11), while supplies last.
This FREE Slurpee event will take place at participating 7-Eleven locations.
7‑Eleven is celebrating its birthday – and the "dog days" of summer – with $1 Big Bite hot dogs on its July 11 birthday, and a week later on National Hot Dog Day, July 18.
The featured Big Bite flavor is The Reaper, a seriously spicy 7‑Eleven exclusive hot dog made with 100 percent beef and topped with Carolina Reaper seasoning blend.
Customers can dress their dogs for free at participating stores with chili, cheese, pickles, onions, jalapenos, relish, pico de gallo and more at the condiment bars near the grill.
For 7Rewards® members, great deals continue the entire birthday week, with a new one each day:
July 12: FREE 7-Select Pure™ water with purchase of a BODYARMOR sports drink
July 13: FREE Big Gulp® fountain drink with purchase of a share-size Snickers candy bar
July 14: FREE 7-Select® popcorn with purchase of a 20-ounce Smartwater
July 15: FREE single-size Reese's candy with purchase of a share-size bag of 7-Select® Gummies
July 16: FREE 20-ounce Coca-Cola with purchase of any flavor Cheez-It baked snack crackers
July 17: FREE single-serve bag of 7-Select® chips with purchase of any fresh sandwich
July 18: FREE single-serve 7-Select® tortilla chips with purchase of any 7-Select® nuts