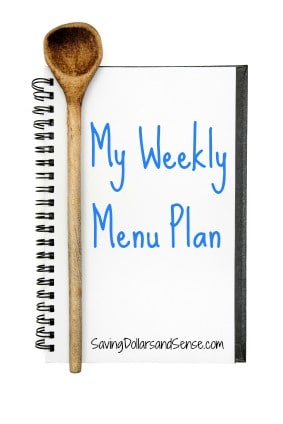 This is week two being back on track with making grocery shopping plans that keep me from over spending. Last week was very successful. I only spent $59 and was able to feed my family of four, including my teenage son!
We did splurge yesterday on pizza. I was gone most of the day and when I got home my husband said he wanted pizza. Thankfully we can afford to do this with how little I spent the week before.
Here's hoping I can do it again this week! Below is my menu which includes fish, chicken, and a ham bone that I have in my freezer. I am getting low on meats so I am hoping
Now on to this weeks menu plan.
Breakfast and lunch is pretty much the same around my house which is why that part of the menu never changes.
Breakfasts – consists of oatmeal, cold cereal, fruit smoothies, toast & poached eggs.
Lunches – consists of soups, peanut butter or tuna sandwiches, and dinner leftovers.
Dinners – I will try to include lots of veggies this week.
~ Monday ~
My husband wanted to order pizza!!
~ Tuesday ~
Chicken Skillet Dinner
~ Wednesday ~
Baked Tilapia, Rice Pilaf, Steamed Broccoli
~ Thursday ~
Chicken Soft Tacos
~ Friday ~
Split Pea Soup & Homemade Bread
~ Saturday ~
Chicken Teriyaki  & Brown Rice
~ Sunday ~
Usually we have a very late lunch and just find something small for dinner. Either way I don't plan because I like to be flexible for anything that pops up.