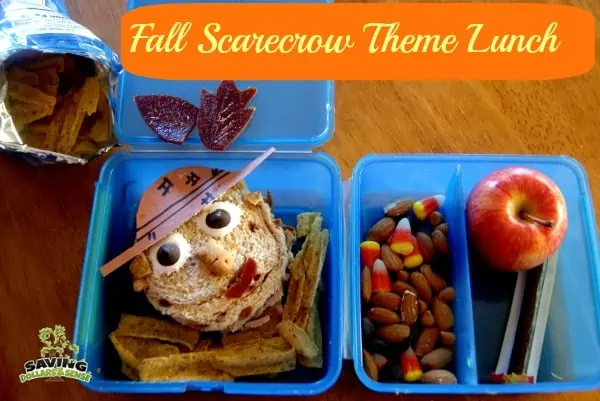 A fun little nod to the symbols of fall, this fall scarecrow themed lunch will put your backpack toting adolescent in the mood for raking leaves and diving in (ok it probably won't make them want to do yard work) but it is a fun way to usher in the crisp days of fall anyway.
I picked up some Pepperidge Farm Cinnamon Swirl Bread on sale B1G1 a few weeks ago and had it in the freezer.
I took two pieces and cut out a circle from each with a mason jar lid ring, filled the sandwich with peanut butter and marshmallow fluff. I used the fluff for the whites of the eyes, and an big chocolate chip for the pupils. A French Toast goldfish for a nose.
I dipped some broken up cinnamon toast crunch cereal in fluff for "glue" and scattered for hair, then I topped it off with a simple straw hat from a piece of construction paper, adding details with my trusty sharpie.
My scarecrow lays in his haystack made from broken Sun chips.
I free handed a few leaves from fruit strips, and made a simple fall trail mix from almonds, candy corn, and chocolate chips.
Finally I threw in an apple, they are definitely a sign of fall- always include a piece of fresh fruit to up the health factor. You could toss in apple juice or hot cider in a thermos to really finish it off.
Check out these other Back to School Lunch Ideas!