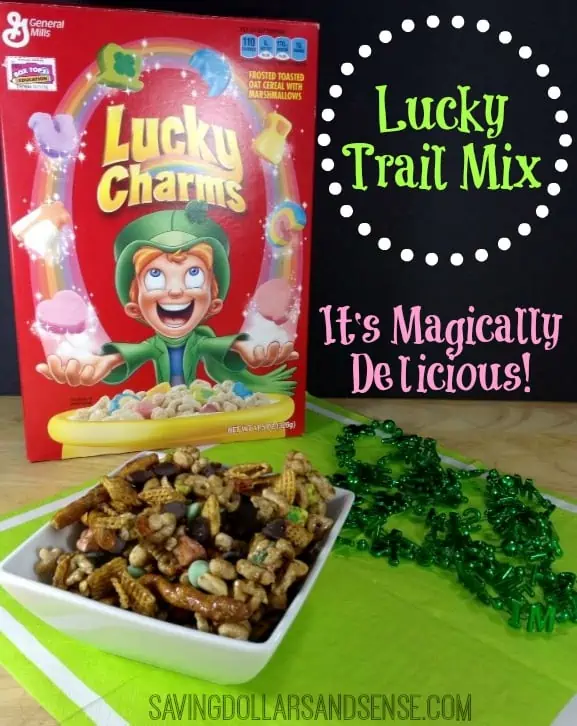 I made a batch of this Lucky Trail Mix the other day and it was gone before I knew it.
Everyone LOVED it, and it was super easy to put together.
INGREDIENTS
4 cups Lucky Charms cereal
2 cups Corn Chex cereal
1 1/2 cups small pretzel sticks
1 cup dry-roasted peanuts
1/2 cup packed brown sugar
1/4 cup butter
2 Tbsp corn syrup
1/8 tsp baking soda
1/4 cup mint chocolate chips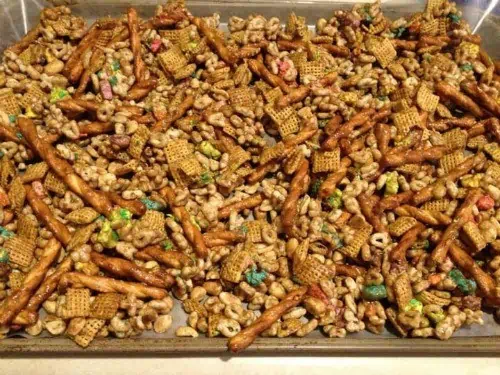 DIRECTIONS
Place Check and Lucky Charms cereals, pretzels and peanuts in a large microwavable bowl and set aside.
Microwave brown sugar, corn syrup and butter in a microwaveable bowl for 1 minute. Stir mixture and continue microwaving for another minute until melted and smooth. Stir in baking soda until dissolved. Pour over cereal mixture and stir until evenly coated.
Return the mixture to the microwave and cook 1 to 2 minutes, stirring and scraping bowl every 30 seconds, just until cereal begins to brown. Be careful, the longer you cook the more melted the marshmallows become.
Cool for 5 minutes and stir in candies. Spread on waxed paper to cool; break into bite-size pieces.