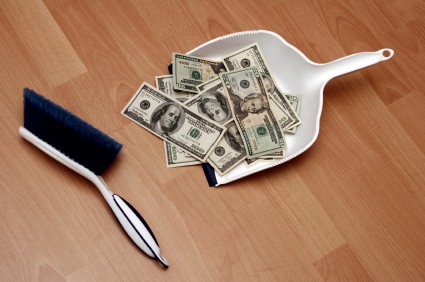 Despite a lack of spring-like weather in some parts of the country, the season of renewal and rejuvenation is officially here. That means it's time to stop putting off your spring cleaning tasks and get things done!
While it's important to keep your home tidy, it's equally important to keep your financial home in order. The key to this is gaining control over your expenditures, which you can easily do when you follow this advice to scrub up your spending.
1. Polish Your Budget
As a rule, you should be reviewing your budget frequently. Spring is a great time to take a comprehensive look at where your money is going and make changes to meet your goals.
You might find a recurring membership or subscription is no longer necessary, or that you're spending way more than you realize on dining out or retail therapy. Ultimately, digital tools like Mint will help you quickly identify areas for improvement.
2. Eliminate Impulse Buys
Making unnecessary purchases represents a huge leak in your budget and must be plugged immediately! Recognize when you're most likely to make an impulse buy, and on what; do you always grab a treat at checkout, or find yourself at the department store after a stressful day at work?
If so, eat something before running errands and call a friend or go for a long walk to blow off some steam (without blowing up your bank account!).
3. Scour for Savings
By now, most consumers realize paying full price for anything is pretty foolish. Eventually, everything goes on sale, whether it's a car, big appliance or the latest fashion trend.
Before you buy anything, always look for a coupon or discount to reduce the cost. This can be as easy as finding a coupon code through sites like CouponSherpa.com, or holding off for a big sale weekend or end-of-season clearance to make your purchase.
4. Uncover New Strategies
In addition to coupons and sales, there are several ways to save money on purchases, and now is a great time to add them to your arsenal.
While shopping online, you can use Ebates to earn cash on items you already plan to buy. Discount gift cards represent a great way to enhance savings, especially when you shop for the deepest discount through sites like GiftCardGranny.com.
5. Soak Up Rewards
Many of us use credit cards on everyday expenses to rack up reward points and offset travel plans or earn gift cards.
This is a great strategy (as long as you pay off those balances!) but it's hard to know which credit card will give you the most rewards for specific purchases. Enter Wallaby, a digital tool that analyzes your credit cards and recommends the best card to use to optimize rewards.
Guest post by Andrea Woroch, a consumer and money-saving expert for Kinoli Inc. From smart spending tips to personal finance advice, Andrea transforms everyday consumers into savvy shoppers. As a sought-after media source, she has been featured among such top news outlets as Good Morning America, Today, CNN, Dr. OZ, New York Times, MONEY Magazine, Huffington Post, Forbes and many more. For more information, visit AndreaWoroch.com or follow her on Twitter for daily savings advice and tips.