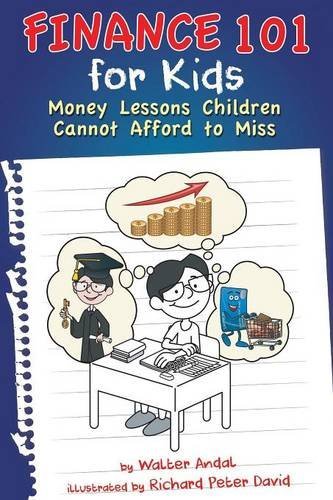 Teaching kids financial responsibility is so important because this is a skill that they will use over and over throughout their adult lives. This book is a great way to empower your kids to make smart and wise financial choices from early on in their lives.
How do we equip the next generation with money management skills that they can carry forth into their adult lives?
One of the most important lessons that you can teach your kids is how to handle their money. Unfortunately, for most parents, giving their kids a sound financial education is an afterthought at best.
Frustrated by the lack of resources that apply the concept of finance to real life situations for his own children to learn from, author Walter Andal was inspired to create an informative and entertaining book to help children get on the right path to making smart personal financial decisions.
In Finance 101 for Kids, children and parents will explore:
* How money started
* How to earn and make money
* Saving and investing
* What credit is and the dangers of mishandling credit
* What the stock market is
* Economic forces that can affect personal finance
* What currencies and foreign exchanges are
* The importance of giving back to the community
And much, much more!
I am giving one lucky Saving Dollars and Sense reader the opportunity to win a copy of this book today!
Here's how to enter:
Leave me a comment telling me one thing you know now about money that you wish you knew when you were a kid.
This giveaway is open to all legal residents of the US age 18 and older and will end on August 12th.
**Although the product for this giveaway was supplied to me free of charge, all opinions expressed are solely mine.