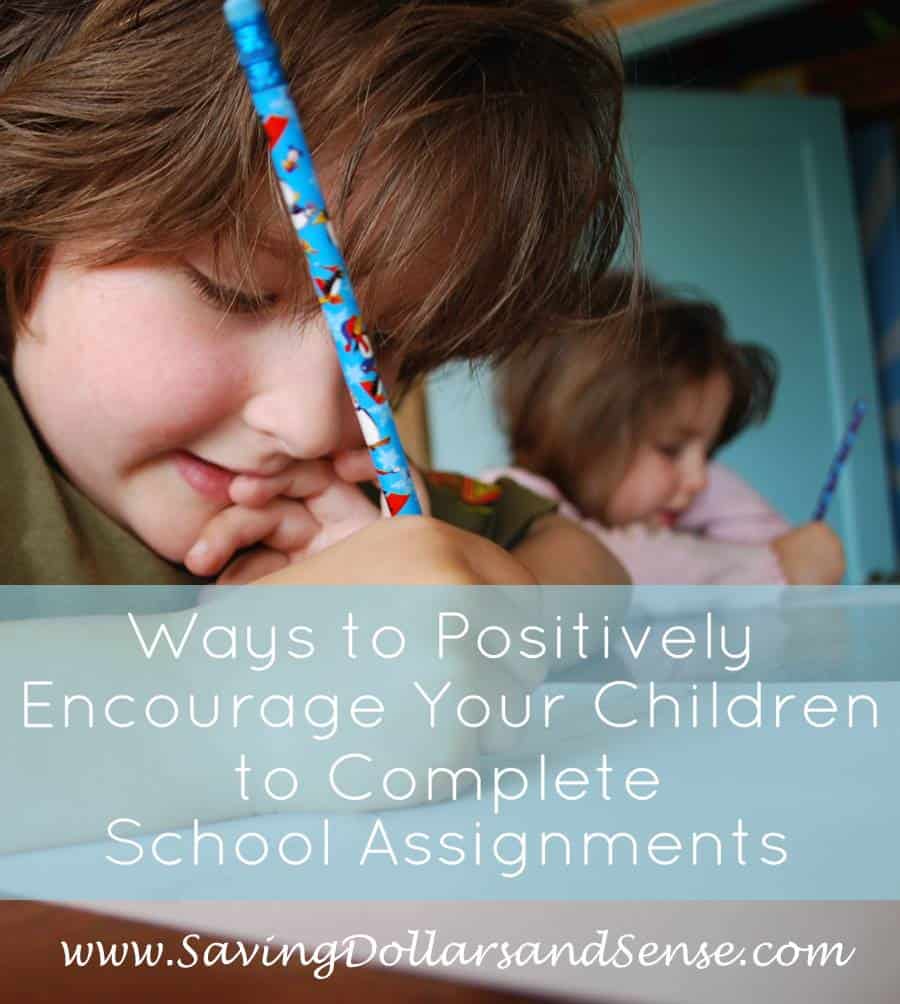 School homework assignments and homeschool work can present many challenges, especially when you are teaching a headstrong child.
One of the greatest challenges can be an unwillingness from the child to complete his or her work. It's super important to teach kids study habits that last through adulthood.
Here are a few ideas on how to better encourage your child to complete their homework or homeschool assignments in a positive and tantrum-free way.
Make It a Race
Challenge your child to complete the assignment in a limited amount of time.
Set a stopwatch on your phone or a kitchen timer. Enthusiasm makes this very effective, especially for small children. Exclaim, "Okay, let's see if you can finish ALL of this writing practice in one minute!! Ready? Set. GO!"
Or you can challenge them to race you with a particular chore.
Need to wash dishes or vacuum the floor? Say to your child, "I know you don't like doing writing practice. Do you know what I don't like doing? The dishes! But they both have to be done, so let's have a race. Let's see if you can finish your writing before I finish the dishes!"
You'll both be encouraged to quickly complete a task that you aren't necessarily looking forward to.
Create a Reward System
Create a system of rewards where they can earn a prize after completing a predetermined amount of assignments.
An example of this would be for every 10 assignments that they complete, they get to choose a gift from a gift box or closet.
Shop sales, garage sales and online deals to create a gift stash. You could include small toys such as Lego mini-figures, Hot Wheels cars and other smaller toys for younger children. Or include vouchers for a pizza date, frozen yogurt stop or iTunes gift cards for older children.
You could create an assignment chart similar to a chore chart to track the completed work.
Use stickers to track each completed task and when your child reaches the predetermined amount of work, they get to choose a prize or gift as a reward.
You could even make a rule that a sticker is earned only if the task is completed without complaining.
Get the Worst Finished First
Is math your child's least favorite subject? Does writing practice cause the most conflict?
Tackle the least favorite first!
This is often taught in time management classes and is a good tip for any project, chores or assignments.
Get the thing finished first that you are least looking forward to doing. This is great to apply to your children's schoolwork as well.
Work Before Play
Create a rule that school or homeschool work must be completed before playtime has started.
It can be especially difficult to get your child to complete school assignments when they have to stop playing their video games or put down their toys to do so.
As soon as breakfast is over for homeschoolers or as soon as they get home from school, have them tackle their assignments.
Knowing once they are finished they will have free time to play or relax will be added motivation to get the assignments finished. For older children, you could even change the WiFi password each morning and tell them they can come to you for the password once they have completed assignments to show you.
Be Patient
Though this isn't necessarily a tip to help your child complete their work, patience is key for yours and their sanity.
Try not to lose your cool while encouraging your children to finish their schoolwork.
If things get especially frustrating, step out of the situation for a moment and allow yourself to collect your thoughts. The same could be helpful for your child as well. If they get very frustrated, close the schoolbooks and have them take a few deep breaths before continuing.
Work together to maintain peace in your home while completing the necessary assignments.