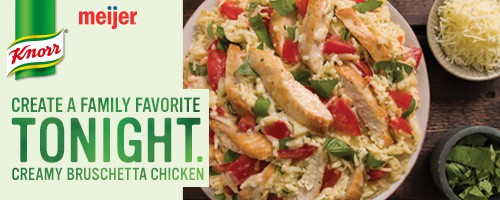 Dinnertime has always been a very important part of the day at my house.
Unfortunately as my family has grown older, getting everyone together for a family dinner has proven to be quite challenging.
We all try very hard to find at least 30 minutes a day to share a meal together.
Since that means I have to make the most of my time, our family time starts from the beginning of the meal. Everyone tries to lend a hand in preparing the meal that way we can use every moment we have to talk and share our lives with one another.
I find that it does help sometimes to keep ready made meal ideas on hand, and Knorr Sides are perfect for just this kind of thing.
I want to share with you one of my new favorite recipe discoveries, combining Knorr Creamy Chicken Rice with chicken, tomatoes, basil and mozzarella for a delicious Creamy Bruschetta Chicken main dish.
I am a huge pasta lover and we usually end up having some sort of pasta every week.
It's a big hit at my house!
When I saw this recipe I knew right away it was the perfect fit for my family, and I love how quick and easy it is to make.
The best part of dinnertime for me is the time I get to spend sitting around the table with the people in my life that matter the most.
No matter how busy our lives have become, we always try to make time for family dinner because it is a great time to reconnect once again.
Since Knorr Sides take very little prep time, I can have dinner ready to go in under 30 minutes meaning more time for my family!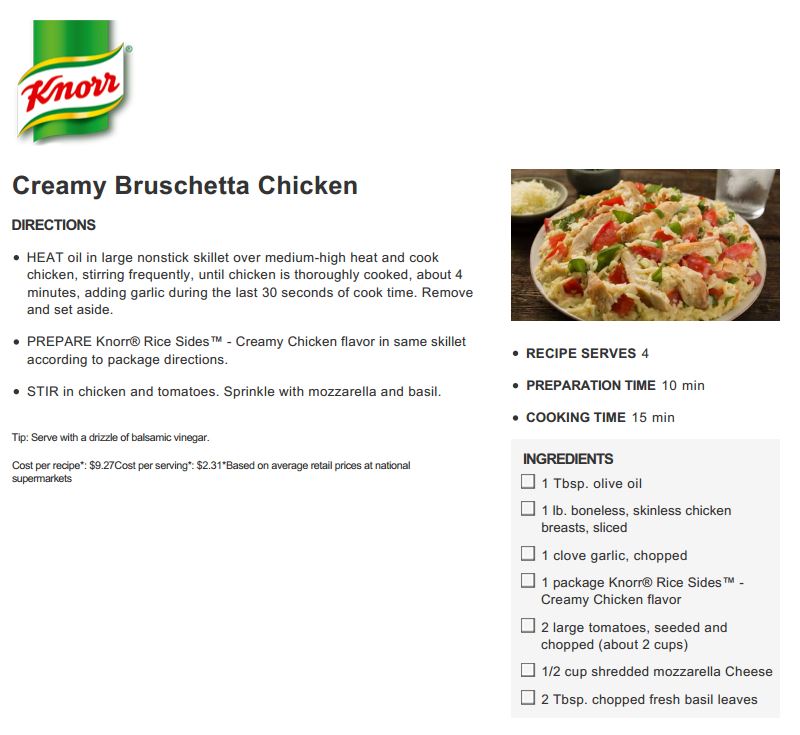 This recipe came courtesy of Knorr Sides, but they are much more than just a side dish!
They're actually great cooking partners to create flavorful dishes my family will love.
Plus, I can find all of my favorite Knorr Sides at Meijer with special deals that save me time and money.
Now, instead of worrying about what to make for dinner, I can get excited about all the great Knorr meals just waiting to be discovered at Meijer.
Meijer is having their popular Buy 10 Get the 11th Free Sale beginning today and the Knorr Sides are included in the sale! It's the perfect time to pick up a couple of packages of recipe inspiration and try a new meal or two this week.

This post was sponsored by Lunchbox.