There are many choices to make between store brands and name brands every time you browse store aisles.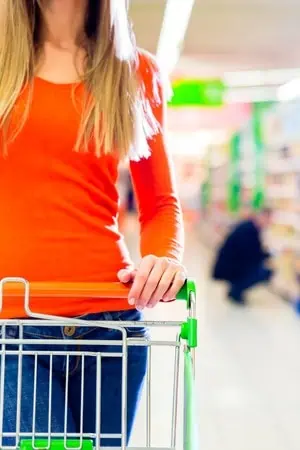 One of them involves deciding whether to buy a name-brand product or one that's similar but packaged under a store brand.
If you want to know How to Save Money shopping, check out the tips below.
Is There a Major Difference?
People often don't realize that in many cases, the ingredients used to make store-brand products are identical to those that make up the name brands.
Also, items marketed under Costco's Kirkland Signature brand, like products sold by Trader Joe's own label, are specifically sought out because they are particularly high quality.
Best of all, store brand items are usually less expensive than name-brand counterparts, but they taste or work just as well, and sometimes even better. You'll find some examples below.
1. Vegetable Lasagna
When compared with Amy's Organic brand, this Italian favorite is delicious.
Also, if you're resistant to making the switch to Trader Joe's version after being loyal to Amy's Organic, don't fret.
Trader Joe's has a very liberal return policy. You can bring back something just because you don't like how it tastes, which means it's easy to try things without the risk of wasting money.
2. Hair Products
The Harmon brand sells hair care products like shampoos and conditioners that are very similar to salon brand versions but cost much less.
Take this for starters: Nexxus Hair Therapy Moisture Shampoo costs approximately $10.99 per bottle, but Harmon's version is just about $5.99.
Even more surprising, the Nexxus bottle is just 13.5 ounces, while Harmon gives you 16 ounces.
The next time your stylist tries to get you to stock up on a salon brand, see what Harmon has to offer first.
3. Breakfast Cereals
Like most of the other items on the list, store-brand cereals sold at places like Kroger and Publix often have identical ingredient lists, but they're kinder to a budget.
Maybe the store-brand cereal doesn't feature the characters of the familiar image like Snap, Crackle, and Pop or Toucan Sam, but it probably tastes the same and costs less.
At Kroger, you can buy a box of Froot Loops for about $2.50, or get a box of the store's brand of Fruit Rings cereal that's twice as large but only pay $2.99 for the larger quantity.
4. Razor Blades
Is Gillette really "the best a man can get," as the advertising slogan claims?
You may not think so after you try the razor blade cartridges available from Walgreens.
An eight-pack of Gillette Mach3 blade cartridges will set you back more than $15, but a similar eight-pack, triple-blade style of Walgreens' own cartridges is just $10.99.
Maybe knowing that will be helpful the next time you're short on cash and tempted to alternate days of shaving to compensate.
5. Paper Products
The last thing you want is to have your toilet paper or paper towel fall apart while you're using them.
But since these paper items are considered a necessity in most (if not all) households, it would be great to find a brand that you can buy without sacrificing the quality of absorbency.
Generally speaking, it's not recommended to go generic when it comes to paper products – especially paper towels – unless they're the Kirkland brand.
Costco's paper products are worth every penny, and many argue that they're better than most of its name-brand competitors.
If you don't have a Costco membership, the Wegman's paper brand products are great as well.
6. Ketchup
The Heinz brand has a dominant market share of 60% in the U.S. and 70% in Canada.
So this must mean that Heinz is the absolute perfection when it comes to all things ketchup right? Not quite.
The Great Value Ketchup from Walmart actually exceeds the Heinz ketchup in my opinion.
It has a very well balanced flavor that is fit to contend as a rival against the dominant Heinz.
7. Canned Vegetables
With generic brands of canned vegetables, you'll find that they look less appealing.
The size of the vegetable pieces will be largely inconsistent, and the color might even look duller.
However, it's still worth buying the generic brand if you only care for the taste and cost savings.
8. Vanilla Ice Cream
You'd be surprised at how many store brand ice creams are on par with their "superior" national brand competitors.
You won't be sacrificing too much texture or taste with a generic brand of vanilla ice cream.
I don't even think you'll notice the difference at all – especially in a milkshake.
9. Dish soap
A lot of people may call Ajax the poor man's dish soap, but their formula is effective and does the job well.
While Dawn has a wide variety of different scents and formulas, this makes their quality differ with each different type of liquid.
Ajax, on the other hand, carries consistency throughout their entire product line.
If you want to try something new, go ahead and grab that bottle of Ajax on your next grocery run.
It's Not Always Best to Buy the Store Brand
It should now be clear that choosing to buy store label items over the brand names could save you a significant amount of money, and you may not even be able to tell a difference in the way they perform or taste.
In some cases though, personal preference may make it so you just can't even entertain the idea of buying a store brand instead of a name brand.
Even then, you can still save money by making some small adjustments.
Perhaps you love Starbucks' Veranda Blend and haven't been able to find a suitable swap.
Consider continuing to buy it faithfully, but start using alternative brands of coffee filters rather than ones manufactured for your Cuisinart machine under its brand.
That allows you to cut costs somewhere, but in a way that doesn't make you give up what you love.
Valid reasons for buying name-brand items exist, but if you always gravitate toward the name brand just because you're sure it's better and haven't even tried similar options, maybe it's time to branch out and watch your savings grow.
Anum Yoon is a writer and blogger with a passion for money management and a productive lifestyle. You can also find Anum on her personal blog, Current on Currency..