I was invited on a trip to Orlando, Florida by Savings.com to join some of my fellow Dealpros in learning about the changes happening in the couponing world as well as some new tools that I can't wait to share with you that will make your grocery shopping trips easier and help you save the most possible money!
I learned SO much while I was away and I cannot wait to share what I learned with all of you!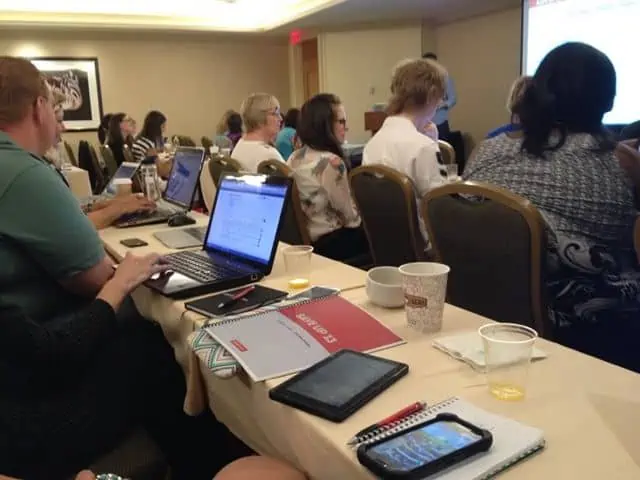 Today I wanted to share some of the highlights of my trip with you.
I was fortunate to be able to travel with a close local blogger friend of mine who is also a Dealpro that was also invited to the Save Up conference in Florida. If you don't know my friend Melissa, you might want to check out her site Bargain Shopper Mom for even more good deals!
Although it looked a little rainy when we arrived at the airport, my flight was beautiful, I was able to catch a couple of great shots.
We were taken to the most beautiful hotel which is where we stayed the entire time.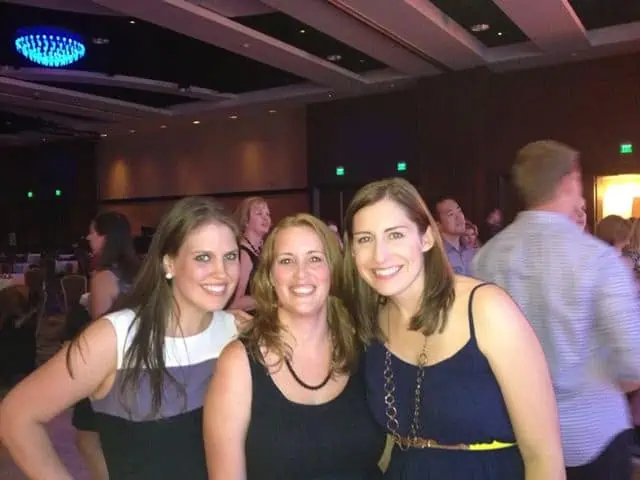 Rachel (Surviving the Stores), me, and Shellie (Saving With Shellie)
I love having the chance to meet some of my favorite online friends in real life. Even though I don't get the opportunity to see them often, I talk with most of them online at least once a day so I consider them good friends although some of us live so far apart.
The hardest part of going to this conference was knowing that I would be so far away on my 16th anniversary.
Originally I had declined the invitation when I saw that it was during my anniversary. But my husband wasn't going to have that, and he spoke with the person in charge when we went to the last conference together and asked if there was still room for me.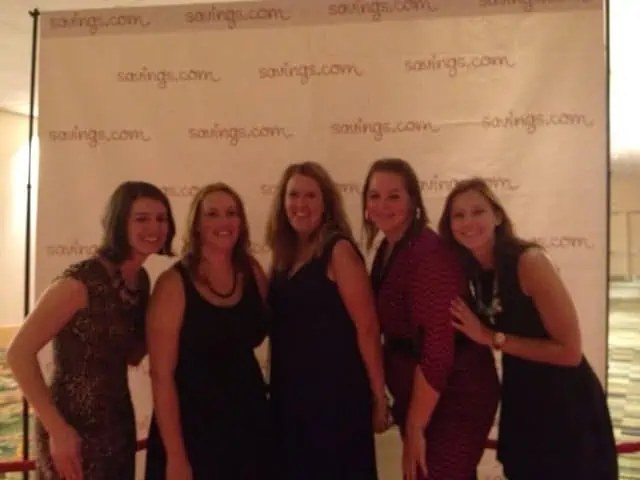 Laura (Beltway Bargains), Me, Melissa (Bargain Shopper Mom), Phoebe (Getting Freedom), and Ashley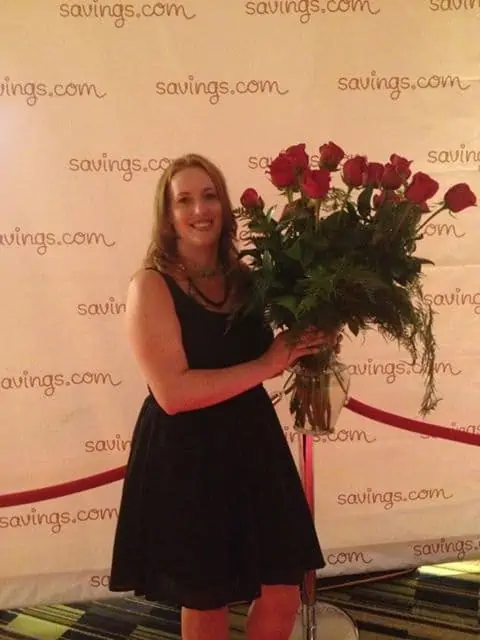 During the red carpet party on Friday night, one of the hotel staff walked into the ballroom with the largest and most beautiful vase filled with flowers for ME!
My husband had jumped through SO many hoops in order to make sure I received this gorgeous vase filled with 16 roses – one for every year we've been married!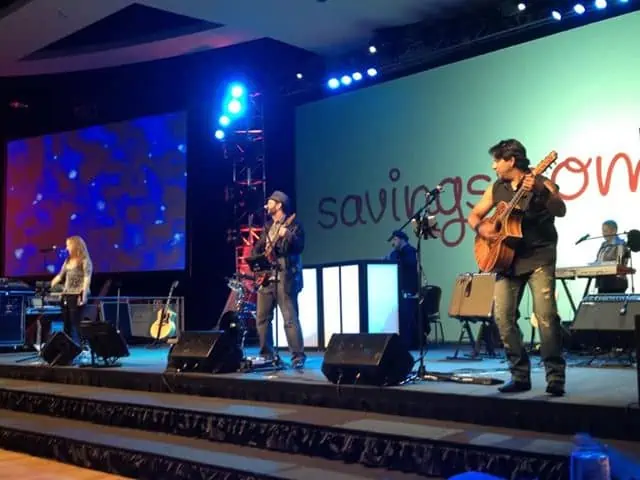 The party was a blast, complete with karaoke and a live band and background singers. I chose to be the picture/video taker instead of doing karaoke myself.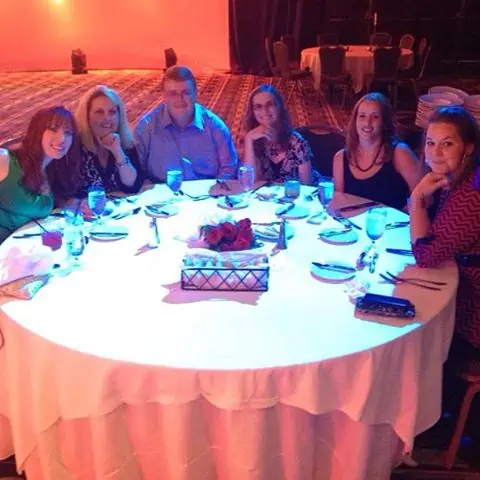 I was determined to bring home my flowers. So I wrapped them in a towel I received as a gift and carefully packed them into my checked bag. I am happy to announce that they did indeed make it, although I had to cut off several inches from the stems to get them to fit in my bag.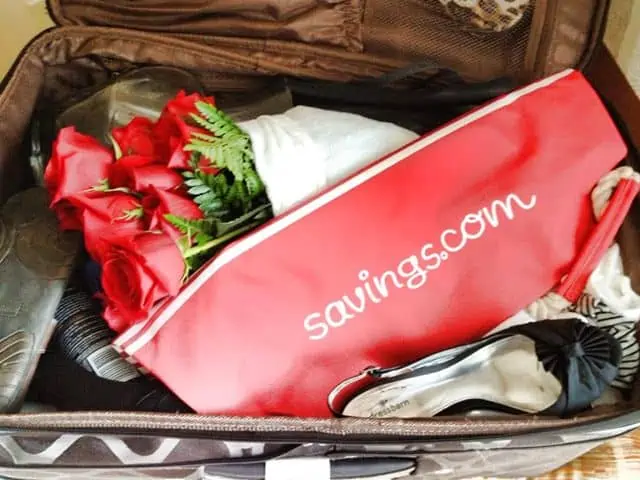 One last story to share with you that will help you better understand just how awesome I am.
On the last day, I had chosen a cute outfit to wear when I was reunited with my husband.
The knit top had some metallic threading in it and I wore it with a pair of white pants which my husband insisted I get since I NEVER buy anything white (I'm a klutz and white doesn't last very long around me). I was looking great. But I highly recommend not wearing anything with metallic threading because it will set off the scanners at the airport.
I was given a full-body pat-down 🙁 The TSA agent was very nice about it and that helped me not feel like I was being molested, although I've learned my lesson and will never wear anything that has metallic threading in it to avoid the pat-down next time.
Then I got on the plane and settled myself in for the flight home. Takeoff was perfect and the flight attendants passed out snacks and drinks. I asked for a Sprite which turned out to be one of the best decisions ever!
The weather got so bad that we weren't allowed to remove our seat belts, and the flight attendants had to remain seated as well.
I was trying to adjust the tray table while holding my cup and the tray hit my hand knocking the cup over into my lap all over my nice white pants which were now completely drenched and see-through!
I apologized several times to the girl seated next to me who received some of the sprays from the cup as well all down her leg 🙁 She assured me that it happens to everyone, although I am convinced she was lying to make me feel better 😉
I have to say this is probably one of the most embarrassing moments of my existence!
Thankfully the flight attendant brought me some paper towels that had some kind of super absorbency power or something because I sat on some and used some to dry my pants. The pants were made from some kind of material that dries super fast and I was almost completely dry by the time we landed.
Now that I've shared my most embarrassing moment, I challenge you to share yours in the comments below!