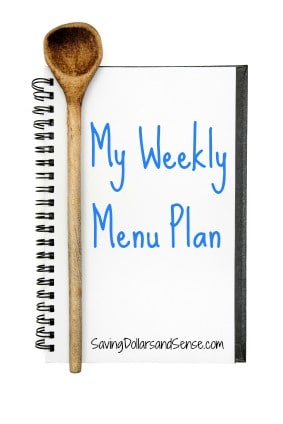 I don't know about you, but I have found it to be a bit difficult to keep up with my menu planning throughout the summer.
I think it is because during the summer we live a much more spontaneous life around here. Being spontaneous and having a schedule doesn't work out very well, and one or the other is bound to slip away. For us, it has been the plan.
However, with summer winding down I feel myself being drawn back to my menu planning again.
Now on to this weeks menu plan.
Breakfast and lunch is pretty much the same around my house which is why that part of the menu never changes.
Breakfasts – consists of oatmeal, cold cereal, fruit smoothies, toast & poached eggs.
Lunches – consists of soups, peanut butter or tuna sandwiches, and dinner leftovers.
Dinners – I will try to include lots of veggies this week.
~ Monday ~
Grilled Chicken Breast, zucchini, and tomato/cucumber salad
~ Tuesday ~
Rotisserie Pork Tenderloin, Mashed Potatoes, and Green Beans
~ Wednesday ~
General Tso's Chicken, Rice, and Salad
~ Thursday ~
Crockpot Roast Dinner
~ Friday ~
Chicken Broccoli Bake
~ Saturday ~
Pizza
~ Sunday ~
Usually we have a very late lunch and just find something small for dinner if we get hungry later on in the evening. Either way I don't plan because I like to be flexible for anything that pops up.