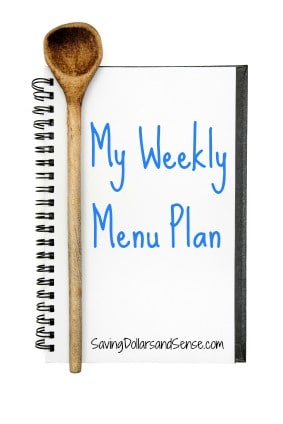 Spring has sprung over the weekend and I am so excited to start using the grill outside again!
In fact, I have a slab of ribs that have been waiting in my freezer for this very day.
We still have some patches of snow on the ground, but the windows are open and the sun is shining!!
Now on to this week's menu plan.
Breakfast and lunch are pretty much the same around my house which is why that part of the menu never changes.
Breakfasts – consists of oatmeal, cold cereal, fruit smoothies, toast & poached eggs.
Lunches – consists of soups, peanut butter or tuna sandwiches, and dinner leftovers.
Dinners – I will try to include lots of veggies this week.
~ Monday ~
Ribs, Spinach Salad and
~ Tuesday ~
Corned Beef, Potatoes & Carrots and Soda Bread
~ Wednesday ~
Pork Tenderloin, Mashed Potatoes and Corn
~ Thursday ~
Stir fry
~ Friday ~
Venison Steaks, Baked Potatoes and Broccoli
~ Saturday ~
Pancakes, Sausage and fresh Fruit Salad
~ Sunday ~
Usually we have a very late lunch and just find something small for dinner. Either way I don't plan because I like to be flexible for anything that pops up.