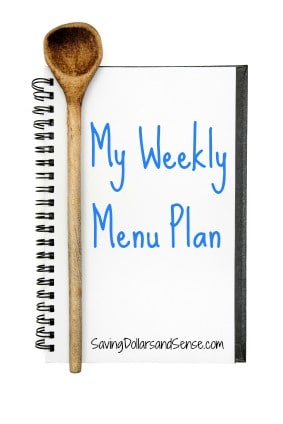 After a quick look at my freezer, fridge, and pantry I have come up with a menu plan that is using mostly everything I already have on hand,
I will need to stop and pick up some fresh produce and milk but that is about it this week.
I am working on restocking my freezer with meals so I don't find myself caught off guard without a meal for dinner.
My schedule is beginning to fill up for the next couple of months and I am doing my very best to avoid fast food or quick restaurant stops. So whenever possible I will be making a double batch of dinner that way I am able to freeze one of them for a future dinner.
Now on to this week's menu plan.
Breakfast and lunch are pretty much the same around my house which is why that part of the menu never changes.
Breakfasts – consists of oatmeal, cold cereal, fruit smoothies, toast & poached eggs.
Lunches – consists of soups, peanut butter or tuna sandwiches, and dinner leftovers.
Dinners – I will try to include lots of veggies this week.
~ Monday ~
Spaghetti Pie
~ Tuesday ~
Pork Stir Fry and Brown Rice
~ Wednesday ~
Grilled Chicken Breast and Spaghetti Squash Skillet
~ Thursday ~
Homemade Chicken Noodle Soup and Bread
~ Friday ~
BBQ Ribs, Pasta Salad and Green Beans
~ Saturday ~
Chicken Pot Pie and Mashed Potatoes
~ Sunday ~
Usually, we have a very late lunch and just find something small for dinner. Either way, I don't plan because I like to be flexible for anything that pops up.