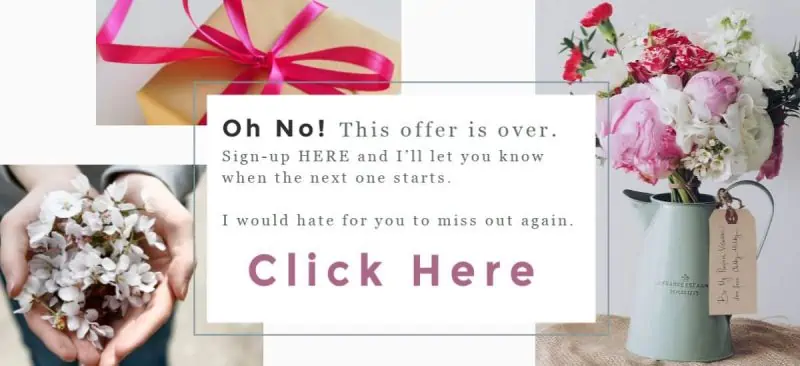 I am so excited to announce that Disney-Hyperion is partnering with me to offer Saving Dollars and Sense readers the chance to win a fun giveaway to encourage reading this summer!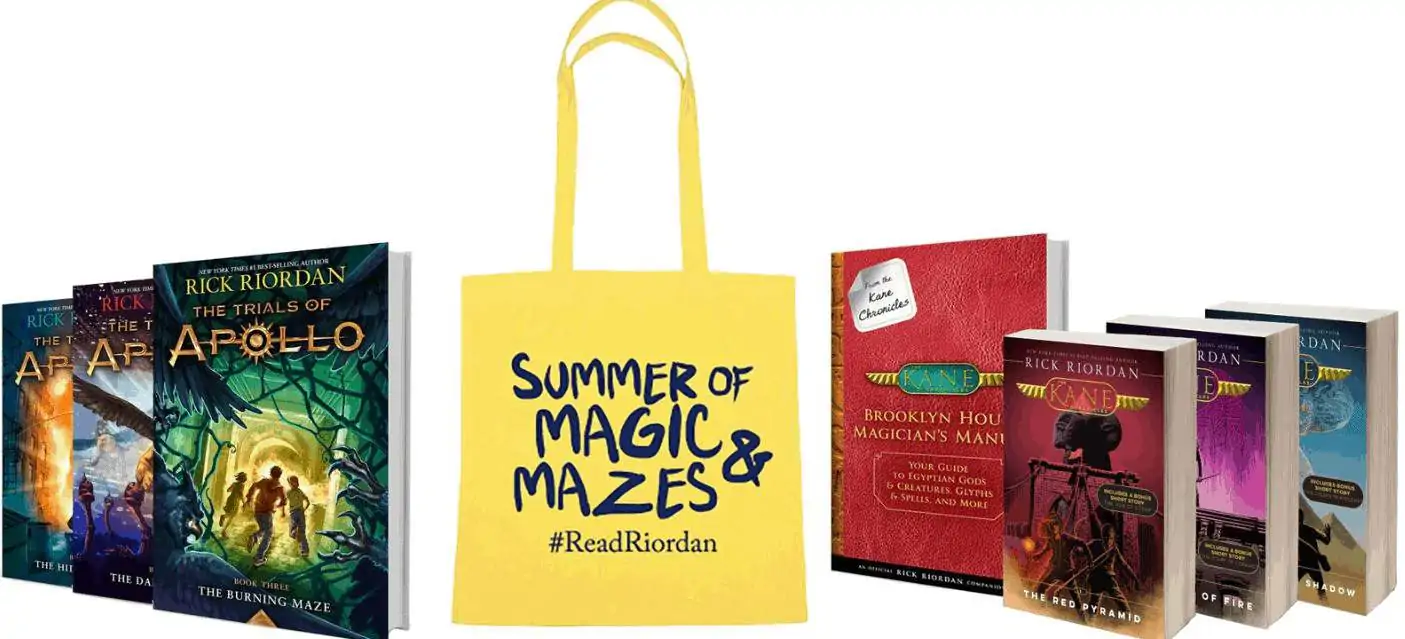 Before we get to the giveaway I wanted to introduce you to some great new books by one of my favorite authors Rick Riordan.
I will never forget how Rick Riordan and his Percy Jackson books made reading an enjoyable experience for my son who had up until receiving his first Rick Riordan book, loathed anything to do with reading and simply saw it as a punishment.
As someone that has absolutely loved reading my entire life, I could not understand how any child of mine wouldn't look forward to reading.
When I learned about Rick Riordan's books, I decided to give them a try. Even though it did take a bit of coercion, I was able to force my son to read the first chapter and before I knew it he had devoured the entire thing and was asking for the next book!
Thankfully Rick Riordan has continues to write these amazing stories that have the ability to make a kid love reading!
Today I want to introduce you to some more new books that he has written, which would be perfect to add to a kid's summer reading list.
Don't forget about all of the FREE Kids Summer Reading Programs available to offer your kids even more incentive to lose themselves in a great story this summer break.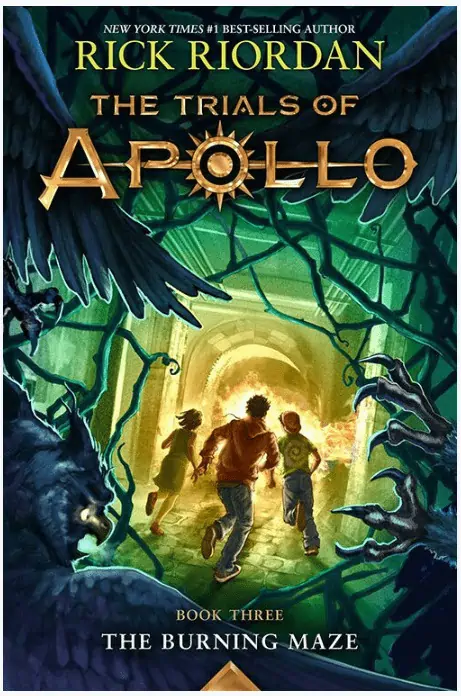 The formerly glorious god Apollo, cast down to earth in punishment by Zeus, is now an awkward mortal teenager named Lester Papadopoulos. In order to regain his place on Mount Olympus, Lester must restore five Oracles that have gone dark. But he has to achieve this impossible task without having any godly powers and while being duty-bound to a confounding young daughter of Demeter named Meg. Thanks a lot, Dad.
Friends both familiar and new will emerge in The Burning Maze, Book Three of the New York Times #1 best-selling Trials of Apollo series, a twisty adventure featuring a hapless god who somehow still manages to think he's red-hot.
More about The Trials of Apollo series:
An Olympian Comes to Earth: The protagonist is nothing less than Apollo himself! Well, actually, he's a mortal sixteen-year-old trying to earn his way back into Zeus's favor by restoring five oracles. How will he manage without his godly powers?
A Godly POV: Apollo narrates the adventure; the disparity between his godly assumptions and his disappointing reality is hilarious.
Favorite Demigods Are Back! All of the beloved characters from Camp Half-Blood and Camp Jupiter will aid Apollo in his quest over the course of five books.
New Demigods Are Introduced, including Apollo's sidekick, a twelve-year-old girl named Meg who is secretive about her past—and is Apollo's secret weapon.
Viperous Villains will complicate matters for our heroes as they search for the ancient Oracles.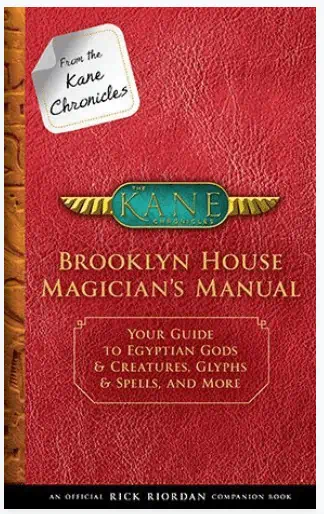 Calling all young magicians of Egypt! If the blood of the pharaohs runs in your veins, you can't afford to be without this guide to Ancient Egyptian deities and creatures, and Carter and Sadie Kane's world of magic.
Featuring fans' favorite human, divine, and animal characters for the bestselling Kane Chronicles trilogy, Brooklyn House Magician's Manual offers info about Egyptian mythology in laugh-out-loud entries with surprises throughout, including snarky comments from Sadie Kane and a dastardly plot by an old enemy.
More about Brooklyn House Magician's Manual:
Tie-in to Best-Selling Kane Chronicles Trilogy featuring fans' favorite human, divine, and animal characters.
Offers Info About Egyptian Mythology in laugh-out-loud entries from favorite characters.
Has Surprises Running Throughout, including snarky comments from Sadie Kane and a dastardly plot by an old enemy.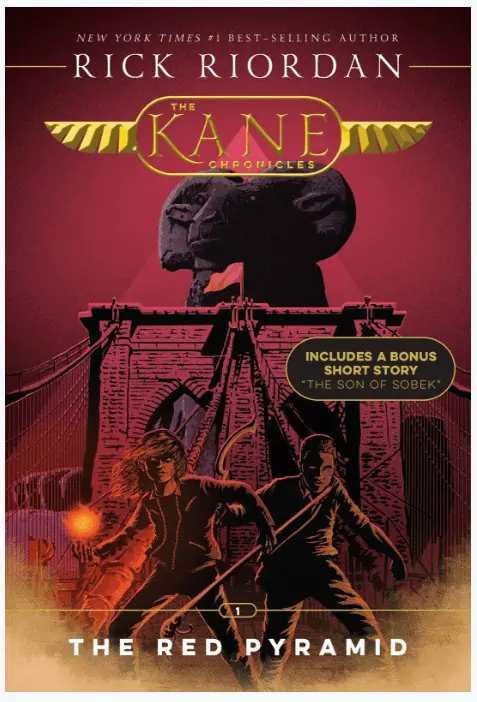 The Kane Chronicles Trilogy
The Red Pyramid #1 | The Throne of Fire #2 | The Serpent's Shadow #3
Series first launched in 2011
New cover designs released April 3, 2018
Fans of Rick Riordan's Greek & Roman and Norse mythology adventures will love his funny and exciting take on Ancient Egypt in the Kane Chronicles trilogy, now with dynamic new cover artwork and Percy Jackson-Kane Chronicles crossover stories.
More about The Kane Chronicles series:
Mysteries of Ancient Egypt: Egyptian mythology is more widely studied in the school curriculum than ancient Greece. Both familiar and loaded with mystique, ancient Egypt is the perfect backdrop for Rick's imaginative brand of storytelling. Readers will leap at this real-world portal into the rich fantastical world of ancient myth.
More of the Good Stuff: Rick combines all his fortes–witty, relatable heroes, gods & monsters, prophecies, curses, and non-stop action–in this best-selling hit.
Now for the Summer of Magic & Mazes Giveaway!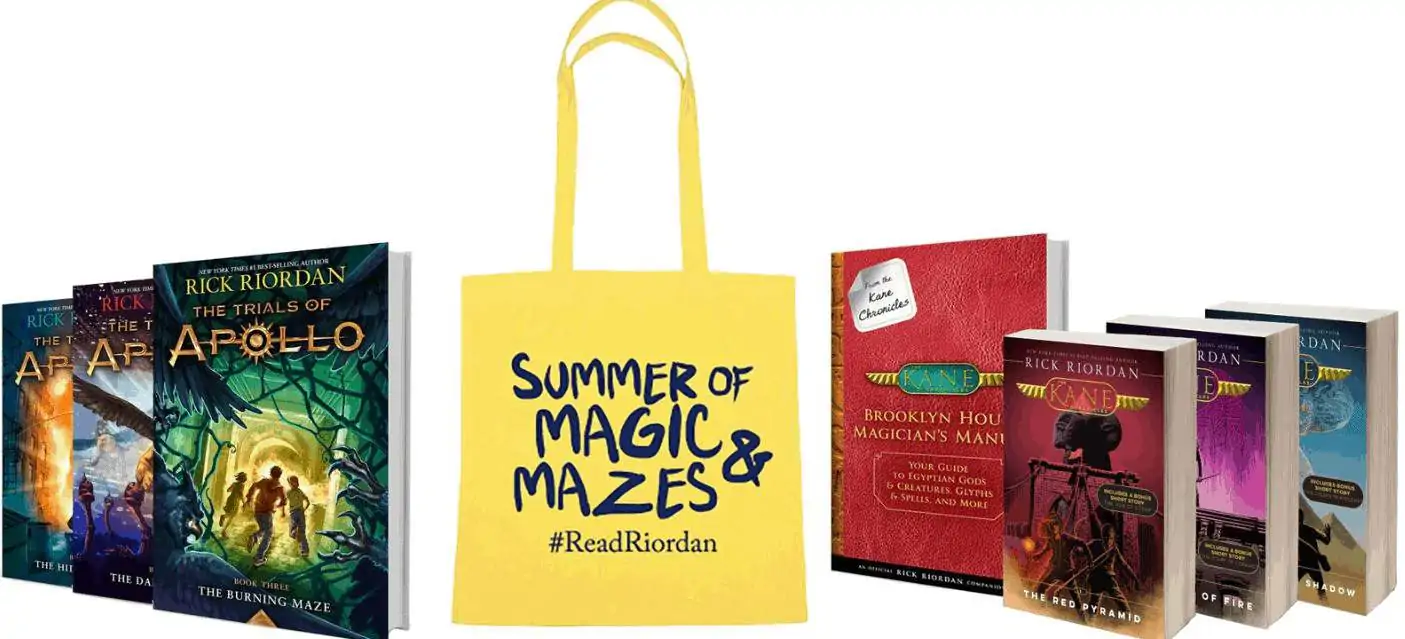 One (1) winner receives a "Summer of Magic & Mazes" beach tote plus seven Rick Riordan books!
The Trials of Apollo series — with an autographed copy of The Burning Maze!
The Kane Chronicles trilogy – plus new companion book Brooklyn House Magician's Manual!
How to Enter:
Just leave a comment sharing why you'd like to win this giveaway below.
Giveaway ends on May 29th and is open to US addresses only.
Prizing and samples provided by Disney-Hyperion.