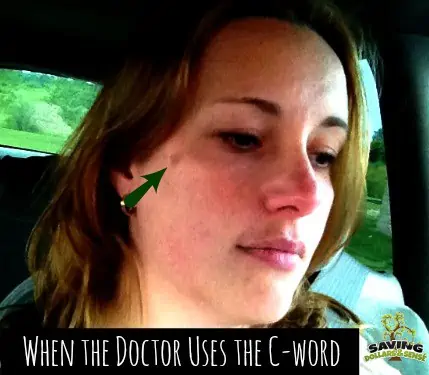 Yesterday I had a doctor's appointment to check out what I thought was just an age spot on my face.
I've put it off for far too long, mostly because I have an irrational fear of hearing the C-word. Well, maybe it is not so irrational considering my family medical history and the odds that at some point in life I could be faced with having this become my reality.
The truth is this is not the first time I have had a cancer scare.
I've had moles and other skin things removed before as a precaution and to run tests that always come back negative.
A little over a year ago I had a breast cancer scare that took my family and me on an emotional ride.
I've ignored the flaky patch of skin that never heals, moisturized it to no avail, and covered it with makeup so no one else would see it for well over a year now.
The other night while sitting outside with my husband, he noticed it.
He urged me to make an appointment although I was sure the doctor would think I was crazy.
It's easier to live in denial than face your fears sometimes, and that is the route I've taken up until yesterday.
Do you know what really stinks?
Hearing the doctor tell you the same diagnosis that WedMD had said earlier in the day when you were looking up symptoms. Everyone knows WedMD will turn any symptom into cancer right? Apparently there are those times when it turns out to be true.
Right now this is all we know.
The spot on my face is not normal. Before I left the office she did cryotherapy on it, which is when they put liquid nitrogen on it. It freezes the skin surface, and as your skin heals it also allows new skin to appear. This is the most common treatment.
Now we wait to see if and how it heals.
If it heals then we are good and caught it before it turned into skin cancer.
The word the doctor used is preCANCERous.
If it doesn't heal, we move onto the next course of action which is a biopsy. Since I really am a big baby and don't like the idea of someone cutting on my face, I am choosing to believe the freezing worked.
So, I shared this with you because frankly, I couldn't not share it with you. If you have a spot of skin that you just aren't sure about, please have your doctor check it even if you're sure it is nothing like I was.
Early detection is the most important thing!
Don't forget to put on sunscreen daily. I've been doing this my entire adult life, but I'm an Irish girl with very fair skin and I can remember getting several sunburns every summer growing up. I used to joke that if I could just get the first sunburn out of the way for the year, then I could actually get a tan.
Also, tanning beds are not really better than sun 🙁
My sweet almost 20-year-old daughter, you may want to reconsider how many visits you make to the tanning salon even if they tell you it is totally safe. Turns out the UVA rays that you get from tanning beds actually penetrate your skin more than the sun and cause actinic keratoses which increases your risk of skin cancer.
I also shared this because I know that many of you are prayer warriors and I would love to be covered during this time of wait and see.