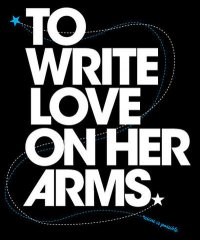 It's To Write Love On Her Arms Day.
Maybe you are unaware of this movement that's also known as TWLOHA. There are so many who are hurting in this world. They feel ashamed and alone. Maybe you are one who knows first hand how this feels?
They may not look the way you think they would, and they may even be closer to you than you think. They are the ones who live everyday feeling alone and unlovable. They live in a secret hell where they sit silently pleading for someone to notice.
They need to know that there is hope for them and the things they are struggling with. And today is one day when, instead of looking away, we can come face to face with those who need to know the love of a savior more than ever.
Would we be willing to put aside our judgments and simply LOVE today?
its been four years.
i never thought id have made it this long.
to all the days, i thought would have been my last.
to all the times ive given up all hope.
to all the words you said, i loved you; but your gone.
to the way the world made me out to be.
to the warped image of myself i now see.
its been four years.
i never thought id have made it this long.
to all the heartache, the goodbyes.
to all of the rejection, from others; myself.
to the way the loneliness killed me inside.
to how i never thought anyone else felt this way.
its been four years now.
since it all began.
and still hasn't ended, but im a survivor to this day.
and hopefully for many more.
im okay.
and i will not let my past haunt me anymore.
ive been forgiven and excepted completely.
he does not look at my scars.
he does not judge me in anyway or form.
i no longer have to hate what i was or am.
he loves me for me.
i am un-damaged in his eyes.
something i never thought would be possible.
my god see's me as his child.
he loves me and accepts me for who i am.
and knows of my past, struggles and scars.
but loves me anyway.
he looks past all of that, and with him my scars are healed.
and just a story of my struggle, strength, and over coming of it all.
i love you jesus. you wrote love on my arms.
This poem has been written by someone very close to me, and I pray that it opens our eyes to the very real pain that so many youths are living within silent. I also thank God that he is able to reach through the darkness and touch those in hiding places.
Lord please keep me from overlooking, judging, and measuring out grace. Let me be one who loves and gives out grace as you have so freely given it to me!