I don't get all that many opportunities to just relax and enjoy a massage, in fact I have never enjoyed a massage.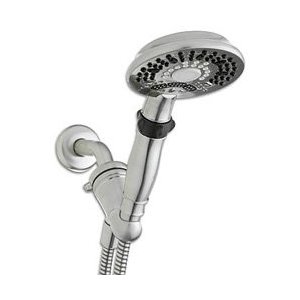 The first thing that I noticed was just how easy the installation process was.
In fact it took longer getting the old showerhead out. It was literally nothing more than screwing it into place.
I love all the settings and have found that there is only one downfall to my new shower experience. I spend way more time showering because I don't want it to end.
There is one setting that reminds me of being in a rain forest or something tropical and exotic like that.
Here is a little more information about this showerhead.
"Since 1962, Water Pik has been committed to developing and manufacturing innovative personal and oral health care products. They are dedicated to creating products that will not only improve the health and well-being of their consumers, but provide a truly transforming experience. Water Pik showerheads are designed using their patented OptiFLOW technology, to maximize water pressure by increasing water force by up to 30%! This provides you with an enjoyable shower, so you feel refreshed and invigorated.
The Easy Select ultra sleek design will add style and sophistication to any bathroom. Installing the showerhead is a quick and easy 3 step process- it's so simple, your kids can even assist! The five different spray modes allow you to add variety and enjoyment to your shower time."
You can see from the slideshow below just how easy it was to take out the old showerhead and replace it with the new showerhead.
So now you know that the shower is the one place I know that I can go to relax and unwind. I'd love to hear how you unwind after a stressful day?
*Although I was provided with the product for this review from MomSelect on behalf of Waterpik, all opinions expressed are solely mine.