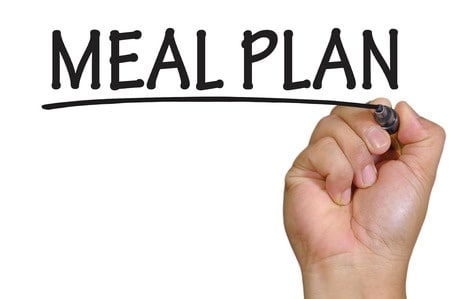 Last week I shared with you a secret money-saving tip that I have been using for years to save on my grocery budget.
Meal Planning is easy to do once you have made a habit of doing it regularly.
I have to admit that I almost forgot to do my weekly meal plan this week, which is why I am a day late posting it.
I thought to myself why even bother if it is already late anyway.
But then I realized that I have a tendency to self-sabotage when implementing something new and I was listening to nothing more than some negative self-talk that was trying to get me to believe I had already failed, even though I hadn't.
I decided to ignore that voice and make my menu plan anyway.
I realize this may seem like a trivial matter to some, but it was a victory to me!
Menu planning is one of the best ways to get my finances under control and jump-start my budget and health.
This time I did not allow my distorted thinking to keep me from doing what I know I need to do, and I am feeling pretty great now that I have this one area of my life figured out.
This Weekly Meal Plan is featuring plenty of healthy recipes that are super easy to make and packed with lots of flavors.
Breakfasts – Always Oatmeal with Fruit & Nuts
Lunch – Salads, Leftovers, Scrambled Eggs, Sandwiches
Weekly Dinner Plan
Monday: We finished up some leftovers we had in the fridge.
Tuesday: Chicken Cacciatore (Check out this Instant Pot Chicken Cacciatore)
Wednesday: Crockpot Chili
Thursday: Instant Pot Cilantro Lime Chicken & Rice
Friday: Baked Salmon, Green Beans & Cottage Cheese
Saturday: Instant Pot Spaghetti Squash & Italian Sausage
Sunday: Leftovers
To help you get started we have this menu planning printable schedule that you can use to easily plan out your week right now!
Once you have finished your meal plan, I hope you'll share it with me 🙂
You can share it here in the comments below, or you can join us over in the Saving Dollars and Sense Community and share it there and see what everyone else is sharing.
If you want to see some more weekly menu plan ideas, you can check out the meal plan we used last week here.
This free Printable Meal Planner will make meal planning so much easier to do.