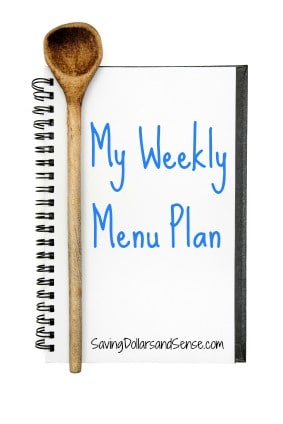 I am working on incorporating more low-calorie dinners into my menu plans.
You will see below that I am relying on several crockpot recipes this week to ensure I don't get lazy when it comes time to prepare dinner.
I don't know about you, but I am much more motivated to cook when I do it right away in the morning, and this is why crockpot recipes are so important to me.
Now on to this week's menu plan.
Breakfast and lunch are pretty much the same around my house which is why that part of the menu never changes.
Breakfasts – consists of oatmeal, cold cereal, fruit smoothies, toast & poached eggs.
Lunches – consists of soups, peanut butter or tuna sandwiches, and dinner leftovers.
Dinners – I will try to include lots of veggies this week.
~ Monday ~
Slow Cooker Pork Chops, Baked Potato, and Corn
~ Tuesday ~
Crockpot Chili
~ Wednesday ~
Rosemary Roasted Chicken Breast, Pierogi and Glazed Carrots
~ Thursday ~
Chicken Nuggets and French Fries
~ Friday ~
Braised Balsamic Chicken and Spaghetti Squash
~ Saturday ~
Slow Cooker Tenderloin, Mashed Potatoes and Broccoli
~ Sunday ~
Usually, we have a very late lunch and just find something small for dinner. Either way, I don't plan because I like to be flexible for anything that pops up.