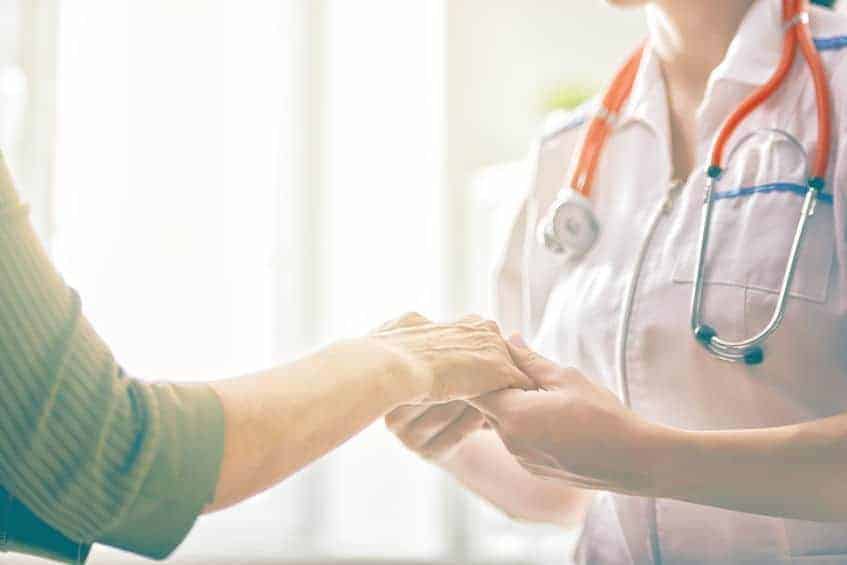 I have changed the way I eat, reduced my stress levels as much as possible, worked on losing some extra weight and made sleep a priority.
But the reality is that there are some things that I just cannot control like ancestry, age, lifestyle, family history, and other cancer risk factors.
That is why I am making sure to keep up with my regular doctor visits and recommended screenings.
I think a lot of times we put off this important screening because we are so busy taking care of everyone else around us, that we just forget that the best way to take care of our family is to make sure that we are taking care of ourselves too.
You cannot pour from an empty cup and it becomes really difficult to care for anyone else when you are sick. The free online breast cancer screening test from Beaumont, can help you better understand your overall risk for developing breast cancer.
It literally takes less than five minutes and uses your answers to questions about ancestry, age, lifestyle, family history and other risk factors related to the development of breast cancer, to help you be more proactive when it comes to annual screenings and genetic counseling.
After answering just a few questions you will know your lifetime risk of breast cancer as well as your five year risk.
It asked me about my age, height, weight, ethnicity, if I've ever smoked, have a primary doctor, and some other family history questions.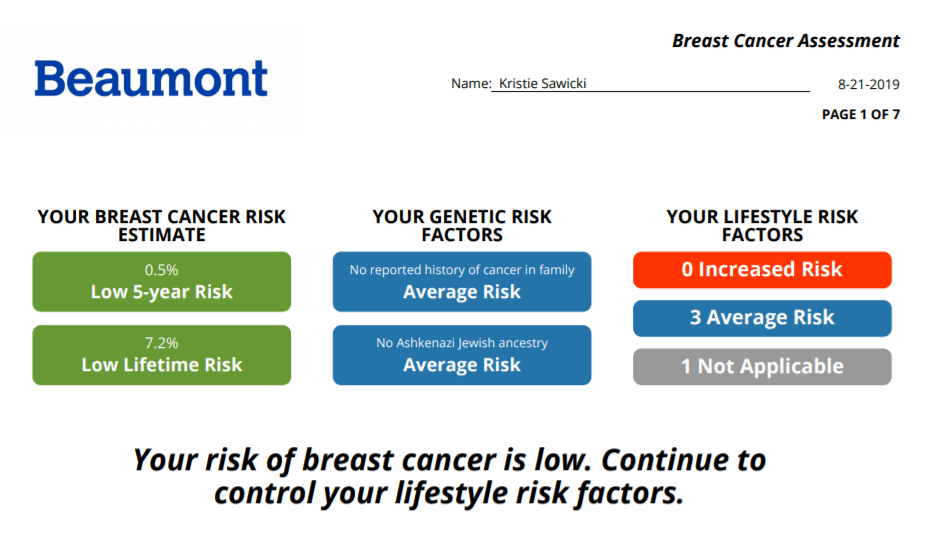 NOTE: This risk assessment is not for men. It is only for women who have not had invasive or non-invasive breast cancer, DCIS or LCIS , who have not received radiation for the treatment of Hodgkin lymphoma, and who have not tested positive for known mutations in BRCA1/BRCA2 genes.
I was surprised to learn from my assessment that things like birth control, breast feeding and exercise can increase or lower your breast cancer risk.
The report was really great at breaking down each of the markers and explaining why they are risky or not, and how to make the changes necessary to reduce your risk.

About 1 in 8 women will develop invasive breast cancer over the course of her lifetime. However, more and more women are surviving the diagnosis due to better treatments, early detection, and increased awareness.
Annual mammograms starting at age 40 can save lives. It's important to talk to a doctor to determine what's best for you.
I actually had my first mammogram when I was 36 years old because of all of the other stuff I was going through, but the age to begin having them regularly depends on you and your risk level.
If you aren't sure if you should start having regular mammograms yet, check out this super helpful mammography screening guidelines from Beaumont.
I realized that I am overdue for my mammogram so, I am going to Schedule an annual mammogram and I hope that you will too!
Follow Beaumont for current health news:
Facebook Page: https://www.facebook.com/BeaumontHospitals/
Twitter Page: https://twitter.com/beaumonthealth
Instagram Handle: https://www.instagram.com/beaumonthealth/
This is a sponsored post written by me on behalf of Beaumont. All opinions are 100% mine.