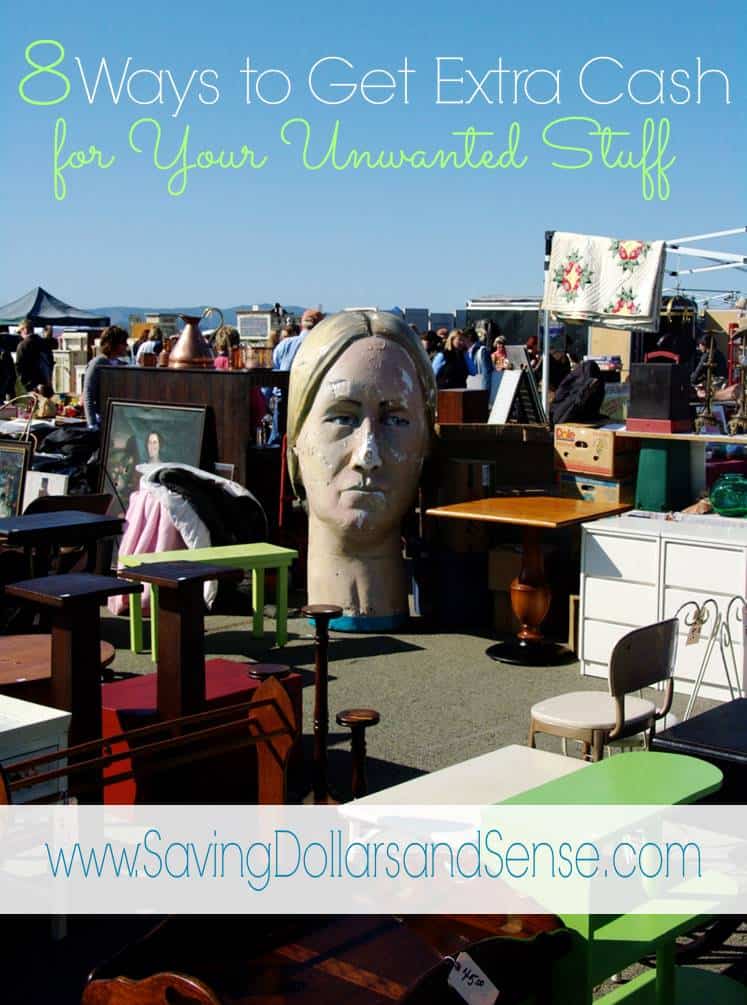 If you want to deep clean and declutter your home or just need some extra cash this month, selling your no longer used items is a great idea.
If you want to learn about How to Save Money, read more below.
Below are eight ways that you can earn money while getting rid of your stuff.
Yard Sales
This is the most obvious place to start when trying to declutter and make extra money.
Yard sales can be very successful with the right amount of planning!
Make sure to advertise well and display signs that are easy to find.
Advertise your sale on Facebook, Craigslist and other free online mediums to really get the word out!
You could consider joining a friend or neighbor to have a bigger multi-family sale or recruit your entire street to have a neighborhood sale!
And make sure to clean your items and have them priced and organized to get top dollar once the buyers arrive.
Craigslist
This is a great free way to sell your old stuff, especially if you live in a large metropolitan area.
Make sure to clearly describe your items for sale and to include good quality photos in order to get more interested buyers.
Always be smart and safe when using online forums such as these.
Meet in a public and well-lit location and be cautious of what personal information you give to those who inquire about your items.
eBay
This is a time-tested and excellent way to sell your belongings.
One great trick to know whether this is worth your time is to do a search for an item similar to the one you wish to sell.
Then in the settings refine the results to only show you completed listings.
There you will see items similar to yours that were listed in the last 30 days, whether they sold and for how much.
This will give you a better idea of how much to list your item for and how quickly it may sell.
Facebook
Search on Facebook for Buy/Sell/Trade groups in your area or nearby areas.
This is especially helpful for those who live in smaller towns and don't have much luck on Craigslist.
Make sure to follow the same tips and cautions that you would if listing on Craigslist or any other local online classified type websites.
Scrap Yards
If you have old used appliances, lawn mowers or even mattresses, you can haul them to a local scrap metal yard or recycle center to dispose of them in exchange for cash!
Appliances and such are considered "dirty metal" meaning that there is a mixture of various metals and other materials.
These are usually recycled at a lower price per pound.
Whereas, "clean metals" such as aluminum cans or large solid metal lawn furniture will bring in a higher per pound price.
Make sure to call around beforehand as different locations often have different rates.
This is a great way to earn extra cash and get rid of large items of clutter as well.
Classifieds
Local newspapers and classifieds may seem outdated, but you would be surprised how often people still use them.
Especially if you are trying to sell a larger item such as lawn equipment or a vehicle.
It may be worth a small advertising fee to market your item in a place where it will bring in a larger selling price.
Amazon
Amazon is similar to eBay as a great online market to sell your unwanted items.
This site is especially great for selling books and textbooks.
Make sure to ship your items quickly after they sell and to consider the seller fees when you state your desired price.
Store Returns
Often when cleaning out rooms and closets, you may find items that are still unopened and no longer needed.
Though most stores have a 30-60 day return policy, many will make exceptions.
Even without a receipt or any knowledge of when it was purchased, if the packaging is still in good condition and the store still carries that item in their inventory, you can often return the item for store credit at the current price.
Do you know of any other ways to get rid of your old stuff and make a little extra cash while doing so?