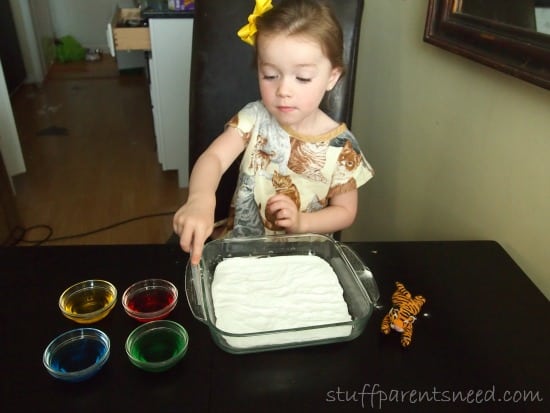 Baking Soda and kids: two things that go together so beautifully, I am learning!
Darah, my almost 4-year-old daughter, was recently well into another summer day at home (and by "well into" I mean that it was 8:30 am) when she announced, "I'm bored!"
Oh really? You're bored? How fascinating. And what's that? Oh, this is my problem? I see. Hmm…well, Pinterest told me to get out a baking pan, some vinegar, food coloring and a butt load of baking soda. Let's see what happens when we put it all together, shall we?
Fizzy Colored Sand
Step 1: Layout all the above-mentioned ingredients. I added just one drop of food coloring into the small bowls of vinegar. The next time we do it, I'll add two to give the colors more pop. Be sure not to forget the smock or bib for your little artist, as well as a small stuffed tiger. Ok, you don't actually need the tiger, but it does add something rather exotic, I think. 🙂
Step 2: Show your child how to use a dropper to collect the vinegar they want to use.
Step 3: Watch the vinegar color the baking soda and produce a fun fizz.
Step 4: Relish the moment where your child thinks you just made some magic.
Step 5: Admire all the beautiful colors. This is the last moment where everything will look nice and neat.
Step 6: LEAVE THE ROOM! Go enjoy a little peace and quiet while your artist/scientist/magician/no longer bored child plays and plays.
Step 7: Admire the mess your child made while you got a little bit of work/cooking/watching reality tv accomplished. Be absolutely tickled by how much of the mess stayed in that baking dish! Vow to repeat this exercise weekly. 🙂
I hope this activity helps cure some of the summer boredom in your house. Have you got any "go-to" projects that your kids are enjoying? I'd love to hear about them!
You can find more simple summer tips and tricks from Tiffany, as well as the latest on all kinds of things that make parenting a little less hectic and a lot more fun over at Stuff Parents Need. You can also be inspired by other great ideas Tiffany finds on Pinterest. See you over there!